After I graduated from college, I became a technician and started working steadily again. One night, after a long afternoon shift at my regular job, I was restless and drove by the Hole In The Wall. I saw the word "SKA" on the marquee, and became interested. A kind of multi-racial "Two Tone" music had developed in England using this old Jamaican term for "Rock-Steady" or "Reggae" music. I parked my car, paid my cover charge, went inside, and heard what I hoped to hear -- slightly fast, but churning Two Tone Reggae, and many original songs. The place was full of dancing women, (a very good sign), and I even knew one of them -- ex-model Lynn Wilhite. She pointed out the VERY small lady playing the HUGE bass, and raved about how talented she was. The foursome had a tight, clean sound, their vocals were well-sung, but the RHTHYMS were absolutely hypnotic and visceral -- the whole damn bar was throbbing to that sensuous beat.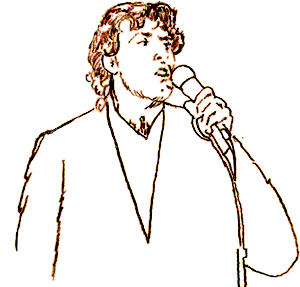 Doug Edwards -- Guitar, and Primary Lead Vocals
004 was very popular for awhile, and I became friends with all of them. I was also inspired by the power of their dance music to show up with my camera, take photographs, and make colorful cabaret drawings, after a rather long artistic layoff. They made use of my art in their publicity, and put my pieces on their walls. This minor participation on my part helped bring me out of a period of social isolation too. As a result, I also made friends with their peers. I met an intense gutarist named Al Grazzi, and later became friends with Lisa Verstieg -- the Queen of SLC Punk.
(I already knew percussionist Steven Fletcher from my days in Theater.)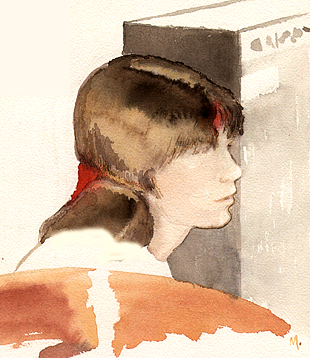 Wanda Day -- Drummer Extraordinaire

Wanda Day's personal life was the most volatile in the band, and my friendship with her was correspondingly tumultuous. She was my favorite musician -- bringing the same compelling, bass-heavy drive that Chester Thompson brought to drumming. Everything good about music fell into place around those rhythms of hers -- pure sonic pleasure!
Drummers are often the most difficult person in a group to photograph, but by making special efforts, I managed to take good shots of the backbone of this band -- I also ended up with a lot of images of Wanda in my files!
Teri was fairly quiet offstage. She stood less than 4' 10", but seemed to enjoy man-handling her massive Fender Jazz bass, and driving an outsized farm truck that could easily transport two Volkswagens in it's bed.
Doug liked to laugh, and make acquaintances with everybody in the room. He was a natural extrovert, and a perfect songwriter/bandleader. (He would continue to create bands and make records even after 004 broke up.) Doug also helped convince me to take up long-distance running, but that's another story altogether.
Wanda got injured in an accident, and was temporarily replaced by the wonderful Julie Leuders -- a fine singer, and drummer, who possessed the necessary 'slap' for 004. Julie and Scott later worked at the Cosmic Aeroplane together, and collaborated on a modern musical project called Pangea.
004 used another substitute drummer from a "No-Wave" group called The Boards when Leuders was busy, but nobody could really replace Wanda.
Double-Oh Four On The Dance Floor
---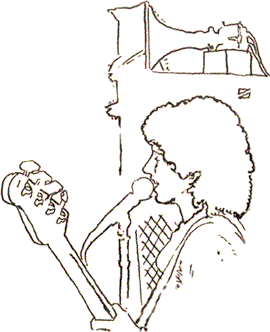 Teri Mitchell -- Bass and Alternate Lead Vocals
I hung around until closing time, which was no more than an hour and a half later, due to Salt Lake's stupid liquor laws, and finally noticed Steve McCallister from the primarily Punk-Rock Roxy Club running the sound board. I learned that this group (named 004 -- pronounced Double-Oh Four) played at the Roxy right after they formed. Punk-Rock clubs spun Reggae records between live music sets, so their audience enjoyed this new band. It seemed like the whole city would enjoy them too.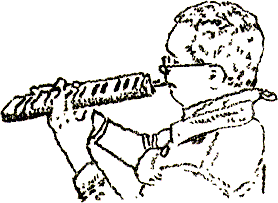 Phillip Miller -- Saxophones, Flute, and Melodica

One night a sax player from the little town of Tooele, west of the Salt Lake Valley, sat in with 004 and within a week or two there were five regular players in the band -- Phil Miller could thicken up the high notes, resonante with the low notes, and solo like a sonofagun! His hero was my friend Dale Carlson, a hard-working saxophonist who had grown up in Dugway, Utah -- which was even more remote than Tooele.
004 was in the game for real! They did a short California tour and convinced a producer named Elliot Case to help them record their first 45 RPM record -- a pulsing duet featuring Doug and Teri called I Don't Love You.
Scott Simons was a quiet man who stood off to the side playing lead and rhythm guitar. Elaine Matsui was one of the roommates in the apartment Scott shared with Doug. When McCallister became too busy to run sound, Elaine stepped in and did a good job -- later taking her skills into the telephone industry. Jimmy Hamamoto, another room - mate and musical devotee, became a lead volunteer at KRCL-FM. We heard some incredible music at their house, and I was proud to bring some of it at times -- but nothing beat the live, original stuff they were throwing down in the clubs. Scott had a newspaper clipping on the wall next to the stereo with a headline that said: A Good Dance Band Is Hard To Define.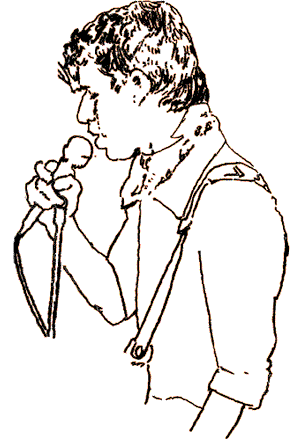 Scott Simons -- Lead & Rhythm Guitar, and Engineer