Linda C. Smith is one of the founding members of RDT. Her powerful soaring solos under the deep saturated lights at Kingsbury Hall in Salt Lake were absolutely thrilling.
A Note of Introduction
Repertory Dance Theatre was my introduction to live Modern Dance in the late 1960's. I had seen The Nutcracker danced by what would become Ballet West in elementary school, but RDT assaulted my teen aged senses with rich lights and eclectic music in service of remarkable male and female bodies which seemed to fly in the air as often as they lightly stepped on the stage, or rose and fell in fluid postures which swept me away with emotions I never suspected could be articulated with such beauty.
I have watched RDT at every chance since then, and dedicate this page to their fabulous work. I have made links to their own website, plus an additional page where I tell a little more about their shows, and the contacts with them which changed the course of my life.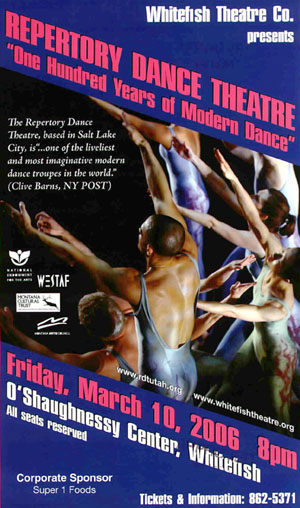 Souvenir poster from RDT's Whitefish concert.
(Left) Linda C. Smith KNOWS what I think of her art
Read my review of this show in More Reflections: