(Left) Lisa Verstieg un-nerved many a young fan in the alternative music scene. (Right) Al Grazzi lent his unflaggingly energetic guitar to Rock Against Reagan.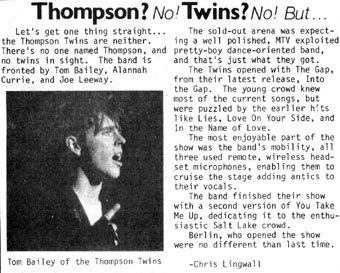 Salt Lake Area Music AKA SLAM was predecessor to today's SLUG AKA Salt Lake Under Ground. I saw both the Suburbs and Thompson Twins concerts covered in the issue above, and was present at Rock Against Reagan, where SLAM shot the pictures below.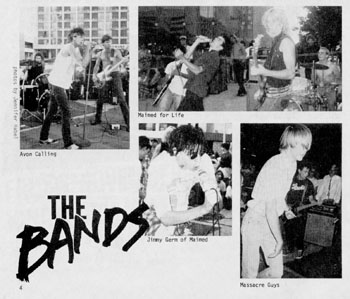 The characteristic do-it-yourself aesthetic of the Punk-Rock and Post-Punk eras provoked some funny things -- there was a chain-letter society called the Church of the Subgenius which produced some hilarious satire, and continues to do so today. An acquaintence of mine named Dave Brothers did a weekly radio show in a similar vein with his Church of Jayne Mansfield. The rediscovery of Bettie Page also began with Dave Stevens' Rocketeer.
I regularly watched New Wave Theater out of L.A. on cable TV which featured acts like the Surf Punks and X. It was artless and fun, plus it led into Space Patrol -- reruns of a low-grade science fiction TV show I enjoyed in elementary school. An eclectic amalgamation of music videos was shown on Night Flight too, before MTV smothered the form. Former Punk-Rocker David Fagiolli made a video with his Plague of Locusts band, "Utah -- Gateway to Nevada." I watched it being edited at Brother's 'Sensible Media' studio, but I never saw it played on the air. When New Wave music finally came ashore on the radio in Salt Lake, a station called KCGL waved the banner high from the same studio which had once hosted the Church of Jayne Mansfield. It was a commercial success, despite playing a lot of the same music Brad Collins had already introduced on community radio KRCL. Both stations played The Ramones as some sort of classic band. Brad stuck to the "Hardcore" side of Punk, but he didn't skip The Cure, The Smiths, or Violent Femmes, who reached everybody else's ears on KCGL. There was even a NEW home club for Punk-Rock at the Speedway Cafe, near Collins' store, Raunch Records, in a tough industrial slum among the rail yards. Black Flag, the Circle Jerks, and even the Red Hot Chili Peppers made their way in and out of that tiny little place. A decade or more after I ceased being around Salt Lake's music, a movie came out called SLC Punk. The story could have been set anywhere in Suburban USA but there was one character resembling an actual personality in the real SLC Punk scene -- a sexy woman shopkeeper that remined me of Lisa Verstieg, who worked at the Cosmic Aeroplane, and other alternative stores. She was also in a hard-rocking band called Shot in the Dark. There were only a small handfull of SLC locations in the film -- one was a vista from the brown foothills below Ensign Peak, looking towards the distant Great Salt Lake and ugly railroad tracks below. It had voiced-over dialog and didn't really advance the plot much, but you could almost see where the Speedway Cafe had been.
The height of SLC Punk for me was a remarkable event called "Rock Against Reagan." The so-called Great Communicator (even though he unceasingly lied) was on an official visit. Several thousand people came and went to Symphony Plaza, kitty-corner from the Mormon Temple, to stand in silent protest, while small bands of angry young musicians screamed loud ugly songs of varying quality. All of us were united in mutual disgust at our unworthy president and his rotten administration.
The MC of this inter-generational statement was my favorite DJ -- the soft-spoken Michael G. Cavanaugh, who had championed progressive Rock on local AM radio in the 1960's, and played good jazz on 'grown-up' stations before then. (As a matter of fact, he's doing a Jazz gig now.) I knew John Forsberg, the organizer, slightly and congratulated him for showing that Salt Lake City wasn't as submissive as others might have thought.
The Ramones were on the road throughout the 70's, 80's, and 90's. They never had a 'hit,' but they continued to live up to a high standard of artistic integrity. Every day someone turned fifteen, and The Ramones had a new fan. It was sad when they announced their final tour -- sadder when "Joey Ramone" died of cancer at age 49(!) I knew that he always had health problems, but never suspected how bad they were. Nobody deserved the Rock and Roll Hall of Fame more than The Ramones. Wherever I've lived, I've seen their effect on youth. I'm sorry to say the societial situations which cause that rampant alienation continue to get worse, though. Punk-Rock endures, even in Salt Lake City. My sister saw the Circle Jerks at the Velvet Glove downtown. Her son has played thrashing guitar at Kilby Court. Alternative shops are entrenched at 9th East and 9th South, where the first incarnation of the Cosmic Aeroplane landed in 1967. The manager of the excellent Cosmic bookstore of the 70's/80's now owns Ken Sanders Books.
SLC's Mayor Rocky Anderson made international news twenty years later when he spoke out against the even less worthy George W. Bush at a similarly well-attended protest rally. I'd like to think there was an echo from other days in the air...