The Hole In The Wall Saloon
Jazz & Jive on State Street
---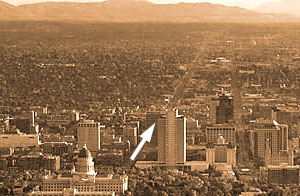 State Street cuts through the center of the Salt lake Valley,
and "dragging State" was a local custom for half a century.
The Hole In The Wall Saloon at 380 South State St.
was located about where the high-rises once ceased.
I first went to Tom's place to see a jazz combo named Mainsteam. My friend Stuart Curtis later joined them as saxophonist. Curtis also played clarinet with an eclectic group called the Jordan River Uptown Band. They were led by Hardin Davis, and boasted some of the best woman singers in town. My long-time friend Kurt Setzer played acoustic lead guitar for them
Before Stuart went to Hamburg, Germany to play for the musical Cats, he did many fabulous performances at "The Hole," especially with Available Jelly -- featuring Mike Vatcher, Gregg Moore, and Michael Moore.
Curtis also scored a personal coup when saxophonist Dave Fagiolli of The Atheists, a Punk-Rock band, sat in for one of Mainstream's sets -- Dave was schooled in Jazz and could wail like Archie Shepp.
Pam Pfister, first-rate lead singer of Irie Heights, a Reggae band which had two keyboarists -- one was a friend from High School, and another from my days on the road in a Theater company.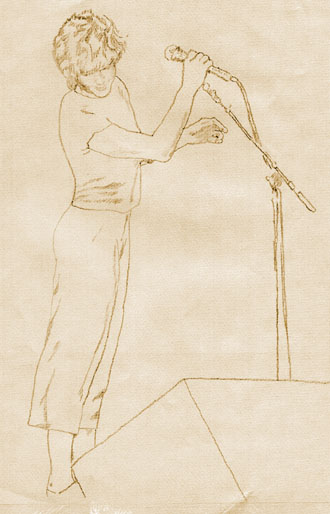 Irie Heights was about DANCING, and people filled the Hole In The Wall to shed their inhibitions while Pam sang. She was a nurse at a local hospital, where the core of the group worked.
While I was working on finally finishing college, I met a man at one of my dead-end student jobs named Tom Bullen who opened up a club called the "Hole In The Wall Saloon." He presented live music EVERY NIGHT and invited me come by and hear what was playing. The name came from when he expanded the old "Camelot Lounge" into an adjoining storefront on the ground floor of a historic (i.e. run-down) hotel on State Street -- Salt Lake City's "main drag."
"The Camelot" had a long history as a left-wing hangout. The great radical writer Charles Bukowski himself had held forth there during the legendary Underwater Poetry Festival at the end of the 1960's.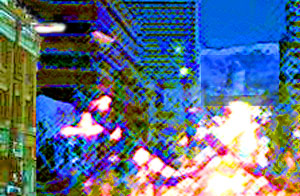 State Street was a slow parade of moving lights as thousands of cars cruised the length of it at night. The Plandome Hotel (Left) housed Tom Bolan's Hole In The Wall Saloon, which eventually took over the whole street level of the building.
Another remarkable Jazz ensemble that played at the Hole In The Wall was Air Pocket -- a brilliant group of Frank Zappa refugees featuring Salt Lake's own Fowler brothers -- Bruce, Tom, and Walt -- along with Mike Miller, Ike Willis, Al Wing, and one of the best drummers on Planet Earth -- Chester Thompson.
The Fowlers had made their mark on the local scene playing Jazz-Fusion with Stu Goldberg. Dad William Fowler taught Jazz at the University of Utah, and later at Westminster College. Bass player Tom was unarguably the best in town, and 'went national' by joining It's A Beautiful Day with ex-Salt Laker David LaFlamme. I saw Tom Fowler playing with the Mothers of Invention in early 1974, but Ruth Komanoff Underwood was the star THAT night -- she was a symphonic percussionist who'd played xylophone on Zappa's albums for years. Her equipment covered half the stage, and her musicianship stole the whole show. George Duke smiled from his piano.

(L to R) Tom Fowler, Ruth Komanoff, & Chester Thompson

Somehow ace trombonist Bruce Fowler became a Zappa regular 'round about 'Overnight Sensation.' I was out of the country after that, and the first time I saw Air Pocket was long after they'd left Zappa's employ. The Hole In The Wall was SRO whenever they played for the first few years -- good songs by Mike Miller, good solos by Al Wing, Miller, Walt, and everybody Fowler -- all held together by gentle-spoken Thompson, who kept perfect time, and was wildly inventive -- taking the heads of the band where Jazz was meant to go, and keeping everybody's feet in the FUNK of passion and joy. After a while, I learned that he'd played with P-Funk veterans Dennis Chambers and Rodney Curtis back in his home town of Baltimore. He later toured with Phil Collins.
Tony Morales eventually replaced Thompson -- and he was excellent, but Air Pocket's creativity and flair slowly withered over the years, and I never asked why -- but I sure enjoyed some good times at their performances!