Theatrical Daze & Nights Ic
Art Studios, The Nameless Uncarved Block, Commercial Art, and the 9th & 9th Community



(Above & Upstairs) The 1st Avenue Studio.
(Left) A rare minute of relaxation in my busy 1970's.
I made up my mind in 1973 to escape my dangerous dead-end industrial job, and really start finding a way to make a career as an artist. I moved into a studio near the University, and went about taking photographs, drawing, and painting away from the Art Department. I was still taking classes there, but knew that the key to the future was finding something different to do that would put my many interests to work for me. I gambled on Portable Video, and am still telling THAT story elsewhere (just follow the handy links below). This web page is devoted to some of the other projects that occupied my time and energy as I was first learning about Dance and Theatre with the Mime Troupe.
---
The Studio in the University District on First Avenue
| | |
| --- | --- |
| Theatrics, Mime, and Makeup were already artistic interests of mine before I ever walked backstage. | Mary worked as a model while studying Modern Dance. See my complete drawing of her. |
My studio was an absolute delight! Although I used it to continue my artistic studies, it was fun being in close proximity to other young people my age who were learning about life on their own. These surrounding pictures were done in cooperation with professional model Mary, a dancer who lived nearby, and introduced me to many creative people in her scene.
Highly Super Low Culture on Canvas and Illustration Board
| | |
| --- | --- |
| Digital reconstruction of a detail from one of my Rembrandt-esque 'Spaceman' paintings. | I delighted in constructing figures out of my head, like in this composition, but they took an awfully long time to complete. |
I went to the University to learn how to draw and paint human figures, knowing that it would be a long, hard process. By the time I rented the studio, I knew a few things, but there was so much more to learn. The examples above show me being much more comfortable with drawing than painting -- and still enjoying Pop Art, or was it Post-Adolescent Pulp Art? Whatever was going on, my devotion to figural art drew me to Modern Dance, Ballet, and Pantomime, all which employed the human body for expressions that were as profound as the best novels, poetry, movies, or visual imagery.
---
The Studio at Ninth South and Ninth East
The 1st Avenue Studio experience came to an end when the main house out front was sold to a family, and the apartments were all closed. After an INTENSE six months with the Mime Troupe, I took a break from them and shared a space with my friend Curt Setzer near his shop Round Records at 9th East & 9th South, which had been a center of creativity and alternative culture in Salt Lake City since the original Cosmic Aeroplane began there in 1967.
Setzer was a musician, and knew people who played in every genre throughout the area. He led an informal gathering of 1) real players and 2) enthusiastic amateurs who performed as THE NAMELESS UNCARVED BLOCK. (I belonged to the second contingent.) Below is a digital reconstruction of the studio, with my Volkswagen parked in back, based on a photo taken by the author circa 1992.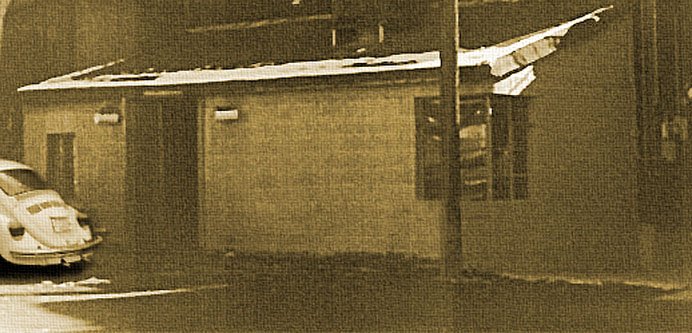 We jammed every Sunday for many months in the music room. I set up my equipment in the other half of the place and tried various projects, like a guitar instruction video with a local music teacher, and a Zen Television number featuring violinist Richard Jonas in the woods. (Twenty years before Kenny G discovered the same idea.) Mostly though, I concentrated on keeping my job and mending my health, after abusing my body making the long commute between Kennecott Copper Corporation and the University of Utah for almost five solid years.
More about the Ninth South & Ninth East Community
| | |
| --- | --- |
| Me and my first painted window at Round Records, in the same storefront where the Cosmic Aeroplane started. They had been recently prosecuted for selling underground comic books. I did a few more windows on other themes, and so did my friend Jim Neilson. | (Above) Salt Lake Seagull Bombers torching the Bill of Rights, Declaration of Independence, U.S. Constitution, and Robert Crumb's ZAP Comix. |
---
The 9th East and 9th South Community at the time also boasted a health food store; a dress shop named Mother's Earth Things; An alternative store called The Connection, run by a former Cosmic Aeroplane partner; The dynamic, sexy Skin Company, which sold leather goods, and hosted fellow art students Sparry and Robin. They also ran a sign-painting buisness out in back, where a high school friend named Blaine Swanson worked. The Tower Theater was across the street, showing foreign movies, and films like Woodstock.
---
Dance to A Different Drummer!
My ad for Round Records was published in the Salt Lake area.
I decorated the walls of The Connection with
mural-sized Robert Crumb quotations.
---
I had met Curt Setzer at the University of Utah, but I'd known his business partner Dave Fagiolli since we were both finishing High School in 1968. We met as comic book collectors -- he also collected San Francisco posters, and still trades in them today. He was a first-rate musician with a great ear, so it made sense that he'd try turning his interests into an enterprise. He owned a house a few blocks away that he shared with fellow bibliophile and artist Jim Neilson. They'd published an underground magazine called Aardvark Papers a year or two earlier, which included work by myself, Jim, Neil Passey, Bob and Parley Holman, Larry Farrington, Al Davoren, Kent Case, and Pat Eddington, but that's a story to tell elsewhere, when I discuss my first years at college.
---
Back to the Studio! -- Members of the 'Nameless Uncarved Block'
| | |
| --- | --- |
| Curt Setzer: Guitars, Keyboards, Saxophones | David Fagiolli -- Saxophonist Extraordinaire |
| | |
| --- | --- |
| Richard Jonas: Electrified Violin | Neil Passey: Bass |
| | |
| --- | --- |
| Von Bailey: Rhythm & Jazz Guitar | Rod Dankers: Electric Lead Guitar |
Other contributers to THE NAMELESS UNCARVED BLOCK included Cosmic Aeroplane partner Sherm Clow, who created the concept, Rodney Daynes, Nick Snow, Walt Churchill, Al Payne, Stu Goldberg, and many others.
While 'The Block' made music -- Me and Model Linda made video tapes
| | |
| --- | --- |
| Linda created characters while musicians played in the studio. | We made music videos long before MTV. |
Although it was fun to jam with real musicians, and get polite compliments for my percussive talent, I had no discipline as a player to rely on, so I experimented with making videotapes as artwork. Model Terry practiced Kundilini Yoga, and we did a couple of Zen Television pieces, one which featured an incredible sax solo by Dave Fagiolli. I even invited Paul Blackwell, Stu Curtis, and Patsy Droubay from the Mime Troupe to come over and participate on a few occasions.
| | |
| --- | --- |
| Linda could extemporize beyond belief. | "What did I just say? Oh, we'll watch it again on TV." |
The best times`we had at the 9th & 9th Studio were the Sunday evening jams, especially when Model Linda started improvising various characters on videotape, while the band created music on the fly. We set up a TV studio in a separate room, for the sake of clear sound, and she'd take off and fly verbally, while sporting a variety of costumes and wigs. When the musicians took their breaks, we'd show them what we'd all accomplished together. She received many more compliments for her rancontuer de forces than I'd ever got for my percussion, which was only fair. We all went home feeling satisfied with the time we'd spent at the studio when things came together creatively like that -- THANKS LINDA!
---
In honor of Linda, I've created a Warhol-esque assemblage reflecting her many videos, most of which don't even exist any more. A piece like this as a logical expansion of Video Art, and represents work I might have undertaken at the time. It is dedicated to models Terry, Mary, Brenda, Alice, Becky, Linda V, Ella, Barry, Larry, Lynne, and Heidi, from whom I learned so much. My apologies to those many others whose names I've forgotten.
---
Looking back, it seems odd that I didn't see Model Linda socially, except when we saw the great bluesman Willie Dixon LIVE at the University of Utah together. Matthew Child from the Mime Troupe sat with us, and I believe we spoke about moving into yet another new studio on Capitol Hill during the course of the evening.
I frankly missed the various combinations of structured preparations and spontanious performances I'd experienced in the Dance Department. Through successes and failures, the freewheeling 'Block' was fun, but nobody even pretended it was anything more than that. The Mime Troupe consisted of performers actually going somewhere in their careers, and that quirky little group was their chosen vehicle. I was pleased to be asked to help them with my own barely-tested talents.

( Continued in Part IIa ...)