Theatrical Daze & Nights IIa
"Moving Uptown" -- The Mime Troupe lays the foundations for interstate and international exposure.
(Circled Right) McCune Mansion and its carriage house in an aerial shot circa 1950,
two blocks uphill from the famous LDS Temple.
(Above) The front of the McCune Mansion as seen from North Main Street

(Clockwise) Matthew Child, Stuart Curtis, Katie Appenzeller, David Carrillo, Evy Tessman, and Paul Blackwell on the stage in the carriage house of the McCune Mansion.

When the Mime Troupe moved to the carriage house of the McCune Mansion, I rejoined them and rented one of the studios in the building, along with Tom Tessman, and my friend Sparry Daughterman from the Art Department. Daniel Robert took on the job of manager, and everything was done with a greater intensity. We opened a whole new chapter in our mutual histories.
---
Our first few weeks in the Hillside Studio are still a blur in my memory. We were mostly involved with cleaning and painting a two story building that had been neglected for an indefinite number of years. Rehearsals, workshops, and jam sessions occurred, of course, becoming more frequent as the place got presentable. There was an anteroom opening onto Hillside Avenue to the north, which led to a small stage, and then hundreds of square feet of sprung wooden floor on the top floor, along with a raised alcove at the south end, where we set the piano. A borrowed set of drums appeared one day, thanks to Dave Fagiolli and the Nameless Uncarved Block. Downstairs was a bathroom, a broom closet, and three artist's studios -- mine was farthest eastward, Tom's was in the middle, and Sparry's was nearest to the door westward. Since we were on a slope, we were able to walk in and out at ground level, and there was plenty of light. Sparry discovered a secret room behind her south wall, and lost no time opening it up. She made tea every evening and always visited me, cups in hand, when I was there. Tom's space was mostly unused, especially after Evy left the group.
---
Hey -- get to work! Is this WORK? Sure -- it's work!

David, Katie, Matthew, and Evy (below)
Family and job responsibilities soon took Evy away.

Matt and Patsy were both well-trained dancers. They kept pace with Katie, and brought their own ideas.
My main job with the Mime Troupe was videotaping classes and rehearsals, so that the dancers could see what was working -- and what wasn't. I also drew pictures, took photos, and created graphics for publicity purposes. Yes, I was still working nights at the railroad engine house twenty miles away, but I slept in the mornings, and joined Katie and Paul for their classes midday in the Ballet Dept. at the University of Utah. It felt great going to the University as a professional, instead of as a student, but I was also learning about my new chosen field from people who had been dancing since they were small children. Scary, but fun! Katie and Patsy also taught private classes at the Hillside Studio (see my digital sketch of the upstairs floor below). In between these times, our dancers would work on creating new material while our musicians jammed along, or composed original music for them.
| | |
| --- | --- |
| Matt Child was one of the first people I met from the Dance Dept. He had awesome skills and instincts. | This was the SLC Mime Troupe's basic poster during early 1974 -- Clockwise from the top: David, Patsy, Katie, and Matthew. The photo was shot on Hillside Avenue by Daniel's friend Pete. (Click to enlarge.) |
The Mime Troupe had a whole new professional focus, with a common goal of somehow creating a unique dance company, and making it succeed in the marketplace. We were lucky to have the personable, but aggressive, Daniel Robert guiding us, and speaking with artistic sponsors. He was alert to opportunities others surely would have missed in our group.
| | |
| --- | --- |
| David Carrillo came on board after serving time in the U.S. Navy and Dance Dept. | Daniel Robert was from New York City, possessing the professional experience, courage and drive we needed. |
| | |
| --- | --- |
| Katie was our choreographer and lead performer. She also taught at the University. | I videotaped Katie's classes at the Ballet Dept. and wore glasses for a little while, especially when creating graphics. |
---
Music hath charms to soothe the savage breast ...
... to soften rocks, or bend a knotted oak -- so sayeth, uh said, William Congreve (1670–1729) in The Mourning Bride, Act I Scene 1 -- Unlike any other dance company, we had our own band. Paul Blackwell had been with the group since the beginning, and wrote his own music. His friend Stuart Curtis moved all the way from Michigan in the summer of 1973 to work with him. Stuart was particularly talented on reed instruments like clarinet and saxophone, plus he played a powerful flute, and was a better than average pianist. To the west of the Hillside studio was a high-rise apartment building where a big band musician from California named Hal Schaer resided. He heard Paul and Stuart play from his balcony, came over to visit them, and encouraged us all to persevere. He'd played with Bob Crosby's well-established orchestra, and had high standards. Hal became a mentor to Stuart in particular, and they stayed friends for a decade or more.
| | |
| --- | --- |
| Musician Paul Blackwell played piano, guitar, and composed. | Musician Stuart Curtis played horns and piano. |

We performed many times at Westminster College, a private university on the east side of Salt Lake City.
We faced a challenge in finding other musicians who could match Paul and Stuart's abilities, and would work for what little we were able to share -- jam sessions helped, plus the word of mouth that developed from them, and through the grapevine at the Dance Dept. We met talents like pianist John Fischer, bassist Mark Nelson, and local keyboard giant Stu Goldberg, who soon moved onward and upward with the Fowler Brothers. (Later, Katie choreographed a terrific dance to his beautiful song Lotus Feet.) Former U of U Professor, Dr. William Fowler, took his Jazz program over to Westminster College, where Stuart took music courses, and made even more contacts.
Eventually, we coaxed a high-energy hard-rock drum and bass rhythm section into joining the band with the promise of work on the local bar scene -- the buzzword going around the artistic community was THE BARS. There were a lot of them, and business was good, as thousands of Baby Boomers hit legal age and unleashed a tsunami of beer. Rod Dankers recruited many fellow Nameless Uncarved Block inmates into his own bar-band, and they remained a source of good advice on that front. We kept our promise to Fred and Bud -- the former played a double-sized drum kit, and the latter had new Peavy bass equipment. Our musicians enjoyed playing unusual time signatures, and our dancers were inspired by the un-conventional rhythms, plus found it was easy (for them) to keep cues straight in odd time signatures like 5/4 and 7/8. After baptism by fire at "Big Joe's," a gig which really needed the electric band, Daniel asserted we were ready to face the audience at Salt Lake's most surprisingly successful watering hole -- The Sun Tavern, one of the first openly gay discos in the Western USA. Everyone who went there wanted something out of the ordinary, and that's what we were about to deliver!
---
We've been working in the bar-rooms -- all the live-long night ...
... we've been working in the bar rooms, just to get our business right! Daniel was correct, as usual, The Sun attracted people from all walks of life, especially our audiences from the University and alternative communities. Their regulars came from various social strata, but enjoyed good entertainment, no matter what their origins were. They were already used to theatrics, because the place presented frequent cabaret shows featuring impersonations of Marilyn Monroe and other High Camp heroines. The backbone of the tavern's business, besides the freedom of their clientele being out openly with their peers, was the LOUD sound system, and a stock of Soul Music that made everybody, of every sex, get up and dance for hours on end (and refresh themselves at the bar). The records I now recall the most included Rock the Boat, by The Hues Corporation; Rock Your Baby by George McCrae; Kung Fu Fighting by Carl Douglas, and Jungle Boogie by Kool and the Gang -- Get Down! Get Down! This kind of scene would soon be called Disco, and sweep the globe.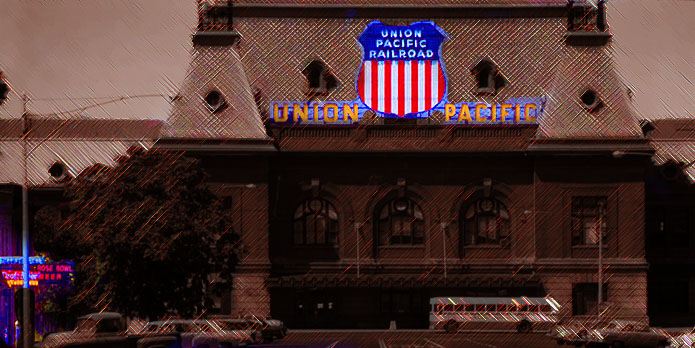 The Sun Tavern evolved from a row of railroad bars next to the Union Pacific Depot. It started as the Railroad Exchange before radio talk show host Joe Redburn bought the place and turned it into an openly gay dance club, pioneering the nascent Disco scene in Salt Lake City.
The Mime Troupe's first bar shows started by utilizing the company's strength -- dancing. The band worked up a special introduction that kicked into high gear after a few short measures, once the actors/dancers made their entrances. It was obvious to even the most jaded barfly that these people could MOVE. The characters and scenarios which tied the dances together were incisive, funny, and yet refreshingly respectful of humanity -- they were also brash and sexy, and the music was GOOD! The flame of High Culture burned brightly in the industrial slums of Salt Lake's rail yards among people who were looking for a good time, which included us.
The ideal of "theater for the people" was a reality, but so was the desperate side of night life -- RDT lost their great lead dancer Manzell Senters to an accidental drug reaction in this scene. It wasn't the fault of a particular place, or sub-culture either, but there was inherent danger in promiscuous "partying" which should have been obvious to us all.
Arrow Press Square (Right) was a group of bars, shops, and various businesses across the street from the Salt Palace sports arena.
The Mime Troupe eventually played several venues around this location, including "Big Joe's," which wasn't owned or run by anybody named Joe at all.
There once was a club named "Big Jim's" on West 2nd South -- a man named Big Jim really owned it too, but that's part of a dark sad story, since the bar was in the middle of Salt Lake's tawdry and heartless red light district.
A couple of individuals, who shall remain nameless, tried to take over the company at various times when they saw the quality of our show, but nothing came from their efforts, which was good -- nothing would have come from our efforts if the SLC Mime Troupe's name had became the property of an egotistical flower salesman or unimaginative restaurant manager.
---
Theater/Theatre -- wasn't that some sort of a building, or was it something we actually DID?
| | |
| --- | --- |
| Canadian Claude St. Denis filled Kingsbury Hall, and proved that there was a significant audience for Mime. | James Donlon of Menagerie Mime Theatre from San Francisco visited us after a concert at BYU in Provo. |
| | |
| --- | --- |
| Bob Francesconi leading Menagerie's workshop at the U of U in Salt Lake, sitting next to Daniel. | Jim Anderson, David, Katie, Patsy, and Donlon listen to Francesconi. Anderson would soon drift away from our scene. |
Although the SLC Mime Troupe eventually proved that we could compete with the vulgar noise of the urban/suburban street, it took a while before we mounted our own return to the conventional stage. Daniel enlisted the help of theatrical artists Ken and Barb White to assess our technical needs, and set up lights at ski resorts, taverns, and other places we wanted to play. Ken also trained me in the basics of being a theater technician, and built an ingenious portable lighting system which we used for a year.
For quiet theater stages, our dancers adopted the characters of children playing gently -- a whole world developed from their easily-perceived games. As the show went on, they brought in various combinations of new material and scenarios from earlier shows, which had been expanded over time, and refined by practice and integration with their stagemates.
An attentive audience in a darkened hall, with proper lighting, experienced a greater range of dynamics and emotions than anything possible in the human hubbub of night spots. However, we acquired a certain edge from working in the latter places which was unobtainable by other means.
Instead of an established location, we took a chance on booking our Spring Concert at a perfectly fine space in Salt Lake's so-called Central City (see below). Our audience didn't follow us there, unfortunately -- but we impressed over half a thousand strangers in Colorado about five weeks later!

After months of development, we presented our first full-scale independent concert, but in a venue unknown to the public. The show was first-rate, but only few dozen people came.

Daniel's hard work was not done in vain.
We scored our first out-of-state show at an Arts Festival in Steamboat Springs, Colorado.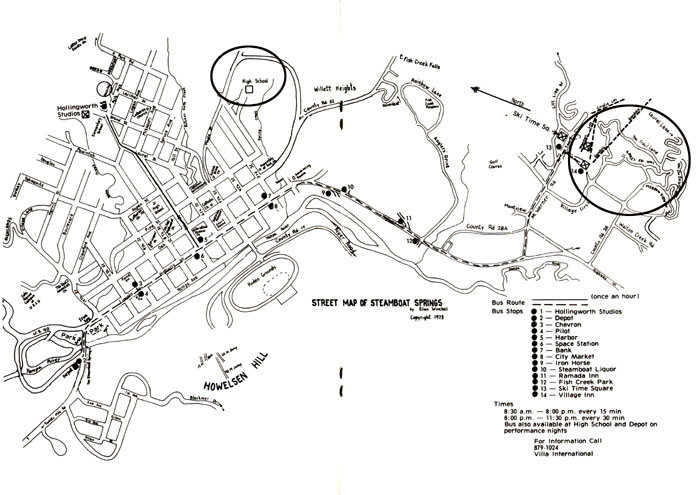 We performed at the High School (left oval) and stayed at the Golf Course (right oval).
| | |
| --- | --- |
| The program says "Dance Concert," and that's what we did! The SLC Mime Troupe was ALWAYS a dance company. | Aerial view of Steamboat Springs, looking West, with the Golf Course in the foreground. |
During our gut-checking run at Sumner School, Sparry grabbed a hold of me, and took me out to the annual Art Department Picnic in Millcreek Canyon, for one last get-together with our mutual friends at the University. I was proud of what we'd been doing, and she was glad to see me so involved with a project that pleased me so much (at least most of the time). Sparry soon moved into a house on Capitol Hill a very few blocks away from us.
One of the brightest highlights of our experience at the Hillside Studio was a heavily-advertised week-long workshop that filled the place up, and even made a little money (!) which came in handy after Central City. One of the many participants was a handsome ex-Kindergarten teacher from Seattle named George Kugler, who saw our brochure and took a chance on trying a new experience. Everybody liked him, and Katie was happy to have yet another tall man to coach.
Daniel showed George another flier for some event called The International Mime Festival and Institute, to be held in LaCrosse, Wisconsin a few months later. They claimed that Marcel Marceau, Bill Cosby, and Dick Van Dyke were invited. There was an impressive list of international performers attending -- as well as Mime's biggest American star Bobby Shields. Daniel had spent his own money registering Matt, David, Patsy, and Katie for the festival. George liked what he'd been doing in Salt Lake, and signed right up. After a little thought, I volunteered to drive Paul and Bud to LaCrosse, and see what was going on. Stuart and Fred each found a way to get there too. There was a short blurb about performance space for registerees, plus it sounded like so much FUN!
( Continued in Part IIb ...)