Theatrical Daze & Nights IIc
"Downtown and Beyond" -- The Mime Troupe reaches for the wider world.
Summary of Part IIb : The Mime Troupe played its first show out-of-state in Steamboat Springs, Colorado, and a few weeks afterwards was performing for a multi-level audience of peers and professionals at the International Mime Festival and Institute in LaCrosse, Wisconsin during July of 1974. Nixon's resignation was a good omen. We were invited to perform in Amsterdam, Holland the following summer, but faced an awful lot of work to make it happen.
Many Many Things Happened In A Very Very Short Period of Time!
Almost the first thing most of us had to do when we returned to Salt Lake was find new places to live and work. Several among us also took trips to the West Coast -- Katie and David accepted an invitation from the Friends Roadshow to travel with them on a tour which ended up in San Francisco. Matthew Child and I went to Seattle, Washington and Davis, California. We visited Barbara Doherty in Seattle, Noel Parenti in San Francisco, and saw lovely Nancy at Project Artaud. We threw ourselves into our work after we got back, because we all shared the goal of making Europe happen for us.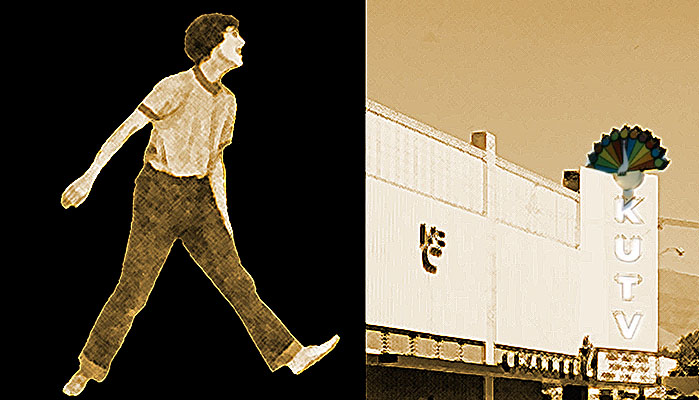 The Mime Troupe did some performances on television -- KUED (PBS), and several segments for KUTV.
Matt Child performed in an animated title for a local show, which gradually increased our visibility.
| | | |
| --- | --- | --- |
| Hotel Utah Ballroom | Westminster College | The Old Salt Lake City Library |
During the Autumn of 1974, the Mime Troupe performed at the Salt Lake Library at least twice; the Utah State Fair; the Hotel Utah; various venues around Arrow Press Square; the University of Utah at least a half a dozen times; The Sun Tavern about twice a month; and several schools -- especially Oquirrh Elementary on Halloween. (Where Don Baxter, my sixth grade teacher, was principal.) We were especially welcomed at Westminster College, repeatedly playing at the Student Union cafe, and teaching classes in the Courage Theater, part of the main building (above), with the wonderful Dr. J.W. Lees.
---
George Kugler ("Georgio") Infused New Positive Energy into the Mime Troupe.
| | |
| --- | --- |
| Trolley Square, photographed circa 1974, from the same water tower where my friend Bob Berntsen was wiring the lights as an earthquake shook the valley. | George Kugler worked on his juggling act before and after the movies at Trolley Square all week, and used his teaching experience to book himself in the schools. |
The greatest thing our LaCrosse trip did for the Mime Troupe was bringing George Kugler into the group. I'll always remember the moment when he came up to me during one of our rehearsals and said "These guys are ready for center stage!" I had the very same opinion, which was why I bucked the system to make sure the world saw what Katie, Patsy, Matt, and David had done -- plus hear the music by Paul, Stuart, Bud, and Fred. (We had some angels on the festival staff helping us out!)
George had natural talent, and he saw how our dancers' Martha Graham-based training powered something different from anything else America showed during the International Mime Festival. He also saw how he could contribute to our show and was inspired by our ambitions. It pained me to see him cheerfully hitch-hiking back to Seattle at the end of the festival because we had no room in our little two-vehicle caravan, but he showed up in Salt Lake City by mid August with his own VW bus, and outdid everybody in establishing his prescence in the community.
Wally Wright's development at Trolley Square enjoyed some early success by hosting a complex of movie theaters. George performed his juggling act for audiences who were there waiting between shows. He was competent, entertaining, and always innovating. He didn't make a lot of money doing it, but the public exposure and good will was something money couldn't buy. George used his recent experience as a Kindergarten teacher to book workshops and performances in the local schools as well -- we needed and appreciated his good-natured hustle.
---

The Lollin Building, on Main Street in Salt Lake City. There were front and rear doors that we could use during business hours
(Photo from the Utah Historical Society)

We needed a new studio, too!

We returned to Salt Lake dead broke, and had to vacate the Hillside Avenue building. Luckily, we found a space in Downtown Salt Lake City, right above a music store, where owner Gilbert E. Martinez generously let us bring all our equipment, set up a rehearsal area, and start an actual business office. After I dug our a small mountain of trash from the alley, we had access from the center of the block, up a steel staircase, plus occasional use of conventional doors when we needed them.


The rear alley, towards the middle of the block -- anybody want to haul an electric Fender Rhodes piano on those stairs?
How many stories can be told about cleaning, painting, and moving before it gets boring? See how fast cleaning, painting, and moving get to BE boring when you have to do these things AGAIN less than a year after doing the same things in another space! Luckily, I had an uncle who was a sales executive for a nearby janitorial supply company, and we got a break on the equipment we needed. The tile floor in the rehearsal studio wasn't ideal, but the dancers learned to cope.


A large studio facing away from the street served our rehearsal needs.
We occupied the entire second floor. There were two long rooms overlooking Main Street -- I used the north room as my studio and it also doubled as our office. The music room was south of me, plus there was a small alcolve across from the cute little painting in the hall, leading to the dance studio which took up most of the middle and rear space. We never really got a chance to use (or clean) the third story.
| | |
| --- | --- |
| Turn of the Centuty blond oak stairs and details provided us with some much-needed elegance. | This little painting on canvas was still in existance when I photographed the Lollin Building in 1989. |
Main Street with the Mime Troupe.

People rarely looked up, but I watched street life from my studio at the front of the Lollin Building.

Salt Lake's Main Street, before the HUGE skyscrapers.
The circle shows our block -- we were on the left side.
---
The Mime Troupe was ready to try new things, and we did -- most of our experiments were successful, although we failed once or twice. There were so many ideas ready to emerge from the ferment of the International Mime Festival. One of our best was a movement jam by Matthew, Katie, and George based on the concept "Competition," which I verbally threw out for consideration at the start of a video session in the new studio. It worked beautifully, and I wish all our pieces could have been that easy to compose -- but they weren't.
Katie put in many hard hours working out movements. Patsy was heavily involved with family responsibilities, and didn't have as much time as before. We did our best when we were preparing for shows, as Stuart noted -- luckily we had a lot of shows to prepare for. It wasn't always necessary to perform new material in every show, but we needed to increase our repitoire for the sake of the audiences who repeatedly spent money to see us. Our most regular challenge was The Sun Tavern -- they were a jaded, uh -- sophisticated, bunch who desired excitement and something different. We spent long nights in the studio preparing sets just for them, and they repaid us with appreciation and full houses.
| | |
| --- | --- |
| Katie continued to teach at the Ballet Department, while creating new material for the Mime Troupe. | Autumn was tough on Patsy, but she continued to hang in with us until we went on the road in December. |
---
MORE New Faces -- With An Eye On New Places

Mark Nelson turned from playing Rock and R&B bass to Folk Music, and was our new business manager.
Fred and Bud left after LaCrosse. We not only needed to recruit new musicians, but Daniel Robert let us know that he was heading back to New York City -- luckily, he convinced the very capable Mark Nelson to be our manager. Mark was performing with singer Sandy Duncan at the time and my friend, guitarist Curt Setzer. (See Theatrical Nights & Daze Part Ic) at The Pub in Trolley Square. They would later form the Jordan River Uptown Band with Hardin Davis, after we took Mark on the road.
As far as hiring our OWN musicians went, Stuart Curtis and Paul Blackwell knew a pianist named John Fischer. When John joined us, it meant that Curtis had to concentrate on his horns, but he was pleased to do it. Jan Fogel was a neighbor of Matthew Child. He heard her playing drums at a local night spot, and was impressed with her musical skill. She took a little convincing -- her standards were very high.
I was present when she first jammed with Stuart and Paul. Afterwards, I asked her what she thought, and she said "They have a lot of potential!" Later on, as we were shooting the bull one evening at the Main Street studio, I ventured to say that a musician who could play bass and trombone would be ideal to complete the band. Very soon after that,
I heard the musicians auditioning a person who could co-incidentally do those very things. When I asked Gregg Moore if he was going to work with us, he said "I sure hope so!" David Carrillo played congas, percussion, and sang, plus Katie capably lent her voice to many arrangements.
| | |
| --- | --- |
| Stuart Curtis concentrated on woodwinds and horns. | *Paul Blackwell playing his Gibson Les Paul guitar. |
| | |
| --- | --- |
| Carrillo stepped out front, playing congas, and singing. | **Jan Fogel was a skilled and sensitive Jazz drummer. |
| | |
| --- | --- |
| John Fischer played keyboards and melodica. | Gregg Moore toured with bass, trombone, and tuba. |
The Mime Troupe's band never really acquired a name of its own until 1977, but it had a definite onstage identity, and was loaded with character and characters. As we grew, the band played whole sets of music in various contexts. Besides Paul, Stuart, and John's original compositions for the dances, the fashions of current bars and cabarets crept into the set lists like: Steely Dan's Your Gold Teeth (See How They Roll); Stevie Wonder's Sunshine of My Life and Superstition; Marvin Gaye's What's Going On, and Buddy Miles' Them Changes. Katie sang a smouldering Baby I Love You, and I was also happy to hear progressive Jazz -- John Coltrane's Mr. PC, for instance.
---
Jango Edwards Came All the Way from Michigan to Check Us Out.
We first met Stan Edwards when he brought the Friends Roadshow to the International Mime Festival and Institute. Everybody was stunned by their fleet of Ford Trucks, the churning, powerful Jazz band, the international cast, and their affable leader who called himself Jango -- commanding any crowd with a smile, wave, joke, or original song.
I was the first one of our group to meet them whem when they wandered into Viterbo College's gym to rehearse. My sketchbook was at hand, so I got it out and made several pages of drawings as they came and went. (See the previous chapter for examples.) I'm sure he recognized kindred spirits when he later met the rest of us in small clusters afterwards.
Jango repeatedly spoke a desire to start another Friends Roadshow company in San Francisco, but it wasn't to be. I know he was seriously moved to see David and Katie in California as the transcontinental tour wore down in the wake of the Gasoline Crisis which had altered the USA completely from the country he had known before he'd moved to Europe.
Jango had promised to book us in Amsterdam, so we were eager to show him what kind of show we had. Edwards flew out from Michigan to spend a week or so with us in November of 1974. Davy Norkett arrived a few hours later, because there had been a mixup along the way. Another profound turning point for the Mime Troupe started pivoting that same night.
| | |
| --- | --- |
| The Art & Architecture Auditorium beneath my old haunts at the University of Utah Art Department hosted several of our productions. | We showcased Jango Edwards' talent for Salt Lake City audiences. His performance at the Art & Architecture Auditorium, with Davy Norkett, drew a nearly-full house. |
After we finally set up the instruments and rehearsal space for a run-through. Jango sat back at first to see what we did. He called a halt to things within ten minutes -- "You're used to professional audiences," he said, "I play professional audiences too, but entertainment itself is an art, and ANY audience will respond to entertainment!"
The rest of the night was spent learning Jango's songs which had served him so well in the Friends Roadshow -- they were simple, but contained dymamics which we had neglected in our own searching-around. I stood next to Davy and Jan as he arranged things on the fly, and modified things to accomodate her amazing musicianship. Jango even made me sing too, so that I'd learn the same lessons our performers were learning about timing, pacing, and surprise.
We had several events scheduled for them -- Jango would do a lecture-dem for Katie's Ballet Department class; The Sun opened their doors for us again; and the Art and Architecture Auditorium at the University of Utah hosted a formal concert for Jango and Davy. In between these things I drove the two of them to the first Kentucky Fried Chicken franchise on 39th South and State Street, and even took Davy to the sleazy old Jocor (pronounced Joker) Lounge for a much-needed beer. The jukebox played Ike & Tina Turner's version of Ooo Poo Pa-Doo, but the Go Go dancer on duty wasn't nearly as good as their marquee dancer "Sam" -- which turned out to be a blessing, because we got out of there right away and spent the rest of the afternoon at the University, where Davy practiced on the Bosendorffer piano at the A & A Auditorium, while I gathered needed items for Jango's "One Man Circus" performance a day or two later. The Late Autumn weather in Salt Lake can be awesomely good, and we had absolutely beautiful nights and days. Even though he was a clown, Jango wasn't caught with his pants down at the Ballet Department -- his high-intensity workshop challenged even the most accomplished seniors, and we had a hard time following his skill and sureness over the next week. His impromptu lunchtime appearance outside of the Student Union wasn't forgotten for the rest of the year either.
I was videotaping Jango's performance at the University, so I couldn't do the lights. Luckily we didn't need much more than a follow-spot, and Carrillo's friend David Zupan was capable of filling in for me. (He would soon take on a larger role in the Mime Troupe.) The concert itself was an amazing event -- they unlocked a Steinway piano for Davy, instead of the Bosendorffer, but he wasn't bothered in the least to be playing another one of the finest instruments in the world.
Jango proved his contention that entertainment itself was fine art at the Fine Arts Museum -- his mixture of low and high comedy, plus verbal and visual acting, had people literally gasping for air. Carrillo assisted Stan behind the fancy leather screen, and did a few small bits out front. A childhood friend Steve Blanc came up to me and said "That's REAL art!" at the intermission. It is too bad that nobody from the newspapers showed up, even though we'd purchased ads -- Salt Lake City had never seen anything like Jango before.
UNLESS you'd been in the lucky crowd who filled The Sun to overflowing -- now that was one magical night. The Mime Troupe's band lent Davy support, and our performers did a few pieces so Jango wouldn't have to carry the whole show. Edwards and Norkett had no trouble at all -- they dominated the evening, and we learned an enormous amount. My friend Lisa the dancer / choreographer shook my hand afterwards and congratulated me.
By the time Stan and Davy went back to Michigan, we had two full sets of material ready to perform that we hadn't had before, and a new determination to give The Road a try. George Kugler took his van, and rode over to the ski resorts of Colorado to see what he could find. Mark Nelson went to Southern California for the same reason, and we knuckled down for even more changes in our lives.
---
Anyway, What Was Going On With My Artwork?
| | |
| --- | --- |
| Digital reconstructions of two poster designs for our appearences at The Sun Tavern -- they weren't original by any means, but brought in hundreds of people. | |
My job as graphic artist in the Mime Troupe was to create advertising. I have very few pieces left, but I remember laying out Petey's photos for the Salt Lake Tribune and Daily Utah Chronicle at the University of Utah. It sure was difficult getting ten people looking good at the same time, so I really felt for the guy -- even getting our five dancers/actors in a good pose was tough. For other attention-getting posters I borrowed without shame from the cultural environment surrounding us -- Norman Mailer's book Marilyn was riding high in the lists; Long-gone Mata Hari was rediscovered; Thanks to me, Tarot cards mysteriously acquired The Mime as well as The Fool; For a couple of on-campus posters, I even dared to adapt some images from Ralph Ginzburg's Avant Garde Magazine. They were from the Portraits of the American People issue -- and made ME laugh, anyway! By the time we were getting ready to travel, I was still drawing from photos, but being more creative in my interpretations, and using more obscure source material. It was necessary to have adaptable graphics in stock. It would be rare for me to be able to draft new things on tour, because of physical constraints, but I didn't know that quite yet.
---
The Group Agreed On A Subtle, but Important, Name-Change
George came back from Colorado with TWO prospects for the Christmas season -- one of them, the Highlands of Aspen, confirmed their booking. We were very excited, but had to polish all our new material for the Glass Factory show first. It was an audience that regularly patronized dramas by the Human Ensemble Repertory Theatre, drawn from the community at large, but included our artistic peers, and even rivals. As we were sorting out what we needed to do, we settled on renaming the company one more time -- after the nearby lake rather than the town. It was a logical choice -- I'd had the idea myself earlier, and tacked up a silly logo-sketch over my drawing board, but I'm certain many others had the same idea as well.
Our two long weekends at the Glass Factory introduced the name Great Salt Lake Mime Troupe to everybody.
| | |
| --- | --- |
| Our performance at the Glass Factory inspired this image, which served us for several months in a variety of other places. | The Glass Factory -- A theater on the 3rd Floor, and the Dead Goat Saloon in the celler. |
The Mime Troupe hit the stage at the Glass Factory uncharacteristically nervous and unsure. Van Hanson was doing the lights, since I was swamped with other tasks, but that left me free to videotape the first night. They were FANTASTIC out there -- the best overall show since Steamboat Springs. I was smiling and relaying compliments to everyone afterwards, but they were depressed and unhappy -- convinced that we had failed. I immediately showed my wrung-out company the replay, and their spirits rose to the heights they deserved to be. There were a couple of mistakes, for sure, and a thing or two to correct, but the material was strong, and their performances had been superb. The Salt Lake Tribune's theater critic gave us a glowing review, which confirmed the video, and filled the Glass Factory for the rest of our run. Thanks to the Sony Porta-Pack, there would be no more bouts of stage insecurity within the group for a long time,
Courtesy of Mark Nelson's archives, we can read a transcript of the review right here:
The Salt Lake Tribune, Saturday, December 14, 1974
And Music, Sound Mime Troupe Provides Entertainment at Glass Factory
by Irene Jones Tribune Staff Writer
Mime is movement without sound, right? Wrong. At least according to the Salt Lake City Mime Troupe. (sic) The mimists -- all 13 of them -- gathered at the Glass factory at Arrow Press Square Friday Night to present "Clown's Cabaret," a mime show complete with mime, music, and sound. The unusual presentation was comical, well-planned, nice to listen to and well-done. Find Seats As the audience wanders into the theater to find seats, the mime/musicians are keeping early arrivers entertained with some fine jazz sounds. The mimists -- David, Matthew, Georgeo, Katie, and Patsy -- are seated around the room or wrapped around posts. Gradually the audience begins to realize that the show was under way and had been since the first person came into the theater. David and Matthew begin greeting the audience -- they shake hands, pat heads, remove shoes, scarves, hats. One girl is pulled from her seat and handed numerous invisible objects, which she graciously accepts. Finally she is allowed to return to the audience. The troupe mixes sound with mime, does some singing, gives us an intermission of jazz and a hilarious vaudville show for a finale. Ping Pong Game The sound comes during a ping pong game; foot races, a session where we learn what a shoe, hat, coat, and vegiweiner -- that's right -- is. Georgeo introduces the vaudeville acts with nonsensical descriptions, David manipulates a ventriloquist's dummy, portrayed by Matthew, the musicians leave their instruments and give us all a song and dance. And all of this is interspersed with mime. The mime is some of the best I've seen the troupe perform. Their puppet was flawless, moving each joint as the string was pulled. Expressions of hate, love, envy, disgust, pity, sincerity, mischief and loneliness were excellent. There was no story line to the show, merely a series of happenings that moved smoothly into one another. The Olympic medal winners suddenly were fighters; the fighters became arm wrestlers; they in turn, vied at ping pong; the ping pong game became a swimming meet -- or was it the other way around? The events were so swift and flowed together so well, the order of things becomes unimportant. Giving us relaxing jazz throughout the evening were Paul, Stewart, (sic) Greg, (sic) John, Jan. Mark, Mike and Dave (a probable too-fast edit) -- the troupe is known only by first names. "Clown's Cabaret" will continue Saturday and Dec. 20 and 21 at the Glass Factory in Arrow Press Square.
---
Out of State -- With MORE New Faces -- And Places to Go!

White Motors school bus

David Zupan joined us as a bus driver and mechanic at first.
George Kugler invested his own money in a thirty-three foot school bus, which he then modified to as a mobile home so that we could go on tour with all our equipment, and every body would have a place to sleep, with storage for their personal items.
David Carrillo and David Zupan lent their skills to the project, and the bus was ready to go on the third week of December 1974, with Zupan as designated driver/mechanic. Mark Nelson was assigned to follow in his own car, so that he could take care of business meetings and such.
Twelve people set out for Aspen in the un-named bus as winter began for the Rocky Mountain region.
Patsy Droubay stayed in Salt Lake to take care of her family, and we went on the road with Debra Ryals, a new lady recruited from the prolific University of Utah Dance Department. I'm sure Katie and Jan appreciated her company -- there were loads of testosterone on that bus, and the women were outnumbered three to one by shaggy 70's style men on their way to a new town for a very important gig.

We recruited beautiful Debra Ryals to initially take over Patsy's roles during the holiday performances in Aspen, Colorado. She was a well-trained dancer and a delight onstage.
We all knew that the Highlands of Aspen show was going to be a trial run for our planned tour of Southern California. Mark had set up a few appearences "down there" already. We had done our best "up here" to prepare the things we needed to succeed on the fabled ROAD, but nobody in our group had ever really worked in a sustained theatrical or musical tour before. We had so much learning ahead of us still ...
( Continued in Part IIIa ...)