Theatrical Daze & Nights IIIa
The Great Salt Lake Mime Troupe Goes on THE ROAD!
Summary of Part IIc : The expanded Great Salt Lake Mime Troupe made a group decision to name itself after a lake rather than a town. Jango Edwards came out from Michigan to see our work, and taught us several sets worth of new material. George Kugler returned from Colorado with TWO prospects for the Christmas season, and The Highlands near Aspen, confirmed their booking. George then bought a 33 foot school bus to function as a mobile home. We added a driver, and a new dancer, since Patsy had important family duties which kept her from touring at that time. Mark Nelson had already scheduled some shows in Southern Californis, and met us in Aspen.
First Tour -- "The Highlands" of Aspen, Colorado
---
Our venue was a relatively new development at the base of the mountains west of the main town of Aspen. The view from the hotel/resort (above) faced east towards Aspen Grove and Eastwood. It was warm and sunny when we arrived, but it tended to snow at night, and the daily temperatures were about to DROP as Christmas and New Year approached.
Instant Theater -- Just Add Sweat!
| | |
| --- | --- |
| The main hotel dining room where we played had a cathedral ceiling reaching three stories or more up to the steep peaked roof. We took over the far east end. | The view in back of our newly-built stage was white and blue, day and night. We had to compete with God's own handiwork somehow in the foreground. |
After an all-day drive from Salt Lake, we parked the bus at the Highlands resort as night was falling. When we went inside we found out: We were expected, but the size of our full company and five-piece band hadn't sunk in with the management team; The building of the stage had barely started, and there were no plans made about where we would sleep; Les, the manager who had booked us, was away and wasn't expected back for a few days. Luckily, the staff on hand found rooms for us, and scrambled the whole next day to get us the material and tools we needed to finish turning the dining room into a servicable theater. Foremost among our allies was "Fast Eddie" the chef -- he and the other workers at the Highlands gave us immeasurable assistance throughout our stay, and we couldn't have succeeded without them.
Ken White's portable lighting system was flexile enough to light the stage and band, plus there were some additional effects available by way of the existing decorative lighting. George, Carrillo, and Zupan doubled the size of the stage and tore out some barriers. By the time we had our premiere the dining room only gave up two tables, and we had enough room to perform at the east end, with the band spread out along the whole wall. There was a tiny changing area at the right where the dancers could enter and exit, but we made do with minimal costume changes, plus the performers gradually grew comfortable with entering and exiting from any direction, although I had to work the lights in a front corner, next to a table reserved for paying customers.
---
Debra Ryals was an Important New Addition to the Group
| | |
| --- | --- |
| Debra and Katie had to perform the most intricate moments of our material together. | Debra also had to stand out when she worked with the men in the company, but that wasn't quite as difficult. |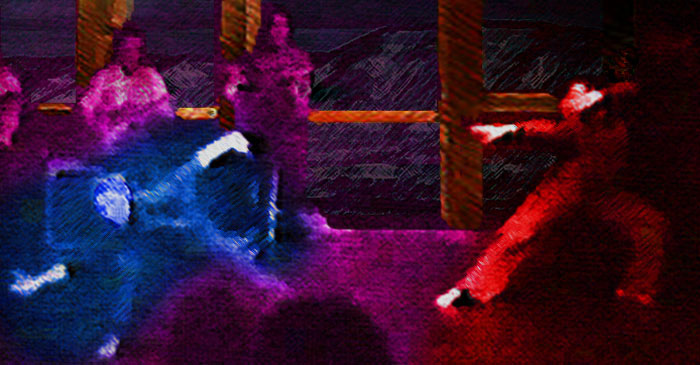 Debra was a trained dancer from the prolific University of Utah Dance Department -- when she and Katie unleashed their skills, they totally won over any audience who saw them.
We signed up to play three shows a day: We worked things out so that apres ski featured the band at about 3:30 PM -- their smooth soulful arrangements of then-familiar songs went over very well with both young and old listerners winding down from days on the slopes; Late nights, after 10:30, became a showcase for short funny pieces, like we used for street theater, plus Jazz, and Popular Music, as well as Jango's handy material from the thick Friends Roadshow book. Depending on the day of the week, these sets could be long or short. One evening, during a long "party night," a young couple near me mentioned "we have a group like that back home." It turned out that they were from Michigan, and knew the Friends' songs, so we had a fun conversation about Stan Edwards, Senior Class President at Milan High School, before he thought of calling himself Jango; At 8 PM we unleased "Clown's Cabaret," straight from the Glass Factory -- our well-rehearsed combination of raw entertainment and high art was totally unexpected by the vacationers on hand, and they ate it up, as well as doing the same with Eddie's excellent dinners. They also told their friends and acquaintences.
Aspen and Celebrities

Aspen had a reputation for being a playground for the rich and famous. Some of our customers may have been fortunate in their lives, but we spent almost all of our time around people who worked for a living. There was gossip that Diana Ross was vacationing in Aspen. She was a major movie and musical star at the time. One person swore they saw her "smiling at our street show," but none of us ever saw her, or anybody from her entourage. I didn't doubt that Ms. Ross was around, but she was likely more interested in winter sports, or private affairs of her own, That rumor actually gave our performers some severe cases of nerves over the unlikely and unfulfilled possibility of Ross seeing us, which really puzzled me back then.
What drew wealthy visitors to Aspen was the abundant snow, which generally fell every night, with sunny days following. The elevation was slightly over ten thousand feet so the snow was deep and powdery over a substantial base. There were great views, good accomodations, and easy access to the Denver airport.
The only celebrity any of us met was a pleasant man named Ed Ames. He and his brothers had a successful singing group in the 50's, and he'd been a TV actor too. His all-too-accurate hatchet throw on the Johnny Carson Show was re-run every year for over twenty years.
Mr. Ames was staying at The Highlands and stopped by to see what we were doing late one night. The band had just played a round of music, and Georgio the Clown introduced the Siamese Twins -- Matt and Carrillo came onstage with their heads sticking out of a big overcoat. There was some absurd banter, and the act ended with Debra and Katie joining in under another greatcoat as the Twins' wives. They danced offstage to many gruffaws and shaking heads. Ames discreetly left with an inscruitable look on his face, but everyone else was laughing.


Two overcoats plus four dancers gave us the surprisingly fun Siamese Twins number. We did this act to lighten up a Sun Tavern show which was getting too serious, but used it successfully in many street performances.
---
Work, Work, More Work, Time to Play, and Sleep!
| | |
| --- | --- |
| I found an abandoned monkey doll while we were building the stage. "Hey George!" I said, "Here's Les!" Gentle George swung his fist and sent 'Les' flying across the room. 'Les' became a passenger on the bus with us, smiling all the way from coast to coast. | Besides all the hard work, we did have time to play. The Highlands had an outdoor heated pool at the end of a tunnel running from the sauna, shielded by hills and steam. Bathing suits were optional after 10 PM, but simple civil behavior was common and customary. |
It was the holiday season, and space was at a literal premium in and around Aspen. I'll never know why Les and his brothers didn't think about our accomodations ahead of time, but we were shunted around to several locations, including a bunk house, humorously named "Rick's Racks" during our engagement. Carrillo didn't think it was very funny, and stayed in the bus a couple of times out of pique ("I've BEEN in the Navy!"), but it was about ten degrees below zero, and he couldn't run the motor all night. He had enough bags and bedding available to get by, but his idea didn't work for the rest of us in that climate. We all were leaning about what we needed to have on hand for work, and for living, and how to keep track of them in transit. Living quarters far from the venue without personal transportation required a new kind of discipline for everybody too.
Getting the Word Out on the Streets
| | |
| --- | --- |
| Downtown Aspen was an odd mix of hustle and inactivity, depending on the time of day and temperature. The company and I did publicity for our out-of-the-way venue. | By just trying to stay warm during promotional street performances, Katie began to develop a character named Madame Zablouva from under her scarves. |
When we first got to town, we found that we had a lot of advertising to do, because our venue was outside the familiar local paths. Our manager Mark Nelson had his car with him, and ferried us between the local radio stations, and business offices. While he drove us around, he showed us a tiny dulcimer, less than a foot long, which he was learning to play. He had left the world of Jazz behind him, and was developing a repertory of folk songs. It was fun to sing along with him, and puzzle out the beautiful little Epinette des Vosges. He would later become an acknowledged dulcimer master, and record several albums using this family of instuments.
Except for George, the Mime Troupe was unfamiliar with the dynamics of street theater at the time, but it was necessary to be seen by the public, and show them something which would convince them to come and watch us perform. The company did some short skits, and reworked some of Jango's silliness in between George's sharp juggling routines, honed on the bricks of Trolley Square. The band did their best, but the freezing temperatures and noisy environment presented challenges which weren't resolved all at once. My part was to circle the crowds and hand out little fliers telling about The Highlands, and our show. I also hung posters where the businesses allowed it. We had to be back at the hotel before 3 PM, but we spent most of our first week making our rounds midday as the temperature got cold, colder, and intensly colder.
Once it was looking like our promotions were paying off, the hotel offered us access to some ski passes and rental equipment. I was a pretty inept skier, and very adverse to any more freezing, if I had my choice, so I skipped the group's first (and last) cross-country expedition. The people who already knew how to ski did alright, but it was a struggle for the others. Afterward, there were one or two troupers who took to the slopes at times, but most of us stayed indoors. Our drummer Jan Fogel suffered a bad fall on the cross-country skis, so the doctor put a splint on her right wrist. She would play with her left hand only for most of the next two months -- keeping her right hand suspended, and using her feet liberally. The music that came out of kit was still played in perfect time, with excellent flourishes and bright percussive touches. She was a jewel on the throne.
---
| | |
| --- | --- |
| Street veteran Georgio finally got his unicycle rolling under his feet during our Aspen trip. | We met a wonderful comic actor named Jean Paul Bell for the first time, and renewed our friendship later. |
One REALLY cold day, I heard someone calling my name down by Mill Avenue as I was finishing my duties. I turned around, and saw Ediie and his girlfriend waving at me. They lived nearby, and asked me to come along and visit.
I gladly accepted, calling Mark Nelson to let him know where to pick me up once I got inside. The first thing that impressed me, besides their generous hospitality, was a Salvador Dali original on the wall. We warmed up and just talked for a little while. Eddie would have to get back to work in another couple of hours, but we had time to play a record or two on his excellent stereo. There was a brand-new album by someone named Phoebe Snow, who would be a star in a few months.
I asked if they liked hearing rich, deep bass, and when I heard the word yes, I put on their copy of the Beach Boys' Holland album, cueing Dennis Wilson's song Steamboat. The tune was mellow, but the bass shook their townhouse all the way to the roof. Eddie laughed in surprise and said: "I hear you're supposed to be going to Holland!" I nodded my head and told him about our Steamboat Springs performance the previous summer, also saying I hoped this album was some kind of good omen for our ambitions.
The whole group would later visit Eddie, and we were also guests at an excellent party given by a friend of George's who had moved to Aspen without Kugler's previous knowledge. He worked for the Chamber of Commerce, so he knew a lot about the history and sociology of the town. Along the way we met an actor from Australia named Jean Paul who did a music/mime number about a down and out sideshow man trying to sell a promoter on his flea circus -- "Please buy my fleas" was the serio-comic refrain, as he held out his old top hat during the song, beseeching the audience with his expressive eyes. We brought him up to perform at The Highlands once or twice, and met him again in Amsterdam about six months later.
---
A New Year -- And A New Chapter in Our Career

We did our job filling the Highlands' restaurant/theatre at all hours as word of mouth spread around the ski slopes as the New Years weekend approached. I'm not sure what we would have done without Jango's Friends Roadshow material to back us up as the evening sets got longer and longer. Clown's Cabaret, with all that Modern Dance, was the most popular and admired thing we did, though, and it was booked solid for most of a week at the end of our run. I was very pleased to see many couples and families returning more than once, and bringing guests with them. "We're here to see YOU!" I heard repeatedly, and we always exchanged thanks.
New Years Eve was a long haul for the band -- the party went late, and there was a lot to do the next day, including packing up all the equipment (including Les, the stuffed monkey), and a long drive back to Salt Lake City. The trial run was over, and trial though it was, we aquitted the appeal of our performers and material before a world-class audience.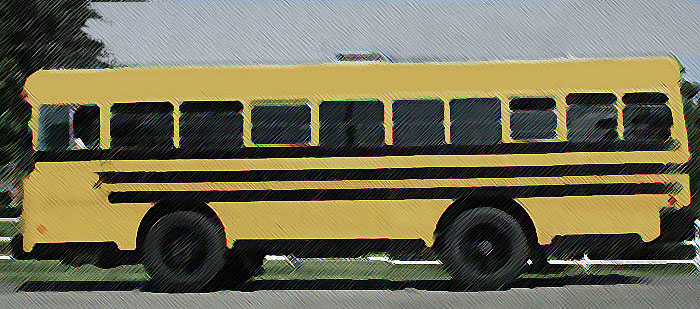 There was one last meal together midday at Eddie's house before we rolled out of town. He made sure we all had as much of his superb cooking as we could stomach, and filled our coolers. He sincerely wished us luck on our upcoming California tour, and was certain we would do well in Europe. Road angels like Eddie were our greatest blessings as we traveled. There were some hard lessons to be learned from our experience, too -- We made jokes at Les' expense from the start, but he got the most expensive laugh at the end, when we had to pay a substantial bar bill.
The bus wasn't very well set up for sleeping -- yet, but we made do as Zupan, George, and Stuart took turns driving in the gathering evening towards Utah. Sometime during the night somebody woke me up, with the lights fully on and another party starting. Fast Eddie's CARE packages were quickly unwrapped in celebration of our first mini-tour as a group. The hard work was over, and it was really time for some human bonding. We laughed about everything that had happened, and finally turned in for a few chilly hours near Price, Utah, when nobody wanted to drive anymore. Dawn broke, and it only took a few hours to make it home to a town which wouldn't be our home for much longer.
( To be Continued in Part IIIb ...)