Theatrical Daze & Nights IIIb
THE ROAD Winds On to Southern California.
Summary of Part IIIa : The Great Salt Lake Mime Troupe tested its new material at The Highlands near Aspen, Colorado with amazing success, despite a handful of problems. The bus needed a little more work so that everyone could stretch out and sleep, but David Carrillo, David Zupan, and George Kugler were up to the task.
One Last Performance for 'The Regulars' at the SunTavern
| | |
| --- | --- |
| The Sun had helped us put a sharp edge on our skills. Debra stayed in Salt Lake to dance for Patsy's senior presentation, but rejoined us in March. | The following Utah winter day was almost as dark as the previous night, and I sipped one last beer in that old railroad tavern before my trip to sunny California. |
When we got back to Salt Lake City, the Sun Tavern asked us to perform there for its regular clientele once again before we left for San Diego, the first city on our tour of Southern California. I borrowed some lighting equipment from Van Hanson of the Human Ensemble, and had to get it back to him before we left. We also bought a Melodica for John Fischer from Dave Fagiolli's roommate, and cleaned out the Main Street studio. Everyone had to find storage for their possesions with friends and family, because we would all be gone for quite awhile.
Most of the group left ahead of Mark Nelson and myself once the bus was ready. Mark drove to San Diego in his own car, and he and I switched drivers as the other slept. We hadn't have all that much in common before the Mime Troupe, but through many conversations we discovered that we had both worked with a dancer named Frances during the RDT Video Workshop in 1973 -- I had supplied Ravi Shankar's Sound of the Sitar album, and an LP with Stockhausen's Kontra Punkte on it. Mark mixed the two together at the student radio station, and Frances did a strong solo dance with video feedback generated from her movements and the music. It was the best piece that came out of the workshop, and we were both proud to have been part of such a good project.
---
Jimmie Rogers Sang: "I'm Going To California, Where They Sleep Out Every Night!"
| | |
| --- | --- |
| "The Quad" at Southwestern College in Chula Vista. We performed our first large-scale concert in Southern California at their nearly-new theater. | The hills of La Mesa, above El Cajon Boulevard, where we first parked the bus outside the home of Katie's brother Robbie, near San Diego, California. |

Marilyn's image, used by us for the last time, promised much more than conventional Mime at Southwestern College.
January in San Diego usually means clear, sunny days, and they were very welcome after the dark winter weather in Salt Lake Valley.
We stayed east of the main city of San Diego, in the hills of La Mesa. Katie's brother was our host, and we used his connections as a teacher to help us find much-needed rehearsal space in a junior high nearby, we also used his hot water liberally. Our sleeping bags were spread-out between the bus and the house. Rituals and patterns of meals and rest evolved during touring.
Debra had stayed in Salt Lake, so Katie and Jan were the only women on the bus. I'm not saying we guys were a totally insensitive bunch of idiots, but I'm not claiming the opposite either.
Mark had booked Southwestern College and San Diego State. School shows started right away, thanks to George, but we needed more work!

We got rehearsal space at a nearby junior high for most evenings, and an increasing list of school shows.
Southwestern College was located in the little town of Chula Vista, in sight of the border between Mexico and the United States. They liked old movies -- a 16mm copy of Singing In The Rain was circulating around the classes in the Theater Department. We didn't run up walls like Donald O'Connor, or hoof around in puddles like Gene Kelly, but I figured that Marilyn Monroe's image would help attract this particular crowd, so I modified our Sun Tavern poster with her face redrawn in stark black-and-white from the cover of Norman Mailer's best-selling biography, and it WORKED. I enjoyed making a couple of "Warhol Walls" by multiplying the image in certain locations on-campus, but we needed the posters elsewhere, and I could only indulge myself to a limited degree. After this concert, I retired Marilyn because we needed to advertise our uniqueness and originality, but the two times we recruited her were a lot of fun!
The campus boasted a number of new buildings, including the massive white edifice which was the home of their theater. I've forgotten the professor's name, but he acted like a gruff east-coaster on the outside, yet possessed a heart of solid gold. "Some of these Mime people we get here are really lousy!" he said with a level, challenging gaze.
I was still wrung out by the long journey from Utah, but looked right back into his eyes and told him "Our company will do things you've never seen on a stage before," with an easy confidence which I never lost during all the years I spent with the Mime Troupe. I had variatons of that conversation many times, and gave the same assurances with no reason to regret them afterwards. Our first tech rehearsal in that big theater was a new challenge to me, but the calm technician in charge made everything comprehensible, if not easy (it wasn't). When the dancers finally took to the air after a LONG wait, the professor smiled, and kept smiling whenever we were around.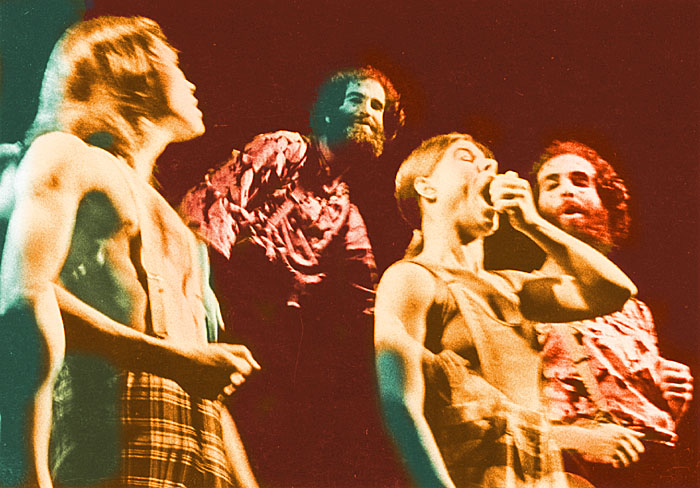 *A double-exposure featuring Matthew, Georgeio (twice), and Katie onstage in Southern California.
The Southwestern College concert's greatest importance was that it was our FIRST performance in California. It was roughly divided into two halves -- 'serious' pieces at first and Clown's Cabaret after the intermission. The first part wasn't all THAT serious, and we also transitioned into some highly-charged Modern Dance during the second half.
After the emotional climax was finished, and the audience was profoundly hushed, George introduced David Zupan as our fire eater. He was broad-shouldered, short, but muscular, and was assisted by tall, thin David Carrillo on the huge dimly-lit stage while the band played suspenseful music. After a couple of big blowtorch-like plumes of flame, he tried a trick which Jango had suggested when he taught us the basics back in November -- Carrillo brought out a bowl of lamp oil with a flaming coat of lighter fluid riding on top. The upper level burned at a lower temperature, so the effect was stunning when Zupan sipped from the vessel and launched another arc of dragon-breath.
I had spent hours arranging permission for this segment over the previous days. Katie's mother was in the audience, and thought that it was something we didn't need, when we respectfully asked her opinion. As it was, Zupan's final stunt resulted in some of the lighter fluid entering his lungs. He gradually developed a serious pulmonary inflamation which laid him up in the hospital and could have killed him. On occasion, Carrillo continued fire-spitting for us, with a bit more subtlety, but nobody tried the lighter fluid trick again. Katie's mother was correct, and we gradually retired that whole sideshow act.
---
Sundays In Balboa Park -- Street Theater at the Botanical Gardens!

**Balboa Park had rules which didn't allow certain instruments, but our band had everything they needed to make fabulous music outdoors and still be legal.

Simultaneously with rehearsing for previously-booked shows, and lining up schools, we were also on the lookout for new places to play. Street theater had previously worked well for George, but the extreme cold in Aspen discouraged the rest of group to various degrees. When we heard that Balboa Park allowed open-air performances outside the Botanical Gardens, we grasped at the opportunity anyway, and it turned out to be a fabulous way of spending Sunday afternoons. We earned some spending money, made contacts for new jobs, and met some wonderful people.
One person who sought us out in the park was local Mime star Don McLeod -- he had previously led a progressive rock group called the Mime & Music Machine, which toured with barnstorming acts like the early Fleetwood Mac and Deep Purple. He was very supportive of what we did, and continued to make a career in show business with his considerable physical skills long after we lost touch with him.
We all learned to "Do Street" by repetition and practice. My job was to made sure we had flyers of upcoming gigs, and to hand them out to interested parties. If someone was spoke about hiring us, I'd direct them to George or Mark.
We played half-hour sets, with half-hour breaks outside of the Shade House. During down times, I wandered off and juggled on my own, drumming up customers for the next show. I had a touch of white makeup on my face, so that I'd fit in, but wore generic 'civilian' clothes instead of costumes.
Jango's silly routines came in VERY handy as we worked the enthusiastic crowds of weekend visitors. The dancers didn't demonstrate their best moves, but learned a vast amount about comic timing with short routines, punctuated by George's rapidly-improving announcing, and shamelessly stolen National Lampoon jokes. The band's music was solidly entertaining, and they even clowned around a little.The group also made a point of driving the bus down to the Pacific Ocean and enjoying that fabulously warm weather, which lasted all of January 1975 in San Diego.
One of the finest people we met at Balboa Park was a young San Diego State University student named Karen. She was performing as a solo clown, and asked if she could shake my hand. When I gave my consent, she took my wrist and gently rocked it back and forth, my hand shaking in response. OK -- at least I thought that joke was funny. By the end of the day, she invited the whole Mime Troupe to stay at her house. We parked our bus outside and she cleared space for those who wanted to sleep inside. It was very kind of Karen to treat us like Robbie had treated his sister's friends, when we weren't even related. We troupers stayed with her several times during our sojourn in San Diego. It impossible to overstate how much we owed to Road Angels, like Karen, who generously helped us out along our way.


(Left) The Shade House at Balboa Park from the west. (Right) Pacific Ocean beaches near La Jolla.
---
San Diego State University -- Concerts at the "Back Door"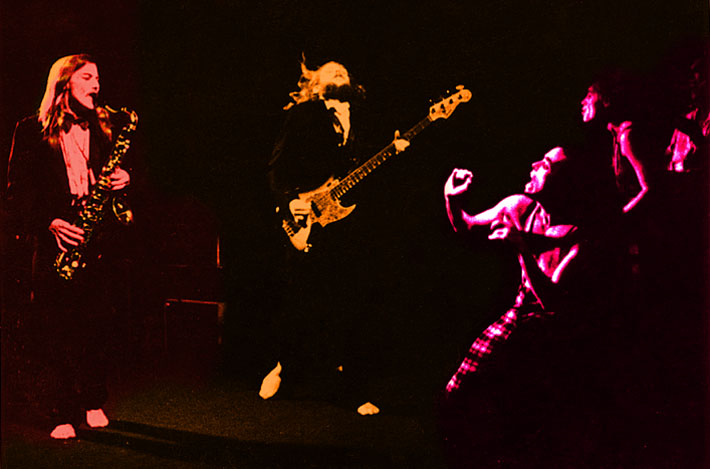 *(L to R) Stuart Curtis, Gregg Moore, Matthew Child, David Carrillo, and George Kugler in Southern California.
This was a moment at the beginning of one of our sets where the dancers would leap from the stage and visually
introduce the band as they kicked the tempo of the music higher, and Stuart launched a soaring sax solo.
---
San Diego State University was a godsend to us, and our expanding network of supporters. For one thing they allowed us to use the showers at the gym whenever we wanted, and saved Robbie and Karen's hot water heaters from going empty many times. Mark Nelson had booked us for a couple of weeks at a small concert hall called the Back Door, which was downstairs from the busy Aztec Center at the center of the campus. It was a long, somewhat narrow place with a raised stage at the far right corner. Unfortunately it was too small for the dancers and the band, so we set up the musicians on the floor in the other corner. They had a small, but reasonably-powered PA system, and we borrowed a channel to set a microphone on Jan's drum kit. We noticed from the booth that she was muffled by the stage and amplifiers.


(Left) 'Classic' San Diego State architecture. The Back Door was downstairs in the 'modern' Aztec Center. (Right)
Most of the places we worked in during the mid-70's needed two people to operate the lights in an average theater -- one in back, switching the lights, and pushing rheostat faders up and down, according to cues given by another person with a view of the stage, namely me. The Back Door's lighting was wired to a console in the sound/light booth on the other side of the hall from the stage. The stage manager was a student employee named Jeff, or Steve, or something -- I have obviously forgotten his name, but he was known as Lord Lumen, and I've never forgotten THAT. He was enrolled in the Modern Dance Department at SDS, and I learned a lot about operating solid state thyristor-controlled systems from him.
---
A View from our Audience of the Great Salt Lake Mime Troupe:
Tuesday, January 28, 1975 -- Daily Aztec Stage Review San Diego State University
By Randy Schultz (Compare the original article in PDF form)
As the audience begins to filter in, a fine six-member band sets a relaxing mood with light jazz. Then, ever so gradually, two or three mime artists begin to interact with the audience. After a while yo realize that the show you've been waiting to see has already started. The nine performers of the Salt Lake City Mime Troupe (sic), which should be named the Salt Lake City Circus, quickly overwhelmed audiences last week at the Backdoor with an amazing combination of traditional mime, vaudvillian comedy routines, juggling, clowning, song, dance and music. And every bit of it was superb.
The opening set consisted of traditional mime -- some of the best I've ever seen. The mime artists -- Matthew, Katie, George, and David (the troupe is known professionally by their first names only) -- run through scenes depicting an indoor track meet, a boxing match in which the microphone goes down for the count, and Olympic medal winners who suddenly become fighters, then arm wrestlers, and then ping-pong opponents. But the order of the scenes is unimpoertant. They change so swiftly and fit together so well that it is hard to tell where one ends and the next begins. Not only is their mime hilarious, but also very moving. In portraying the classic emotions of love, hate, sympathy, pity, and loneliness they also take a piece of your heart.
The highlight of their mime set occurs in the "Puppet" segment. David finds a puppet, played expertly by Matthew, and humorously manipulates his strings, pretending that the puppet is his friend. In a sensitive and moving scene David gives Matthew his own heart so that he, too, may live. ("Puppet" illustrations below)
---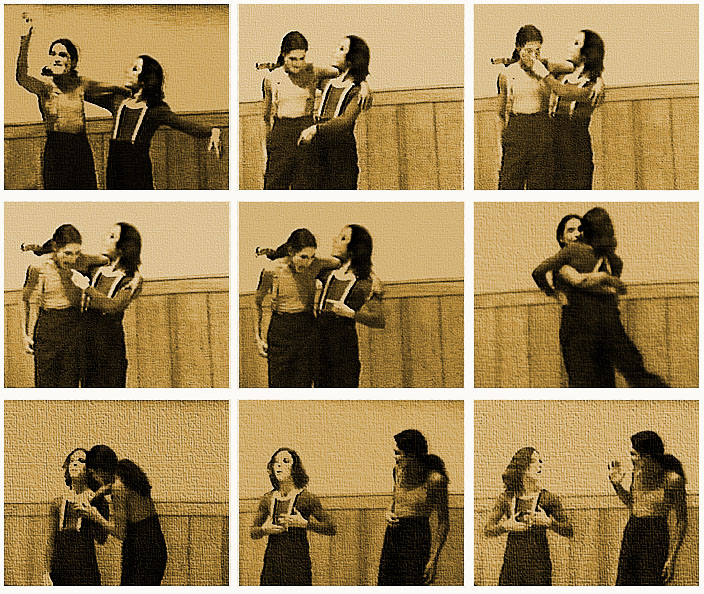 ---
After an intermission and some less traditional mime, the band steals the show for a while. Consisting of Paul on guitar; Greg (sic) on bass, trombone and tuba; Jan playing one-handed drums (she had a cast on her right wrist, but still outplayed many drummers); John on keyboards and trumpet, and Stewart (sic) on sax, flute and clarinet; they play everything from hardcore blues to jazz to hardcore rock and roll -- and play it to perfection. In fact, they're laced so tightly together it's amazing they can still breathe. Now if this isn't enough Katie sings like Lydia Pense (of Cold Blood) and David can charm an audience as well as the Kinks' Ray Davis, the result: everyone in the place was on their feet dancing and having a good time. The Salt Lake City Mime Troupe's good vibes are totally contagious.
But the show's still not over. After a short break comes the circus set, where George as M.C., introduces a number of freak shows and outrageously funny acts. The band members make fun of Hare Krishnas, Matthew portrays a man who talks backwards, and Katie, Matthew, and David are the Marvels in a great spoof of 40s song and dance. George, portraying Georgeo (sic) the clown, highlights this segment of the show, however, with his tricks and coy, silent humor. Especially entertaining is his juggling of a grape, an apple, and ahead of cabbage, while simultaniously eating the apple.
After more than three hours of solid entertaiment, George apologetically announces the end of the show. The nine performing members of the troupe, all accomplished artists and professionals, have enjoyed the show as much as the audience. But exhaustion takes over, and they reluctantly head back to their "house" -- a converted school bus. Nobody likes to see a show this incredible come to an end.
You probably think it sounds like the Salt Lake City Mime Troupe's performance was one of the best live shows I've ever seen. And you're absolutely right.
Mr. Schultz was very perceptive. His compliments were welcome, and we used them in our publicity for a long, long time, but he touched on a couple of observations which were more profound than he might have known. The members of the troupe DID enjoy the show as much as the audience, but exhaustion was becoming a problem, and could literally "take over" when we least desired it. The bus was suitable for sleeping -- barely, but most of the seats had been removed to make it so, and travel could be tiring, especially if we went north to Santa Barbara and back in one weekend. In retrospect, we were starting to "live for the show," while defering some important personal issues, which would arise in various forms anyhow.
---
Dare to Compare! The Alwin Nikolai Dance Company Perform at San Diego State.
| | |
| --- | --- |
| We got a break on tickets, and I watched the concert with Frank Sanguinetti's daughter from Salt Lake. | Nikolai's company was Major League, but Katie's choreography would help our group climb to Triple-A. |
So who's Sanguinetti? He was director of the Museum of Art at the University of Utah. I had taken Art History classes from him, even. His daughter recognized my face from the Art Department, and we saw Alwin Nikolai's company perform together. Except for the 48 hours surrounding this event, we never had contact with each other -- moving in completely different social circles. The Mime Troupe joked afterwards about dancing in sleeping bags, referring to the abstract costumes we'd seen onstage, but it was a good experience to see how far Modern Dance had come in bringing lighting, movement, and music together. We were all thinking of ways we could out-do the masters once we got the chance. Lord Lumen had watched the performance too, He and I chatted as we worked -- we'd both enjoyed the isolations which had been pioneered by Nikolais and later-independent Murray Louis. He said words to the effect that we had a a good thing going too -- Nikolais was successful because he reached into himself, but we'd have to find our own way to success by being whomever we were.
---
Grossmont College, Shows & More Shows, and the Bus Gets Its Own Name!
| | |
| --- | --- |
| One Sunday at Balboa Park a couple of young people who were members of the student government at Grossmont College saw the Mime Troupe performing. They spoke to Mark and George, and we set up a de facto partnership where the Mime Troupe did a series of free lunchtime performances at the Student Union advertising a full concert on the weekend, where we would then sell tickets and earn some much-needed money. The student government built a big raised stage. The splintery plywood floor drew some uncharacteristic complaints out of poor Katie. We recruited a man from their theater department to flip switches in a blind closet while I used whispered cues and hand gestures during the show -- responding to the action based on the music, and shadows on the back wall. We frankly wondered if our gamble would pay off, but the concert was a winner -- David Carrillo sat Matt the Marionette on his knee and greeted Gross-em-out College to wild laughter. | Grossmont College -- the Student Union is at the far left. |
Sometime during our engagement at San Diego State University, Matthew Child declared that the bus needed a name: "How about something like Hobart?" If it was so moved, it was seconded and passed without any objections, or any real parlimentary procedure at all. The reader may ask: "Why Hobart?." I say: "I don't really know!"
HOWEVER -- there was a Hobart Street in San Diego, just off El Cajon Boulevard, near the SDS campus, and if my memory serves me well, we drove down that very street on our way to Road Angel Karen's bungalow. I never asked Matt if there was a connection between the street's name and our bus, though.
| | |
| --- | --- |
| Besides school shows, we played a private party or two, at least one bar, plus some recreation halls while we toured around San Diego. Mark Nelson had gone ahead of the company to Santa Barbara. David Zupan was with him, right out of the hospital. People told us the Mime Troupe could actually base themselves in San Diego if we stuck around, but we had other bookings further up the coast. Our marching orders were to tell new prospects that we were heading for Europe, but that we'd be back next year. Road Angel Robbie agreed to accept the Mime Troupe's mail while we were gone. At the right is part of a letterhead I drew for office purposes -- minus Robbie's old address. | |
( To be Continued in Part IIIc ...)