Great Salt Lake Mime Troupe
Final Performances -- 1980
Classically-trained cellist Ernst Reiseger started working with Katie Duck and the Great Salt Lake Mine Troupe in 1976. He was with us when Sean Bergin of 'Friends Roadshow' teamed up with Katie to form 'Goma Fewtet' -- which eventually mutated into Katie's 'Grupo' project after she moved to Florence, Italy in 1979. According to the most generous Mr. Reiseger, these photos are from a performance at Teatro In Trastevere in Rome during 1980. Matthew Child and Ernst both say that this group performed in Berlin that same year. Jazz saxophonist Michael Moore went along to Berlin as well.
---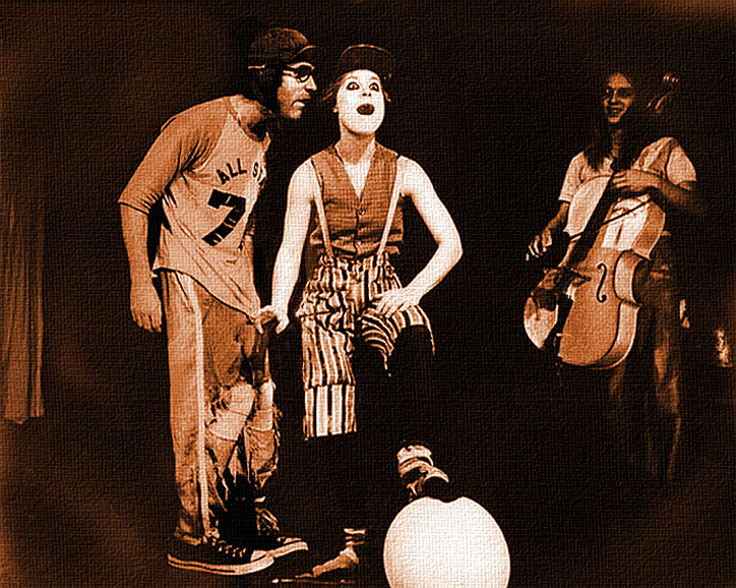 (L to R) Georgio Peugot as "Third Base," Katie Duck as "Stubby," Ernst Reiseger and Cello.
---
| | |
| --- | --- |
| Trastevere is a district of Rome "across the (Tiber) river." | Clowning around with Contact Movement |
---
| | |
| --- | --- |
| Tom-boy Stubby had a blacked-out a tooth or two. | "Bionic Stubby," the doll, arm-wrestled all comers. |
---
| | |
| --- | --- |
| George had been a Kindergarten teacher when he ... | ... first met Katie the Modern Dancer six years earlier. |
---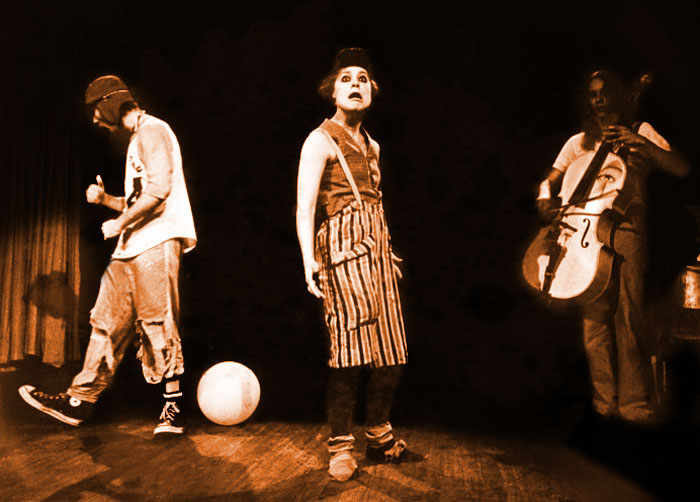 George had a partner named Jack "Otto" Millet in those days. Katie was working and living with cellist Tristan Honsinger in Florence, and Ernst was playing Jazz and Classical music all over Europe. Neither Barbara Doherty nor Matthew Child were using the name Great Salt Lake Mime Troupe anymore.
Exactly why this last incarnation of that prolific company toured in 1980 under the old name remains a mystery.
---
Photos courtesy of Ernst Reiseger, who owns the original prints from photographer Dominique Vérin. Digital treatments by M.E.
All Rights Reserved for the site © Michael R. Evans 2010
Email Me