Great Salt Lake Mime Troupe -- Outline and Scrapbook
This page is intended to be an evolving ever-changing collaboration between all of the people who have been touched by the Great Salt Lake Mime Troupe -- including members of Friends Roadshow, Footsbarn Theatre, and our many allies from Melkweg, Paradiso, Shaffy, etc. who helped us when we needed you! Please contact me by email (bottom of this page) for your contributions and corrections. Check out the BLOG too!
---
Summary: The Great Salt Lake Mime Troupe formed themselves at the University of Utah in the wake of a Mime workshop by Daniel Sonkin. The core of the group were talented students from the U of U's strenuous Dance Department. They were intrigued with the idea of combining ancient pantomime techniques with goofy slapstick and the open road of untried visual modernity into a unique expression of Modern Dance. This vision also attracted musicians and visual artists like myself. We supported each other through one ambitious show after another. At the International Mime Festival in 1974 we met the Friends Roadshow and Stan Edwards, who invited us to perform in Europe the next year -- which was to be a long year indeed. After forming a Jazz quintet and joining forces with juggler George Kugler, the Mime Troupe proved themselves on the road in Colorado, Utah, California, and Michigan. They validated themselves as entertainers, and as a first-rate dance company, on their first tour of Holland. Unfortunately, the long road to artistic success had affected everybody, one way or another, and the company scattered after the first Festival of Fools in 1975 -- however it was only a short hiatus.
---
The Great Salt Lake Mime Troupe Continued On For Another Five Years:
---
1975 -- Cornwall, England; Dublin, Ireland; LaRochelle, France;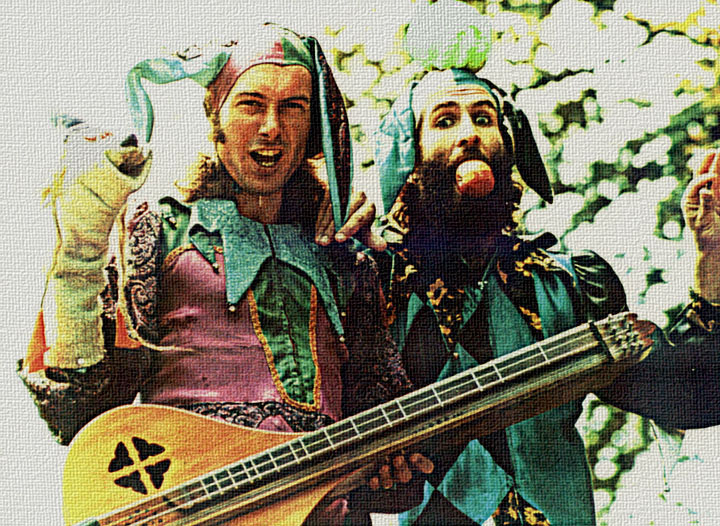 (L to R) Mark Nelson, with dulcimer and sock puppet, next to George Kugler in a photo taken in England, at Trewen, home of Foots Barn Theatre, enroute to Dublin, Ireland. (Costumes by Jenny Cooke.)
Extra! Extra! Read Mark Nelson's account of their journey, with exclusive pictures HERE.
---
1975 -- The Great Salt Lake Mime Troupe Reforms: Edinburgh Festival & USA
(Above) Members of the Great Salt Lake Mime Troupe's band on vacation in La Rochelle, France circa July, 1975 -- Thanks to Ellen Beier


While I was vacationing in Amsterdam after my first tour with Foots Barn, I conversed with Katie and David Carrillo about their own tour with Friends Roadshow. They left a few days later to meet George in Scotland and appear at the now-famous Edinburgh Festival in August of 1975.

(Right) The Great Salt Lake Mime Troupe were performing in Salt Lake City again by the fall of 1975. Daniel Robert got the money he loaned us back, and Hobart the Bus returned to the road -- somehow winding up in the hands of Ced Curtis and drummer Tom Derry for awhile. George later told me that the Mime Troupe gave New Orleans a try, but the place wasn't productive enough to stay. However, David Carrillo left the group to join a band in the Crescent City.
---
1976 -- The Great Salt Lake Mime Troupe Triumphs in Utah, 2nd Festival of Fools, and Europe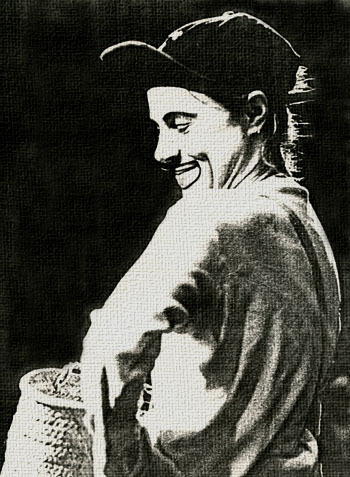 Katie as her clown Stubby -- from the Salt Lake Tribune, covering the Great Salt Lake Mime Troupe's Kingsbury Hall performance in 1976.* The Mime Troupe also did two shows at the Utah State Prison that year, reformed their band, re-recruited Matthew Child, and hired Allan (Gunga) Purves as drummer when they returned to Amsterdam that spring. Patsy stayed in Salt Lake, and I was still in England for a little while longer.

*See the S.L. Tribune's main pictorial article HERE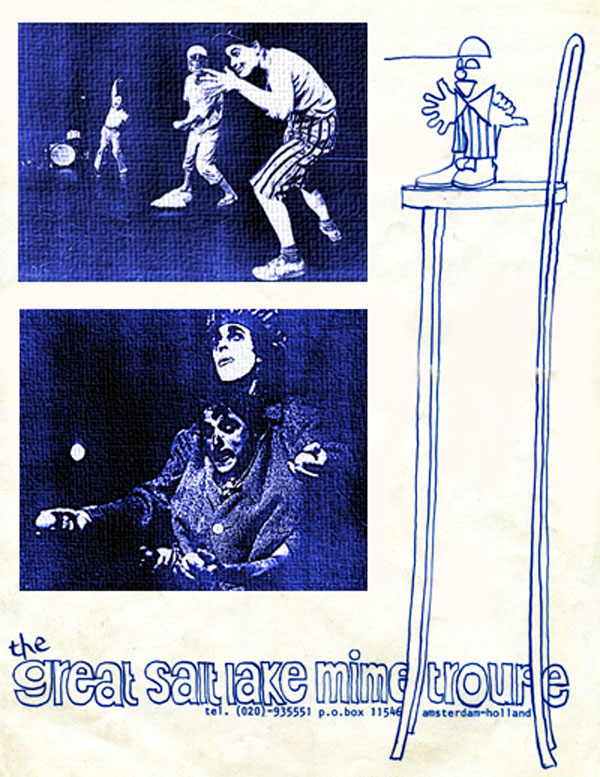 The Great Salt Lake Mime Troupe had a fabulous summer touring Europe in 1976. The talented Jan Jaap Dekker was their stage manager / artist / photographer during this time, and all these images are by him.
(Above) Matthew, Georgio, and Katie; (Below) Georgio and David Zupan as the new Siamese Twins.
---
View ALL Programs from the 1976 Festival of Fools HERE
---
1976 -- Katie Duck; The Band Expressions; Georgio, Matthew, and Barbara
| | |
| --- | --- |
| (Clockwise from Upper Left) Georgio and "Madame Duck"; "Katie Duck" & Jango Edwards; Stuart Curtis stayed in Europe and the band finally named itself Expressions -- playing in Switzerland, Sweden, and Holland; Barbara Doherty (pictured with Matthew Child) joined the Mime Troupe in the autumn of 1976. | |
The company reduced their numbers drastically at the end of the summer. Ryals, Zupan, and Blackwell were let go, and the band formally split from the Mime Troupe. Katie started doing work on her own throughout Europe. George, Matthew, and Barbara Doherty migrated between Europe and the United States, but were back in Amsterdam by early 1977.
---
1977 -- The Great Salt Lake Mime Troupe & The 3rd Festival of Fools
| | |
| --- | --- |
| | (Left) The Great Salt Lake Mime Troupe relied on Barbara Doherty, Matthew Child, and Katie Duck for brilliant dancing, plus Georgio for dynamic comedy. |
The Great Salt Lake Mime Troupe started performing with a greater variety of musicians, partly because Expressions had it's own schedule. Some veteran Mime Troupe players were also on their own, and there were other great accompanist / composers around Amsterdam. Cellist Ernst Reijseger was a potent addition to the ensemble. Alan (Gunga) Purves, Gregg Moore, and Paul Blackwell often performed with them. Sean Bergin and Katie Duck worked together for many years. I was the Mime Troupe's stage manager / lighting technician during the summer of 1977. Patsy and Debra even came to Amsterdam to perform with Katie, Sean, Ernst, Gunga, Paul, Gregg, myself, and others, in a spinoff group called Goma Fewtet, after the Festival of Fools. Katie also developed a very productive partnership with Argentinian actor Carlos Trafic.
---
View ALL Programs from the 1977 Festival of Fools HERE
---
1978 -- The Great Salt Lake Mime Troupe: Pete Wear, Available Jelly & The 4th Festival of Fools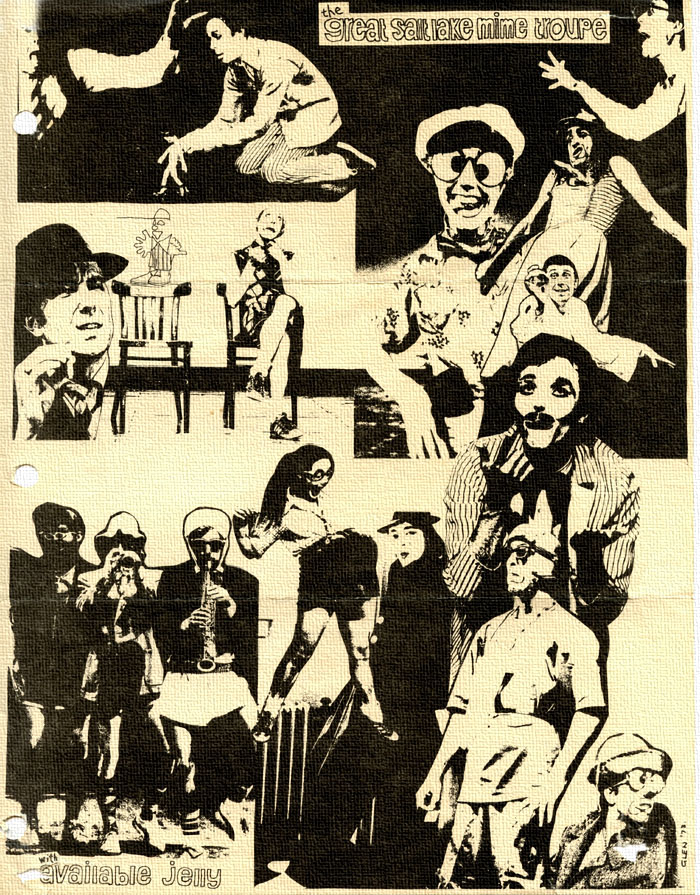 Pete Wear, formerly of Theatre Slapstique, joined Georgio, Matthew, and Barbara in the Great Salt Lake Mime Troupe during 1978, and assembled this collage as a publicity flier. The band called themseves Available Jelly and consisted of (Left to Right) Gregg Moore, Jimmy Sernesky, and Stuart Curtis.
---
(Above Left to Right) Peter Wear, Barbara Doherty, Matthew Child, and George Kugler rehearsing in the basement dance studio of Westminster College, in Salt Lake City, February 1978. I shot my very last video for the Great Salt Lake Mime Troupe at their Kingsbury Hall concert a few weeks later.
---
| | |
| --- | --- |
| **(L to R) Peter Wear and George-O in 1978 | **Third Base Goes To The Moon -- Featuring Batman |
---
Peter Wear Writes in 2010:

I've been racking my brains but can recall remarkably little of the shows we did. Georgo was always a hit and the band were great.
Matt and Barb's dances were controversial -- I remember him sticking his head up the back of her skirt which didn't go down well somewhere, maybe a school.
In L.A. at an outdoor show, I decided to upstage everyone by reading a newspaper at the side of the stage and then I set fire to it, burning my trousers too. Can't imagine what I thought I was doing ...
The items were all very much individual pieces and there was little collaboration.


**(L to R) Barbara Doherty, Peter Wear, George-O, and Matthew Child.
---
The Great Salt Lake Mime Troupe toured the Western USA and played at the 4th Festival of Fools, Avignon, Lubijana, and other prestigious venues in 1978. For awhile, they were accompanied by dancer Hillary Elmore, who later toured with Katie Duck (and Foots Barn Theatre) in Tunisia. Katie met cellist Tristan Honsinger, and gradually relocated to Florence, Italy. Pete left the group later that year, and George started working with Jack "Otto" Millet, Sharon Landau, and others.
---
View Programs from the 1978 Festival of Fools HERE
---
1979 -- The Great Salt Lake Mime Troupe: Matthew Child, Barbara Doherty, and Jodi Gilbert
The Great Salt Lake Mime Troupe were led by Matthew and Barbara during much of 1979. The two made at least one trip to Australia, and also performed many times with dancer / actor Jodi Gilbert in Europe. They often played with actress / singer Sharon Landau, plus multi-instrumentalist Michael Moore (Gregg's brother) and drummer Michael Vatcher. These two musicians later joined Available Jelly, and carried the band's name forward.
---
1980 -- The Great Salt Lake Mime Troupe: Last Performances

1980: Katie Duck and cellist Tristan Honsinger,
about the time she formed 'Grupo' in Florence.


According to phone conversations I've had with with Matthew Child, one of the last performances by a group calling itself The Great Salt Lake Mime Troupe occurred in West Berlin during 1980. The cast members were dancer / actor Katie Duck, comic performance artist Georgio Peugot, cellist Ernst Reijseger, and saxophonist Michael Moore.
Ernst has confirmed the story -- Read about their Last Gigs HERE!

Matthew told me that just before then, he would sometimes use the name, or not, depending on circumstances, with various musicians accompanying him, They concentrated on combining Jazz and Modern Dance -- improvising their way through sets.
I saw Matthew jamming at the Hole In The Wall Saloon one night in Salt Lake City around that time. Coincidentally, dancer / choreographer Lisa Katz was in the house too, (She had witnessed Matt's first shows with me.) He was VERY funny that evening!

After splitting from the group, Barbara continued to dance with Jodi Gilbert until Doherty relocated to Australia,
---
Program Collection Project: Festival of Fools -- 1975 to 1984 HERE
---
Great Salt Lake Mime Troupe -- School of Hard Knox Alumni:
Katie Duck: Acquired her professional name during 1976. Toured with Jango Edwards in a duo, also performed dual shows with Carlos Trafic. Relocated to Florence, Italy in 1979, Dartington Hall, England in the late 80's, and returned to Amsterdam in the early 90's. She has a fabulous website with all the details of her career, which I couldn't possibly begin to list.
George Kugler: Started doing solo shows in late 1978, and later partnered with Jack "Otto" Millet, performing comedy and movement theatre throughout Europe. (Photos and Memorabila HERE)
George also started a group in Freiburg called The Comedy Kids. He died at a train crossing in Switzerland, August 17, 2002.
Matthew Child: Carried the name Great Salt Lake Mime Troupe through 1979. Solo career, including film, through the early 80's, later working in a trio called Run For Your Life -- It's A Dance Company during the early 90's. (Photos HERE)
Barbara Doherty: Trained dancer from the University of Utah -- performed in the Great Salt Lake Mime Troupe between late 1976 and 1979, including a short tour of Australia. Relocated 'down under' to live in the early 1980's, and is still there.
Jodi Gilbert: Danced with Barbara Doherty and Matt Child in late Great Salt Lake Mime Troupe. Lives and teaches in Amsterdam, Holland, and is on Facebook.
Patsy Droubay: Traveled to Amsterdam in 1977 to perform with Katie Duck and Goma Fewtet. She stayed through the winter in order to give the local theater scene a try, and did some good shows! The next year she formed Creative Graffitti in Salt Lake City with Debra Ryals and Stuart Curtis. Remarkably, Patsy has led a company which has performed Dr. Seuss's How The Grinch Stole Christmas for three decades during the Holiday Season in and around Salt Lake City, Utah. She's done other artistic projects, as well as working as a Special Education teacher in the public schools. (See her scrapbook page HERE)
Debra Ryals: Danced with the re-formed Mime Troupe during the 2nd Festival of Fools. Traveled to Amsterdam in 1977 for shows with Katie Duck and Goma Fewtet. Formed Creative Graffitti in Salt Lake City with Patsy Droubay and Stuart Curtis.
Hillary Elmore: Trained dancer from the University of Utah -- traveled to Amsterdam in 1978 with the Great Salt Lake Mime Troupe for the 4th Festival of Fools. Joined Katie Duck for a tour which led to Tabarka, Tunisia along with Footsbarn Theatre. Concerts with Creative Graffiti in the late 1970's. Even I was involved with one of their shows -- (Click Here)
Peter Wear: Founding member of Theatre Slapstique, joined the Great Salt Lake Mime Troupe for a tour of the Western USA and the 4th Festival of Fools in 1978. Teamed up with actor and movement artist Justin Hunter Case, forming the long-running "Omelette Broadcasting" improvisation group (See a picture HERE). Toured Europe for years with Case doing "The 2 Reel Company" and "In the Footsteps of Frankenstein," plus a TV show called Chopsticks on BBC2, Peter still performs physical and verbal comedy, primarily in England. He's an outstanding actor -- check out his WEBSITE.
David Carrillo: After a short tour with Friends Roadshow in 1975, went with the re-formed Great Salt Lake Mime Troupe to the Edinburgh Festival, and returned to the USA with the group -- staying in New Orleans after the Mime Troupe performed there. Later in Salt Lake City, sang and played percussion in a Jazz-Fusion band called Spaces during the early/mid 80's. Currently living in Virginia, USA.
Mark Nelson: After developing his solo Folk Music act just before the 1st Festival of Fools, he traveled with George Kugler immediately afterwards to Dublin, Ireland via Cornwall, England. (Read the story HERE) He finished his Masters Degree at the University of Utah while further developing his music during the late 70's. He's been a successful performer and teacher ever since -- based in Oregon, USA, with over a half-dozen albums to his name. (Website)
Stuart Curtis: Played with the re-formed Mime Troupe during the 2nd Festival of Fools, and stayed in Europe with the band Expressions, which performed in Switzerland and Sweden, plus accompanied the Mime Troupe during the 3rd Festival of Fools in 1977. Founded Creative Graffitti in Salt Lake City with Debra Ryals and Patsy Droubay. Formed the original Available Jelly as a duo with Gregg Moore, which played the 4th Festival of Fools after Jimmy Serensky made it a trio -- with the Great Salt Lake Mime Troupe. Played clarinet with the Jordan River Uptown Band and a variety of reeds with Mainstream Jazz Ensemble in Salt Lake City. Later moved to Hamburg, Germany and was a member of the orchestra for Andrew Lloyd Webber's Cats until the 21st Century. Relocated to Oregon, USA. He's on Facebook. He's jamming with Simon and Gregg of Footsbarn in this PHOTO.
Paul Blackwell: Played with the re-formed Mime Troupe during the 2nd Festival of Fools, and did small group and solo work in Amsterdam -- especially with the theater group Pidgeon Drop in early 1977. Worked with Katie Duck and Carlos Traffic before returning to the USA in the late 70's. Paul is still a prolific and creative composer/musician/singer, based in Walnut Creek, California --`check out his WEBSITE. He's on Facebook as well.
Gregg Moore: Played with the re-formed Mime Troupe during the 2nd Festival of Fools, and stayed in Europe with the band Expressions until the winter of 1976. Played with the Funk band Solat and other jobs around Amsterdam, plus accompanied the Mime Troupe during the 3rd Festival of Fools. Formed the original Available Jelly as a duo with Stuart Curtis, and toured with the Mime Troupe in 1978, including the 4th Festival of Fools. Performed over the years with Dutch jazz greats Willem Breuker, Hans Dulfer, and others too numerous to name. Toured with Footsbarn Theatre in Portugal, the USA, and elsewhere. Currently living in Arcata, California, and has an awe-inspiring website called Relevant Music. He's jamming with Stu Curtis in this PHOTO.
Jan Fogel: Became a teacher in Southern California, according to reports from Stuart Curtis, and Paul Blackwell.
John Fischer: Played with the re-formed Mime Troupe during the 2nd Festival of Fools, and stayed in Europe with the band Expressions, which performed in Switzerland and Sweden, plus accompanied the Mime Troupe during the 3rd Festival of Fools in 1977. Formed his own Jazz Ensemble during the late 70's in Salt Lake City, and also performed with the Reggae group Irie Heights until he moved away. He continued playing Jazz/Fusion with other professional musicians. (Via Stu Curtis: John Fischer got a degree in accounting from University of Utah, moved to the Detroit area, and last I heard, was working for Deloitte and Tousche as a CPA. He had just bought himself a grand piano last time I talked to him, which would have been about 1993.)
Barbara McCarthy: Kept a de facto office, and helped keep bookings straight, for various incarnations of the Mime Troupe and associated players in Salt Lake City. On staff at the Hole In The Wall Saloon during its glory days under the management of Tom Bullen, who loved good music to a fault.
David Zupan: Toured with the Friends Roadshow after the 1st Festival of Fools and enrolled at Escola Dimitri in Ticino, Switzerland during the winter of 1975-76. Performed with the Mime Troupe during the 2nd Festival of Fools, and partnered with Georgio during the spring of 1976. Later did a solo act, and partnered with Jack "Otto" Millet (Photos HERE) Millet later joined up with Georgio. Moved to Northern California where he attended J.J. Walker's comedy writing school and introduced Ellen Beier to her future publisher.
Jan Jaap Dekker: Stage Manager, photographer, and staff artist for the Mime Troupe from 1976 to early 1977. Moved to Salt Lake City, where he worked with Creative Graffitti. For a brief period of time he was even in remote Panguich, Utah during the late 70's. Jan Jaap left Utah on a motor cycle tour of Idaho, Montana, and Washington before relocating to California. He has lived in the rural mountains in the north of the state, cosmopolitan San Francisco, and now calls Santa Cruz his home. HERE is his fine photography website.
Michael Evans: Toured with Footsbarn Theatre in Cornwall, England after the 1st Festival of Fools. Relocated to Holland in the spring of 1976, where he performed with Theatre Slapstique, Michael Gimpel, Paul Blackwell, the Bowes Van Anders Festival
(See Escher's poster HERE), Fontyntheater, and some solo clowning / juggling, before sensibly returning to the lighting console for Carlos Trafic's colleague from Buenos Aires, Jorge Fiszon, and then for the Great Salt Lake Mime Troupe during the 3rd Festival of Fools. Read the complete programs from the 3rd Festival HERE He did the same for Katie Duck, Carlos Trafic, and Goma Fewtet before going back to the USA in the fall of '77. He did portable video for the University of Utah immediately afterwards, painted scenery for Pioneer Memorial Theater, and ran some lights for Patsy Droubay before quitting Theatre entirely to complete his Fine Arts Degree. He later went to Technical College for an additional AAS in Electronic Technology, and has combined the latter two fields throughout his career. (See his brief performance scrapbook HERE.)
He is the author of these Web pages, and there's a link to the rest of his artistic biography at the bottom of each one.
.
Other Mime Troupers, Friends, Partners, and Friends of Friends (Play Name That Fool HERE)
Ilaria Honsinger: Katie Duck's wonderful daughter, to whom I owe so many photos and web links. (Website)
Carlos Trafic: Was a true friend, and one of Katie Duck's best partners ever. Carlos quit performing in public for a long while to become a teacher, but he's performing again -- check out Carlos' Website.
Ernst Reijseger: Still plays Classical and Jazz at the highest level.
Sean Bergin: A stalwart of the Amsterdam Jazz scene, who has had a long career at the top of his profession.
Alan Purves: Later became drummer for Sail-Joia, a fabulous Pop-Rock group based in Amsterdam. He branched further into Jazz with Ernst Reijseger and others, and still makes his own kind of music today.
Mike Dehnty: Guitarist, became leader of Mime Troupe spin-off band Expressions -- reportedly moved to Sweden.
Michael Moore: An ace composer and saxophonist who lives in Amsterdam.
Michael Vatcher: Moore's percussive partner and brilliant improvisor, who has also worked with Katie in Magpie Music/Dance.
Jimmy Sernesky: Trumpeter -- played a several-year stint with Available Jelly. (Via Stu Curtis: ...Sernesky continued on in the music scene in Amsterdam, and played with Pidgeon Drop for some years.)
Joan Borgman: Singer with the group Blue Rose, and employee of De Melkweg. She was friends with Footsbarn, and saw us on tour in the lovely village of Mousehole, England. I sang alongside her with Michael Gimpel, and additionally with Sharon Landau in Theatre Slapstique. She's prominently visible on the 1976 Fool's Festival page, and has helped supply many names. Thanks Joanie!
Sharon Landau: I first saw her in Abrakadabra, then worked with her in Theatre Slapstique, and she later teamed up with Joanie of Blue Rose, plus she performed in later incarnations of the Great Salt Lake Mime Troupe, also working with Georgio Peugot.
Tristan Honsinger: Cellist who worked with Katie Duck during her residence in Florence, and plays great Jazz . (Website)
Stan (Jango) Edwards: Has had a long and brilliant career as a clown and bandleader. He lives in Barcelona, Spain and opened a school called The Nouveau Clown Institute in 2009. He's on Facebook, but he's all over the web too.
Nola Rae: Was Jango's partner in the original Friends Roadshow. She became a star on her own, and co-founded the London International Mime Festival. She was awarded an MBE for her contributions to drama and mime in 2008. (The Beatles only got an OBE.) I met her again after three decades at Footsbarn's 35th Anniversary Celebration in 2006, where we watched an adaptaion of Julius Caesar by a French-speaking company from Niger, sitting next to one another. Her own performance of Exit Napolean Pursued By Rabbits was brilliant.
Warwick Moreton: Member of the extended Friends Roadshow family, who lived in London, and even with Footsbarn for a brief period. He was with the Friends Mobile tour in the late 70's, and sent me these pictures of George-O at Barsham Fair in 1975.
Ced Curtis: Still plays electric guitar and runs a gallery / frame shop in Napa, California. His contributions to this site have been critical, and much appreciated.
David (Big Dave) Curtis: Continued to soldier on with Friends Roadshow well after I left Europe. Reportedly lives in England.
Paul Holland: A fine drummer who worked on and off with Jango, and his own projects as well. He arranged and scored music for the Friends Big Band in 1977, and later produced albums for Available Jelly and Friends Roadshow on Square Records. A special honorary concert by his many associates was held in Amsterdam just before he passed away from cancer in 2007.
Davy Norkett: After a number of years living in Half Moon Bay near San Francisco, he moved to his present home in Amsterdam, where he plays keyboards and records music with Alan Purves and others. I last met him at the 35th Anniversary of Footsbarn Theatre in 2006. He has an entertaining website HERE, and is also on Facebook. He has contributed a vast amount of detail to this project, and I thank him!
Jean Paul Bell: Another person from my past, who surprised me at Footsbarn's 35th Anniversary. He lives in Australia, and has done awesome work with his Clown Doctors and Humor Foundation, plus aiding schoolchildren in Kabul, Afghanistan.
Justin Hunter Case: A LeCoq school graduate from England who I first saw in a Mime duo called Chaos in 1975. We became friends in 1976, and he taught me how to ride his unicycle. (He even remembers my elephant from 1977.) I saw some of his first improvisations with Peter Wear in Amsterdam, which eventually led to "Omelette Broadcasting" (See a picture HERE), a long-running improv group which included Mike Meyers at one time. Justin played the Scarecrow in Disney's cult movie "Return to Oz." He and Peter Wear toured Europe for years with "The 2 Reel Company" and "In the Footsteps of Frankenstein," plus a TV show called "Chopsticks" on BBC2. He moved to Amsterdam, Paris, LA, then Sydney. (I started winning Film festivals, so I stayed.) He met Jean Paul Bell at the '75 Festival of Fools, and started Clown Doctors with him two decades later. (I've been Dr. Nutcase now for over 14 years and have visited over 70,000 kids all over Australia.) He's made "films, corporates, docos, and shorts" and was nominated for Palmes d'Or in Cannes, won at the Toronto Film Festival, and was shortlisted for an Oscar. Justin wrote that he is married to Dutch opera singer Desiree Regina, and they have two children. His WEBSITE is totally awesome.
Justin especially mentioned: ...1989 I went to Russia for the MIR CARAVAN with Footsbarn.
John Paul Cooke: Another LeCoq graduate, was at Footsbarn's 35th Anniversary too -- he sought me out in the crowd after "hearing my voice." He was a charter member of the company, but literally ran away to join Circus Perrier during the Legend tour of 1975. His late sister Jenny Cooke was a world-class costumer, and his still-living mother Audrey Cooke was a friend of mine -- she had studied dance with the great Kurt Jooss. John Paul lives in Denmark, still performing and teaching Movement Theatre.
John Kilby: Manager of Footsbarn Theatre for about 25 years -- still involved with international theatre. Learn about Mir Caravan 2010 (Multi-language site) and read about other delights HERE.
Daniel Rovai: A French actor who played Peter Pan for Footsbarn, and was in The Dancing Bear the following year, and worked with them for several more years. He was a guest at my house a couple of times, and now lives in Amsterdam. He is also on Facebook. See his picture HERE.
Michael Novotny: Went by the nickname "Madness" when he was in the Friends Roadshow -- Last time I saw him was at the 1982 International Theater Festival in Denver, Colorado, readying a bicycle-jump challenge between Alfie and Bobby Bullethead (Paddy Haytor of Footsbarn). Since then, he's been on the production teams of close to four dozen movies and TV shows.
Rick Parets: Was one of the funniest men I ever met in my life. I heard that he moved to San Antonio during the Urban Cowboy craze, but he returned to Europe and has worked with Jango Edwards, Katie Duck, Tristan Honsinger, and others. If you want a few chuckles click HERE.
Ted Van Zutphen: Worked with Friends Roadshow at least through 1976, and now lives in Ann Arbor, Michigan -- not far away from old Friends Farm. He's on Facebook, and I owe him a lot of credit for photos of Friends posters, and members of the group because of his posting them for all to see -- THANKS TED! He's wearing shades in this photo of the 76 Fool's Festival.
Ed Baker: Continued working with Friends Roadshow for as long as I knew him -- he's on Facebook, as well as Ted.
He's next to Van Zutphen in this photo of the 76 Fool's Festival.
Carl Holmer: Superbly portrayed stuntman The Great Big Zandu, and other characters for Friends Roadshow in Europe and America. According to Ted, he lives near St. Louis, Missouri, and like Matthew Child, doesn't even use computers.
Cindy Marler: Originally from South Africa, I met her while she was dancing for Gabrielle Martinez in White Dreams. She toured with Jango and Friends as a featured player. (A rare photo, along with some info, is HERE) Cindy became a high-quality photographer -- take a look at her wonderful WEBSITE. Gruppo Editoriale L'Espresso of Italy also published a 100 page book of Cindy Marler's photos in their Eros Fotographia series.
Peter F. Domela Nieuwenhuis: Worked with Jango Edwards and Friends Roadshow in management, through many incarnations of the group. He still lives near Westerpark in the Staasliedenbuurt district of Amsterdam, and served on the district council. He recently signed onto Facebook.
Charly Jungbauer: He and Henk Targowski continued to work at Foxy's bakery at De Melkweg, and they did a wild show from Henk's multi-media book Stereometry. He's done a lot more since then -- his online CV is HERE.
Mike Lynch: We met at the International Mime Festival in 1974 when Lynch was on tour with the Friends Roadshow. He taught a mini-workshop in stage fighting, and we watched him later that same afternoon, getting smacked around like a rag doll by the rest of his "Friends." I saw him again in the spring of 1976 when he was touring Europe as a solo act -- he called himself Piro onstage, and used the name River too. I always called him Mike, and vice versa. Chris Torch told me that he later moved to New Zealand, where he passed away from cancer about 2009.
Chris Torch: We met in Amsterdam when he was touring Europe as a performer / emissary from Judith Malina and Julian Beck's highly influential Living Theater. (Beautiful Helena Van Danzig joined Living Theater for awhile too.) He was friends with Katie Duck, Matt Child, and Barbara Doherty as well. I heard about his group Jordcirkus (Earth Circus), based in Stockholm, Sweden just before I returned to the USA in 1977. He was with them until 1991, then worked for Riksteatern -- The Swedish National Touring Theatre, where he was especially involved with SHIKASTA -- Riksteatern's multi-cultural ensemble. Chris was Artistic Director of Intercult in Stockholm -- a hub of local, regional and international cultural exchanges, sponsoring large-scale clusters like SEAS (ongoing since 2003) and Hotel Europa (2000) with significant support from the EU. They organize cultural policy gatherings and prepare commissioned studies, produce artworks, arrange guest performances, distribute artists, and develop audiences. Intercult is an active member of Culture Action Europe, IETM. Platform for Intercultural Europe, and Culturebase.net. He's on Facebook, but take a look at Intercult's WEBSITE too!
Johnny Melville: As leader of the Salakta Balloon Band, he met George-O at Barsham Fair in 1975, just before the Great Salt Lake Mime Troupe reunited for the Edinburgh Festival. The following year Johnny and his group were performing at the Festival of Fools. Over the decades, Johnny became an internationally-known actor and performer, winning awards in Europe and the United States. His WEBSITE and YOUTUBE CHANNEL will fill you in better than I conceivably can. Johnny maintained contact with George and Jango – and on occasion worked with them. Take a peek at a picture of Johnny and Jango HERE.
He helps with this scrapbook (see Omelette) and I thank him. Johnny's accomplished a lot, and is far from being done!
Nina Cheney: First-rate juggler, who I first met in 1977 when she came to Amsterdam with Patsy Droubay. She attended the Dell'Arte School, worked with Two Penny Circus, and partnered with Jacob Mills for over twenty years. (PHOTOS)
Karen Quest: Trick roper, juggler, and stilt walker, now based in San Francisco. (Website) I have been able to show many Mime Troupe photos, which would have otherwise been lost, thanks to her. She's on Facebook too.
Ellen Beier: A prolific book illustrator and resident of California, Hamburg, and Oregon. She also supplied some critical pictures for this project -- See some of her images HERE.
Linda Anton Curtis: Ellen's friend, is one of the best percussionists I've EVER heard. She played with Friends Roadshow, and other professional groups over the years in Europe and the USA -- especially with the late, great Dan Hartman, who wrote major hit songs for Edgar Winter, James Brown, and the magnificent soundtrack for Streets of Fire. (Linda's in this YouTube video from Soul Train of I Can Dream About You -- she even speaks her name.)
See if you can spot her next to a violinist dead-center in this photo of the 76 Fool's Festival.
Shusaku: Shusaku Takeuchi was a friend of mine who I first met at De Melkweg, dancing in Graciella Martinez's White Dreams, and working in the kitchen. I first saw one of his own productions in 1976, and became a fan for life. He has had a brilliant career since then, performing in Europe and North America, plus choreographing for his own companies and the Nederlands Dans Theater.
Read my short page about him HERE.
Joan Merwyn: Participated in the 1974 International Mime Festival at LaCrosse, Wisconsin. During the 1970's she studied at the Grotowski Laboratory Theatre, performed with Make A Circus, appeared at the Los Angeles Mime Festival, and toured Europe with the Too Much Brothers -- even meeting Katie Duck along the way. She was also at the London International Mime Festival, Polish International Festival of Mime, Munich Int'l Theatre Festival, Montreal Int'l Festival of Mime, Vienna Int'l Street Theater Festival, Bremen Bilder Theater, and Avignon Int'l Theater Festival, besides being active on both costs of the United States. From the 1980's to 90's, she toured with Adaptors Movement Theater (now the Margolis Brown Company). Since then she's also worked with Marquis Studios, Hospital Audiences, Inc, Sound Image Theater in New York City, and the NYC Schools. Merwyn's also worked on films for PBS -- Spike Lee's "Do It Accapella, " and the BBC's -- "Slim Goodbody Show." She is also active in Rhode Island and runs her own Joan Merwyn Movement Theater project. She's on Facebook too, and I made a brief PAGE about her.
Crimson Rose: Crimson was a participant at the 1974 International Mime Festival -- a juggler, mime, dancer, and model. She has had a distinguished career with the LLC for Black Rock City AKA Burning Man, which brings tens of thousands of artists every Labor Day Weekend to this unique world-famous art festival in the high desert north of Reno, Nevada. She is also Director of Art Management, and a director of Black Rock Arts Foundation, the non-profit wing of Burning Man.
Jim Anderson: One of the original members of the Mime Troupe, is now an auto mechanic in San Jose, California, and his email out of the literal blue of Cyber-Space prompted me to compose this illustrated Mime Troupe Saga -- Thanks Jim!
---
Footsbarn Theatre -- Portugal, France, Australia, India, and Beyond!
Footsbarn Theatre has traveled to all six inhabited continents -- I am very proud of them.
Click on the images above to see a larger fraction of the many, many shows they've done over almost
four decades, and be sure to visit their Website to be even more amazed as the company continues their work.
---
Outriders and Pals In The Wide World of Clowns, Actors, Mimes, and Funky Artists
Don McCleod: A pioneer of mixing visual theatrical arts with live music, he later billed himself as the 'Modern Mime' when the Great Salt Lake Mime Troupe met him at Balboa Park in San Diego. He has also done living statues and various advertising work over the decades, including a well-known Samsonite luggage commercial. He's on Facebook.
Stozo The Clown: Just ONE of George Clinton and Parliament / Funkadelic's crew members on the Mothership, who were filling major arenas with a production designed by Jules Fisher (Kiss, David Bowie) while the Great Salt Lake Mime Troupe was gigging in small theaters in the mid to late 1970's. Stozo's given name is Ronald Edwards, and although he's a cartoonist and graphic artist, he is also a professional clown who has performed on TV and all other traditional red-nose venues. P-Funk is a band of bandleaders, and Stozo puts out his own music as well -- most recently two volumes of the DigiDonz. He also performs with P-Funk spinoff the 420 Funk Mob. He has art directed and designed freelance projects for Capitol/EMI, Sony Music, Warner Bros, Atlantic Records, Nickelodean/MTV Networks, Universal Pictures, Arista, A&M Records, Paisley Park Records, Def Jam, Rhino, Disney, The Source Magazine, URB, Screw, Players, Sassoon Advertising and many other independent organizations, parties, and events. Stozo has done work for the P-Funk Allstars, Larry Graham, Bootsy Collins, the Funkorama Show in NYC, Funk-kin, Zootzilla, Zeep Magazine, Sheila Brody from the Brides Of Funkenstein, The Family Stone Experience, Funk To The Max (Held at De Melkweg!), Dutch Funk band 7-11, and P-Funk's great composer / arranger Bernie Worrell. Stozo is one of George Clinton's three artistic Funkateers, along with Overton Loyd and Pedro Bell. If you've seen a P-Funk album, you've seen their work. He's on Facebook and MySpace, but I wrote a review of his 2010 CD here: Stozo The Clown Presents Urban Psycodelic Fonk; The DigiDonz 2.
Street Legal Theatre: Fire, stilts, satire, and sexual taboos were this company's stock in trade in Salt Lake City. They lived communally and focused a significant portion of their resources and energy on the annual Burning Man festival. I knew Amber Merriwhether their totally amazing den mother the best, but there were over a dozen more, including leader Bub Farrell. I made a web page about them HERE.
Bindlestiff Family Cirkus: I saw these New Yorkers at the alternative Kilby Court venue in Salt Lake where they were performing after a visit to Burning Man. Stephanie (Ringmistress Philomena) Monseau partners with Keith (Kinko the Clown) Nelson, who was raised on Coney Island. They are down to earth, friendly people who do the damndest things onstage. Timeless variety arts live on due to their energetic work ! Hovey Burgess sits on their board, and their WEBSITE says more than I ever could.
---