Michael Evans -- A (Short) Scrapbook of Performances
---
| | |
| --- | --- |
| My "Fishing Routine" at Haarlemersweg.* | Wouldn't you know I'd catch a boot -- two actually!* |
---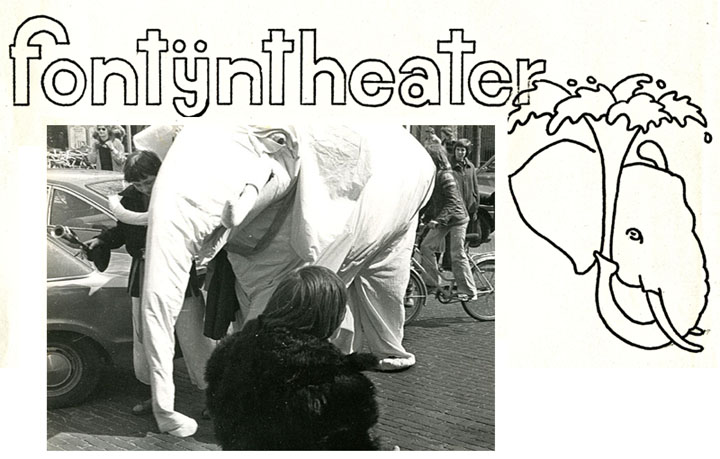 On the Queen's Birthday, April 30, 1977 Hanneke Bott led Brian the Elephant, which we had made, and a small group of musicians, around the villages of North Holland, giving rides to the children who flocked around us.
| | |
| --- | --- |
| That's me, working the front of the Elephant puppet. | The Elephant's mask, with draw-strings inside. |
---

Here I am (lower center) at the start of the opening parade for the 1977 Festival of Fools, with Jango Edwards up front. Gregg and Stuart are in the upper left corner. I appeared on the local television news, marching through the city on our way to the Milky Way and De Paradiso.

Paul Blackwell and me at the Shaffy cafe, with Gerard & Steve.


I was a clown in the Leidseplein tent for the Bouwes Wat Anders festival (Poster by Gielijn Escher) -- helping to save De Paradiso.
---
(Left) When I moved to Amsterdam in 1976, I had the good fortune to perform with Theatre Slapstique when they expanded their show. It was a delight to work with Peter Wear (center). They added a Dutch tuba player, Sharon Landau from Abrakadabra, Joanie Borgman of Blue Rose, and me -- fresh from Foots Barn. (See Memorabilia HERE)


(Above) Michael Gimpel of Slaptique and I performed on and off together through the early winter of that year, sometimes with Slapstique's David Shortt, Joanie Borgman, Paul Blackwell, Gerard Globus, or Steve Berger.
(Lower Left) Nico followed us onstage after opening night at the Milky Way. I met her in the afternoon during rehearsals -- she was a VERY nice lady, plus I'll never forget seeing her poster on my first visit to De Melkweg.
---
Photos and images by Robb Huisman* (top) and many others (below). Fontyntheater logo drawn by myself
All Rights Reserved © Michael R. Evans 2010 Email Me