Theatrical Daze & Nights IIIf
THE ROAD Hops the Atlantic Ocean for Holland and Points Unknown.
Summary of Part IIIe : The Great Salt Lake Mime Troupe spent about a month gigging their way from California to Michigan, where they stayed with the Friends Roadshow, and finalized plans for performing in Amsterdam, Holland. After a mad dash to New York City, they parked their bus and boarded a Capitol Airways charter plane. They slept all night under the nurturing eyes of the flight attendents, and shuffled into the Brussels airport at daylight, while half their baggage flew on to Frankfurt. Somehow, despite suffering acute jet lag, the whole group made it to Amsterdam by rail. They went immediately to the Milky Way nightclub (De Melkweg), where Capitol delivered the rest of their clothes and equipment two days later. At De Melkweg, they met both new and old Friends. Katie smiled through her exhaustion and said: "We're here ..."
---
700 Years of Amsterdam, Holland, and International Friends

De Melkweg was part of an entertaimnent district anchored by De Leidseplein, famous for it's outdoor cafe tables.


Peter Domela Nieuwenhuis was one of the very first people who sought us out at De Melkweg when we finally arrived in Amsterdam. Jango had previously contacted Peter and asked him to "take care" of us. It wasn't quite the same as Strider rescuing the Hobbits from Black Riders in Lord of the Rings, but we sure needed his help!
Before I tell any more of this story, I am pausing to thank this kind and giving man for all the efforts he made on our behalf.
Now back to the chaos of awaking in a strange country, with half our luggage missing. Ojan, a Turkish laborer from Germany, acted as de facto dorm-manager for De Melkweg in their loft space at de Rosenstratt. I spoke a little high school German, which helped a lot! Ojan also had a funny-looking dog who scratched himself a bit too much.
There were a few other roommates at de Rosenstraat, a fact which might have made some of us uncomfortable, but they were just passers-through like us. Matt made us all laugh ourselves to tears when he imitated the dog's mannerisms. We WERE concerned about dirt, fleas, and hygene, but that was a sign of sanity rather than burnout. I was among the lucky troupers who had kept their clothes, towels and toiletries. We spread them around the rest of the company. There was still a dismal vibe amongst most of the group, but we needed to eat, wash up, and find our way around the place we had invested most of a year in reaching anyway. Our first efforts at shopping were pretty laughable in retrospect, but there were plenty of stores in the neighborhood, and Dutch people were used to bewildered tourists. I encountered nothing but smiles on the streets when it was my turn to run errands. We discovered facts like "ei" meant egg, and "gemalen" meant ground coffee.
Peter showed up at de Rosenstraat the very first morning and did his best to get our jet-lagged aggregation oriented to where we were. He owned an upstairs floor in a residental building in the west part of the city, which had been vacant for quite a while, and did us the kindest favor possible by opening the place up for our use within the week. We moved into Peter's apartment after Capitol Airways delivered the rest of our luggage to De Melkweg. I cut my elbow on a stray piece of glass while we were cleaning, but Peter drove me to the hospital and gave them his insurance number. They stitched it up right away. Amsterdam was celebrating its 700th Anniversary, and the city was just plain OLD -- beautiful, for sure, but it took a lot of effort by its residents to keep things clean and in repair. Peter found affordable transportation for us -- especially a modified Volkwagen micro-bus, decorated with duck stickers. We also got the keys to a smelly VW square-back Variant.
We encountered other allies, including the Amsterdam branch of Friends Roadshow -- rather than being performers, they were technicians, artists, and engineers named Cor Francks, Henk Targowski, Charly Jungbauer, and Janet Beevers -- with Charlz Jundo off in Rome for some reason. They owned a fabulous stereo system, and shared my enthusiasm for Reggae music, plus edgy Rock like Captain Beefheart and the Magic Band. We would work with them more and more often as the Festival of Fools approached.


A miraculous photo from 1975 showing the bus which Peter found for us to use. We eventually named it "Fanniusduck." Remarkably, Peter's apartment is in this frame too -- shown in blue at the upper left.
Picture: Peter Domela Niewenhuis; Colorization by M.E.
---
Idyll at the Funpark by Gooi Zee
Just as we settled in West Amsterdam, Peter led us to the Dutch countryside where we had an opportunity to perform in a "Funpark" near a lake called Gooi Zee. At first Oud Valkeveen seemed idyllic -- everything was clean, neat and painted in dark green, with red and white trim. We had comfortable living quarters not far from the carousel, and the ladies in the kitchen cooked everyone a beautiful meal.
The next day started out with a parade from the nearby village to the amusement park on bicycles, unicycles, and slow-moving open trucks. (Dave Zupan even juggled astride his bicycle in makeup!) The Mime Troupe played music, and the dancers performed a few numbers. George worked his magic on young and old alike. I painted my face too, and had a great time in the early afternoon teaching children how to juggle without understanding a word of their language -- I gradually learned how to count in Dutch, though. We had our first rehearsal in Europe at their restaurant, and the owner promptly took an interest in our band -- sitting in on piano.


Het Gooi was a beautiful area of lakes and streams outside of the big swarming cities.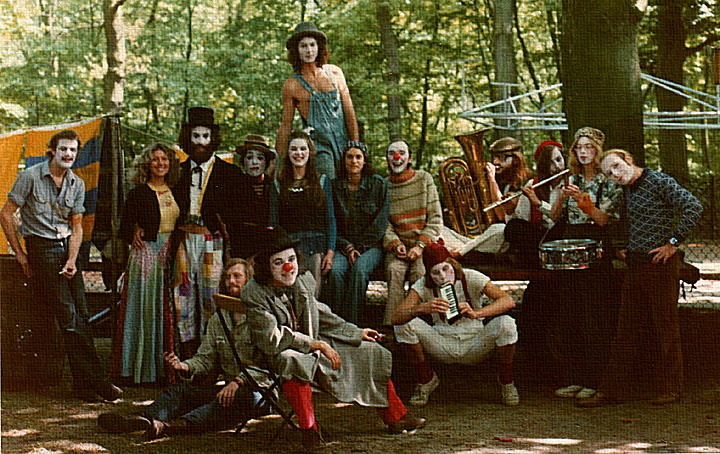 Somebody shot this picture during our first morning at Oud Valkeveen -- possibly Debra Ryals or David Zupan.
(Left to Right Rear) Peter's assistant Ronald; Chéri; George; David Carrillo; Patsy; Mark; Barbara; Peter;
Gregg; Stuart; and Jan. (Left to Right Front) An unknown person; Matthew; John; and Michael.
Missing from this photo are Katie, Paul, Debra, and David Zupan. Image courtesy of Peter Domela Nieuwenhuis.
We stayed at the Funpark for most of a week. On Sunday afternoon, I was sitting down at lunch in the warm May sun, surrounded by smiling young Dutch ladies, and enjoying the cheers of the children I'd been teaching as they passed by me. Thoughts of the railroad where I had been working just a year before went through my head, and I was glad I'd chosen another life. It seemed almost too good to be true, and so it was -- what started out with such promise turned into a period of crisis during the following days. For one thing we were having too many meetings over too many trivial subjects. Chéri had enough of our precarious lifestyle, so George found her a place elsewhere, and she disappeared from the Mime Troupe's story. Peter warned us that the owner of the Funpark wanted to literally take us over, and he was correct -- as we tried to get ready for our upcoming concerts, the owner tried to convince everyone with influence to abandon the Festival of Fools, particularly De Melkweg.The outlines of his "Dutch Uncle" exhortations spread throughout the group. He especially wanted our band to work for him all summer. When we went to The Hague for our first international concert, we returned to Amsterdam afterwards and never went back to Het Gooi.
The Hot Theater in The Hague

*Peter Wyssbrod Biel performing "Garbage"
The German actor quietly portrayed age and loneliness.


*The Hot Theater's festival included David Bowie's teacher Lindsay Kemp, Jango Edward's former partner Nola Rae, and the duo of Byland & Gaulier who we'd seen in LaCrosse, Wisconsin the previous year. Note their title Amerika! for our show -- the last thing they expected was the great dance concert they saw.
We saw the Hot Theater for the first time when we traveled there as a group to see Nola Rae and Peter Wyssbrod Biel on their second night, where Biel performed his existential Abfall (Garbage) after the intemission following Nola's energetic, but conservative, mime show -- which became progressively better and better over her career. She was also a source of very good advice about the European theater scene, and a sweet lady in every way.
We were ready to do a concert -- bar gigs and street performances were not satisfying any of our needs. Jet lag, bad nerves, and the disorientation from our long trip were still affecting us, but everyone was CONCENTRATING on the first of our two nights -- sometimes so much that the crew had to remind us what time it was, and how soon we were supposed to go on. The band started playing, and the Great Salt Lake Mime Troupe went about showing the Old World a whole new synthesis of Dance and Mime. I remember the show as dark and intense. Emotions were keyed very high, and Matt's Puppet routine with Carrillo started earlier than normal. The audience was often breathless, and enjoyed the relief of Georgio's gentle clowning. Further emotional storms were released during our Modern Dance sequences. When the concert finished and I raised the house lights, the audience surged onstage and everyone started embracing or shaking hands. We had a lot of Amsterdam supporters in the crowd, but they weren't the only ones who offered hugs of reassurance and congratulations after our gut-baring performance!
I turned my eyes away from the teeming crowd below the lighting booth to turn off the board and get my notes in order for the next night. When I looked out again, everybody was sprawled face-down on the floor of the stage.
What the heck was going on down there?
Ah -- One of our dancers lost a contact lens in the tears and turmoil. Luckily, it was found within minutes.

The Hot Theater building before rennovation.



Mark Nelson started performing his own solo
Folk Music act at the Hot Theater.
There was another "first" that night at the Hot Theater:
Mark Nelson performed his solo Folk Music act in the lobby during intermission and after the show. Gregg Moore shouted "Let's go dig Mark!" in the dressing room, and we ran out to see him play his dulcimer and sing songs like:
Your daddy was a Basque, drank his liquor from a flask, and he lived out on the range in Eye-dah-HO!
The next night was even better -- I brightened up the lights, and everyone was hundreds of percentage points more confident. The theater was packed -- word had gotten around that something different was happening, and it was beautiful to see. Whatever moodiness happened onstage the second evening came from the music or actors, but not the lights in the hall. Mark's music was very pleasant to hear in the bar afterward -- his jaw harp and harmonica came into play too. He would soon book himself in Amsterdam's Folk Fairport club, and play again, whenever he could, at our other venues.
---
De Lantaren in Rotterdam and Toneelschuur in Haarlem
We had two more concerts booked besides De Melkweg and the rapidly-upcoming Festival of Fools. Our experience in The Hague infused a measure of confidence and energy in the group as a whole which were great antidotes to jet lag and homesickness
We were staying at Peter's apartment in the Oud West section of Amsterdam. It was a longer walk to De Melkweg from there, but not an unbearable stroll -- there was a tram stop nearby, and we had a bicycle or two on hand most of the time. The vehicles were available when needed, but converting liters and guilders to gallons and dollars was pretty scary, and we did almost no casual driving.
The best thing for me about the upcoming concerts was that they were close to the train stations in both Rotterdam and Haarlem.
I was able to get to them independently -- then find the loading zone, arrange for the dressing rooms, locate enough microphones and stands for everybody, and arrange the lighting before the rest of the Mime Troupe arrived with their own individual needs.
The loading zone in Rotterdam was a total nightmare -- it was off a tiny street, dating from the Middle Ages, and the alleyway was tighter than the road, which almost too narrow for horses. Other than that near-disaster, everything went really well at De Lantaren. The stage was on the floor, like the Hot Theater, but it thrust deep into the seats. The audience enjoyed their intimacy with our attractive performers, but as silliness led to seriousness, and Juggling led to soaring Dance, they alternately held their collective breath and gasped to the rhythms of the Great Salt Lake Mime Troupe's dynamics. There was no mad rush afterward, but dozens of people lingered to communicate their feelings of love and respect.
We would soon return to De Lantaren, but in a different context altogether (see below).
Haarlem's Toneelschuur was more of a Youth Club, like the Milky Way was supposed to be. They were a much smaller operation, and focused on their goals in a manner which wasn't so widely encompassing. The management and customers sure liked having fun, though! The recieved our blend of Circus, Mime, and Modern Dance with deep appreciation, but liked our band most of all -- They danced for as long as the musicians played after the main show.


Haarlem's old Toneelschuur entrance from a previous decade. De Lantaren has also changed beyond recognition in Rotterdam -- but both institutions still promote The Arts in Holland.
Our band had incorporated Herbie Hancock's electro-funk masterpiece Chameleon in their repertory from Aspen onward.
His distinctive bass line had been driven by John Fischer's left hand on a spare keyboard we carted around for that limited purpose (it could have been a 60's vintage Farfisa organ), because bassist Gregg Moore played trombone during the long, jazzy number. That night, the public got a load of what we should have been doing months before -- our fabulous guitarist Paul Blackwell took over Gregg's unused Fender bass and drove that sinuous jam like an engineer drives an express train. After we played every song we knew, De Toneelschuur's technician took over the lighting booth, and threw some dance music on the reel-to-reel machine up there. There was a modern loading dock out the back, so we were packed and ready to go in less than an hour. I joined in the dancing on the floor, while the rest of the Troupers got dressed, and wandered around the venue sipping on good Dutch beer. By the time we were ready to leave, I had shaken my body and sweated away my inhibitions with every woman in the place, and was enjoying all those goodbye kisses until about 3:30 in the morning. During the half-hour drive back to Amsterdam, we noticed the sky getting light -- it was grey dawn when we disembarked at Peter's house. We hadn't realized until then how far north we were, and how summer was advancing fast.
---
The Great Salt Lake Mime Troupe Prepares For Amsterdam
There was still much to see and discover about Amsterdam -- learning how to navigate the tramways was fun, as were the open-air markets. We met our friend Jean Paul Bell from Aspen as well -- he was doing "Please Buy My Fleas" to taped accompaniment. Mike Heron was performing at the open-air Vondelpark with his new Rock group. I had enjoyed his solo album, Smiling Men With Bad Reputations, as well as almost all of the work he'd done with Robin Williamson in the Incredible String Band.One of my very favorite songs was Rainbow, sung by Malcolm LeMaistre, who would also be singing with Heron. I put on my whiteface make-up, grabbed my juggling bag, and went to the show, which had everything musical I was hoping to hear -- textural Rock Music, emotional lyrics, plus high soulful singing, with mere hints of Heron's Scottish heritage. The audience enjoyed his ode to Heavy Rock -- Warm Heart Pastry, where he'd previously recruited members of The Who for his thundering background tracks. De Melkweg sponsored the concert, so I had no problem getting backstage.

As we debuted at De Melkweg, Mike Heron (Right) was touring in Holland with Malcolm LeMaistre (Left) -- both had been in the Incredible String Band.


I introduced myself, and politely invited Mr. Heron and Mr. LeMaistre to our upcoming premiere at the Milky Way.
They were quite intrigued when they heard how me and members of my group had seen the Incredible String Band in Salt Lake City during the spring of 1974.
"That was a really good show," said Heron, with a broad smile on his face.
I reminded LeMaistre of his own Mime performance in Utah.
"Crocodile!" he said with surprise and glee, as Heron laughed.
The ensuing conversation involved hearing how the Incredible String Band broke up in Memphis, Tennessee on the night of Nixon's resignation, while we were celebrating in LaCrosse, Wisconsin, at the International MIme Festival, hundreds of miles further up the Mississipi River.
"I wish I could have been there," said LeMaistre.
"That festival is the reason we're here right now," I said, and attempted to describe Jango's connection with Amsterdam.
I also told Heron and LeMaistre how their music had meant a great deal to me in my own life, and the eclecticism found in THEIR art was an important part of OUR art as well. After walking away from two of my musical heroes, I calmed down a bit by juggling -- maybe even earning some money too.
---
Amsterdam Embraces the Great Salt Lake Mime Troupe

De Melkweg (circa 1975) was once a dairy, but became a complex of theaters and cafes featuring vibrant international Alternative Culture.
Even though we had four successful concerts behind us in Holland, the Great Salt Lake Mime Troupe's debut at De Melkweg was still a big deal for us. I was personally confident that we would impress the whole town and become the star attraction of the upcoming Festival of Fools -- whatever our strengths and weaknesses. (Or woeful lack of knowledge about our competition, in my particular case.) We had a show made up of elements which few groups had attempted to gather together before.
With the exception of Peter Domela Nieuwenhuis, nobody had shown more kindness and support than the staff at De Melkweg. Wouter, Cor, Han, Susanne, Suzzette, Reo et al. The quality of the people we met there is beyond description -- they welcomed us to a strange country and did everything within their power to make us feel that we had some kind of home. We used their facilities for rehearsal, storage, and relaxation, not to mention the hot showers. By the time our weekend was ready to begin we knew the layout of the space we were going to perform, and I already had experience with their thyristor lighting board. We had experimented with ideas for new material -- some had stalled, some had succeeded. What we had ready was well-rehearsed and powerful.

Another digital memory-drawing:
Reconstructing our first poster as headliners at De Melkweg -- Debra's lovely smile spread to everyone who was lucky enough to see our show.

There was a bit of an emergency for me to face when I learned that Mick Flaum and Kirke Wilson, De Melkweg's entire graphics staff were replaced just before our posters were to be printed. I volunteered to help the new artist do his first run, and he accepted. I've forgotten his name, but he was an ethnic Chinese gentleman, not much older than I, with a sure hand on his silk-screen squeegee, who liked high-contrast images and split-fountain colors, He appreciated having someone with him to load the drying racks, refresh the inks, and keep the sheets of paper coming as they were needed, while I appreciated hearing the old-timey folk music rising from the bakery's sound system below us, as I stacked up our posters (Mark Nelson was singing some of those same tunes in his live act.) The graphics were actually long, somewhat narrow, strips which described a whole week's worth of attractions, but the Mime Troupe was on top of the playbill, where I knew we belonged.
Our first weekend at De Melweg was an outright triumph -- the pure beauty of our dances and dancers punctuated the emotional character-driven stories we told in Pantomime. George's low-key modesty turned the audience upside-down with surprise as his juggling skills blew away all their preconceptions. The crazy satire of "Competition" proved that sports mania knew no international boundaries. Another dance sent the audience higher than the second stage of an Apollo rocket. A little more poignant drama set up the emotional climax of John Fischer's rodo with our four best dancers sailing through the air in high leaps, barrel rolls, and circular turns inside a wider circle. I myself "danced" with the lights in that number -- deeply-saturated aqua and blue were the key colors, which would follow our dancers around and around, while I teased a few highlights with warm pinks and rose fresnels at the edges of their faces and figures. As stunned silence turned to wild applause at the conclusion of our concert, I turned around to see Mike Heron and Malcolm LeMaistre smiling, with deep reflective eyes staring right at me.
"Beautiful show!" said Heron. I hugged them both, right then and there.
---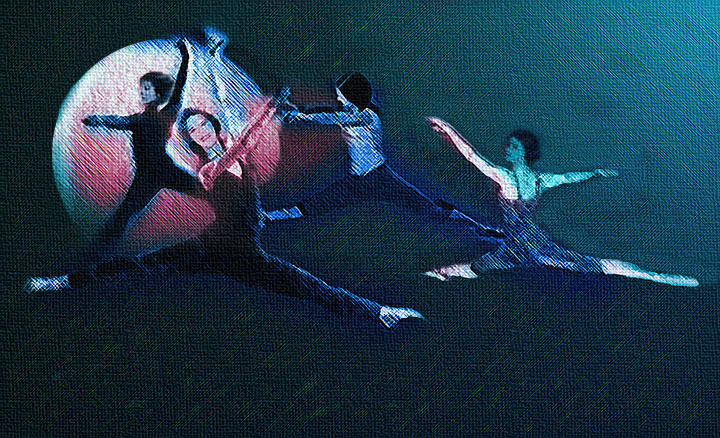 Dangerous John vs. the Trilobites was the name of Fischer's lush rondo which sent Matthew, Patsy, Katie,
and Debra flying in circles at the climax of the Great Salt Lake Mime Troupe's concerts in the spring of 1975.
---
I can't remember if we did three or four more concerts that weekend, but there were fewer and fewer places to sit or stand in the Theatre Zaal as time progressed. Every show was a jewel. The only setback we suffered that weekend was a rain-out at the gig scheduled for Vondelpark. A German jam-band (with Sean Bergin as a guest) did their best to entertain the hardy souls who stood in the soggy weather, while we huddled under a covered stage -- but nobody in the audience, stoned or sober, stayed very long, and the management sent us home so we could be fresh for the show later that night, and perhaps avoid pneumonia.
The Mime Troupe also spent time with Mike Heron and his band. Our musicians jammed with his musicians one afternoon at De Melkweg. Malcolm and Katie talked about the nature of performing. The most amazing time we shared was Heron's concert at De Lantaren in Rotterdam. The staff even played a black and white video tape of our recent performance in the lobby during intermission. I was seriously moved by Heron's song about the breakup of the Incredible String Band -- Down On My Knees In Memphis, Down On My Knees. Heron and his group went onward, with equipment borrowed from Manfred Mann's Earth Band, and we drove back to Amsterdam. I was not prepared at all for what happened next.
---
So What If Neil Sedaka Wrote A Song About It Too -- Breaking Up Is HARD ...
One morning, at Peter's apartment, soon after the Melkweg concerts were finished, the Great Salt Lake Mime Troupe held the last of our many contentious meetings. Three of our dancers announced that they "couldn't live this way any longer." Many things were said by others too, including me, who hated to see my hard work dismantled just as we were beginning to get the recognition we'd sought for so long, but a critical mass of minds were made up, and the group decided to disband after the Festival of Fools. (Important note: The Troupe re-formed within months, and returned to Amsterdam the next year.)
I remembered pondering Joey Grimaldi's ghost-written biography by Charles Dickens, where the great clown described his life a a chain of successes followed by tragic failures, but I didn't ponder long -- after juggling practice in Westerpark, I decided to get back to work -- the Festival of Fools would begin in week, and there was still a hellish amount of labor that needed to be done..
---
The 1975 Festival of Fools, and Amsterdam's Bountiful Harvest of the Same
| | |
| --- | --- |
| *De Paradiso supplied this whimsical graphic image. | Program drafts by Kirke Wilson & Henk. |
No matter what the Great Salt Mime Troupe had in mind for their collective futures, the Festival of Fools was scheduled, and would happen anyway -- with or without us. Along with preparing for our Melkweg appearence, I worked shoulder to shoulder with Charly, Cor, and Henk as we laid-out and printed the schudule of performances, and workshops for the subsequent events, which encompassed three different theaters and the streets of the 700 year old city. Famous M.C. Escher had a relative named Gielijn, who was in charge of all the advertising kiosks in the Centrum of Amsterdam. Geilijn Escher composed a beautiful logo for the festival -- which was fine, because we worked past 3:00 AM for many nights just getting our other graphics together and accurate information for the program. Kirke Wilson amalgamated various fools from various decks of Tarot cards, and Henk adapted carloads of Robert Crumb characters motoring on Amsterdam streets for the covers.
---
Another Diversion -- Albums from the Amsterdam Friends' Collection -- Plus One
---
(Left) Catch A Fire by The Wailers had been languishing on store shelves for almost two years, but the ever-growing success of Bob Marley and the Wailers' Natty Dread in 1975 attracted new fans with the older album's great songs, like Stir It Up.

(Right) Clear Spot by Captain Beefheart and the Magic Band.boldly strode between Avant Garde and Commerciality:
It's Been Too Much Time (To Be Without Love)


Henk and Charly didn't own a copy of Mott -- the follow-up to All The Young Dudes, but I couldn't forget or ignore Ian Hunter's lament about Mott the Hoople's own (temporary) breakup in the song Ballad Of Mott -- March 26th 1972 Zurich:
We crossed the mighty oceans and we had a few divides -- But we never crossed emotion for we felt too much inside.
---
The American Friends Roadshow Returns To Amsterdam
U.S. Friends Roadshow (Left to right from top row): Stan Edwards, Ced Curtis, Sean Bergin, Jane Hunt,
Ed Baker, Ted Van Zutphen, Rick Parets, Alan Purves, and Carl Holmer. (See Michael Novotny below)
---
A Teen Age Palm Tree Grows at the Shaffy Theater
Once the American Friends arrived in Holland, they had to arrange transportation, housing, and equipment, just like us. While we were staying at Friends Farm, Jango and Novotny were working on a special production for the Festival of Fools which bore the name I was A Teenage Palm Tree. It was a satire about cheezy monster movies, and movie-making in general. The rest of the company was obviously involved too. They brought a couple of new people, including affable Ed Baker as their stage manager, and a man whose name I've forgotten, to actually play the walking "Palm Tree." The giant Groote Zaal at the Shaffy Theater was the designated venue, so Friends Roadshow, and allies like me, started to make their idea real.

*Digital portrait from a photo of Ellen Beier taken in 1975. She was later a professional book illustrator for Harcourt, Brace, and Jovanovich.


I had most of the week free before the Great Salt Lake Mime Troupe started performing again, so I asked Michael Novotny what I could do to help him. He sat down and sketched designs for two sets of flats and some artificial waves. The paint and materials were there in the Shaffy already, so I said YES right away. Jango then gave me another task -- build a small city for the monstrous Palm Tree to destroy.
For the next month I spent almost all of my time between De Melkweg and the Shaffy Theater. I slept at Peter's place, but after a quick breakfast, and juggling practice at nearby Westerpark, I left to take care of my duties in BOTH buildings for the festival as an enity in itself, as well as my own group.
One set of Palm Tree's flats was to be tropical island scenes, with innocent palm trees leaning in towards center stage, ominously referring to the predatory sylvan creature lurking in the jungle. Another set was supposed to evoke a tramp steamer, carrying movie maker "Frederico Fungali" and his movie crew to the legendary haunted paradise ala King Kong.
Novotny played Fungali with Italianate brio, and relied on a crew of azoles to get things done -- like shift our curly-cue waves back and forth manually. With the Palm Tree stealthily chucking deadly coconuts all around him, his cast of azoles would thin out FAST. As the Friends Roadshow rehearsed their songs, and worked out their special effects, I put my Art School training to use -- sketching out the jungle scenes and puttting them aside since they required a lot of detail work. I borrowed a slide projector from Henk and Charly, plus a number of slides Henk had made of Amsterdam streets. (See the background of his cover above.) I then made yards of paper buildings that I could turn into the little city which was doomed to destruction. The first scenes I got done were the "Boat Flats" -- port holes, glass, rivets, and heavy doors were easy for me to draw, with just enough cast-shadows to make them look good under the theatrical lights. I even used my sable brush from Denver!
I worked hard and fast. Jango dropped in on me one night by surprise and seeing that the Boat Flats were done, the Doomed City was ready to fold, and the Tropical Flats were drafted with days to spare, he said "That's REALLY good, Mike!" The compliment was very welcome, of course, but good fortune had already blessed our efforts when Ellen Beier started assisting me soon after the project began.
Ellen had come to Amsterdam from London, along with her pals Nancy, Maggie, and two musicians named Alan and Linda, the latter who I wouldn't meet for another year. Ellen was a sensitive painter, and took over a Tropical Flat, plus helped paint the rather tedious hard-edged waves according to Novotny's designs. Speaking of which, I insisted on finishing one of the Tropical Flats myself, starting in my own rather hard-edged University of Utah style, but Ellen's Palm Tree Flat was much softer, nicer, and more detailed -- I studied what she did, and modified mine to be in harmony with her significant improvements. Young Scotsman Alan Purves made a short trip back to England, and came back to Amsterdam hauling a massive drum kit. Paul Holland, drummer for the English Friends, recommended him to Ced Curtis, Since the American Roadshow needed someone on the percussive throne very badly, Curtis gave him a chance, and Alan turned out to have real talent. I was dancing in the audience throughout his first gigs, and wasn't at all shy about complimenting him for reaching deep into the pocket of Funk from where all of Friends Roadshow's music flowed.
Alan's still playing today, and makes music which transcends the genres of Pop and Jazz. Ellen became a book illustrator, and Novotny eventually took his talents to the movie industry in Southern California.

Michael Novotny, pictured here as Alfie the Clown, later became a production designer in Hollywood.
---
Amsterdam's 1975 Festival of Fools -- De Paradiso, Shaffy Theater, and De Melkweg
| | |
| --- | --- |
| The Festival of Fools finally began with a parade across town from Dam Square to De Paradiso, | The English Friends performed an original puppet play in Dam Square, a special performance of Michael Spaghetti's Circus next to De Paradiso, plus a few indoor joint shows with their old mates from America. |
---
Some of the myriad members of the London Friends Roadshow circa 1975 (Left to right from top row): Artist Robbie Haun, Drummer Paul Holland, Pianist Stan Hayward, Artist "Big Dave" Curtis (Ced's brother), Artist Lenny Kovner, and Bassist Marshall Erskine. I never met more than HALF of this talented communal clan.
More pictures of the international Friends Roadshow HERE
Amsterdam's Festival of Fools started in famous Dam Square, anchored by a performance from the London Friends Roadshow's famous mobile stage. There was a lot going on elsewhere throughout the gigantic brick-lined plaza as well -- Michael Novotney and Rick Parets went around dressed as "Alfie" and "The Professor," clowning around, and dropping a pair of pants or two. I was smiling and juggling between various acts, and joined in the parade which ended at De Paradiso, a concert hall adapted from an old church. In those days, the place featured a busy, but brilliant light show that went on constantly -- especially between featured entertainers. They played clips from old cowboy movies, cartoon segments, kaladescopic pools of oil and liquid, and super-imposed slides from all kinds of crazy subject matter.
Later that evening, the action started with the Rock band Sail, led by Jo-Alice Banra, and Justin's mom, Karen Harvey, followed by Michael Novotny -- introducing the the American Friends as they kicked up a high-energy revue which included members of the London company, and even the Mime Troupe.
The Paradiso's technical crew didn't need my help that night, so there was nothing better I could do than observe the fun.
The combined Friends Band was especially dazzling on Marvin Gaye's Inner City Blues -- with an arrangement straight off the Grover Washington Jr. album we'd all heard at Friends Farm. Original Friends' tunes like Industrial Love got everybody dancing, and Rick brought on more laughs singing If Ya' Got Papers, Ya' Ain't Got Dope... There were moments when I reflected how far I'd come from the suburbs of Salt Lake City, Utah -- especially when Rick, Ted, and Carl strode out wearing glittery outfits and glasses as a Glam-Rock group named "Puke." Glam was a bit passé, but still selling, and when the three androgynous singers began belting out Wild Thing, I knew my politician father would NOT approve of my career anytime soon -- if ever. Jango took over the show early, and the audience loved every joke he made.
(L to R) Saxophonist Ted Bunting from the London Friends Roadshow. A digital memory-graphic of Ted, Rick, and Carl singing in PUKE, The International Glam Group -- nobody could hold it back! Jango* performing as The Weezer.
---
One Of The Greatest Fools Of Them All -- Actor Carlos Trafic
Carlos Trafic was originally from Buenos Aires, Argentina. He performed in English -- totally reducing his audiences to laughter with insightful wit, and very canny stuntwork. I knew his technician Albrecht Mayer too. They might have called their shows Dharma Theater or Okey Doc (pronounced "okee-doke") but everybody else called them FUNNY!
---
Foots Barn Theatre Asks Me to Join Their Upcoming Tour in England!
With the Mime Troupe's imminent disbanding coming closer, I wanted to find another job. We had made contact with Foots Barn Theatre while we were at Friends Farm, and arranged a potential "rural tour" with them during the upcoming summer. I mentioned to Michael Novotny that I was "looking for another gig," and asked if Foots Barn could use another hand with their new tent. He thought for a moment and advised me to speak with them directly. It wasn't very long before we were all sitting in the offices of De Melkweg, and I immediately made my case to the five friendly strangers sitting around me.
A few days later, after one of my solo street shows, Steve Lawrence stepped up and invited me to join the company -- I accepted gladly!
(Clockwise from upper left): Actor/Manager Steve Lawrence, Actor/Director Patrick "Paddy" Haytor, Folksinger David Hume, Musician/Actor Davy Johnson, Technician/Juggler Michael Evans, and Ace Actor Joe Cunningham.
---
Great Salt Lake Mime Troupe's New Home Venue at the Shaffy Theater

(Above) A digitized sketch of the Shaffy Theater.
(Right) Gielijn Escher's logo for the Festival of Fools.
The Great Salt Mime Troupe helped the Friends Roadshow get Teen Age Palm Tree going in the Groote Zaal on the first floor of the Shaffy Theater, but it was still THEIR show, and would succeed or fail based on what they did. One song was fun and interesting: Making movies is an art! It's not like sex, it's not so clean. It's all for fun, it's all for crap, and (Fungali) is the lonliest chap! Some things worked well, and some things didn't -- destroying the little city was funnier to talk about rather than see, and that riff was cut from the show after a couple of fizzles. The Mime Troupe was working two stories upstairs at the Shaffy, and I didn't have the time to paint anymore towns anyway. Charlz Jundo's slides of jungles and creatures came and went quickly too. There weren't as many azoles for Fungali to order around as he'd expected, but over the summer, Palm Tree developed a flow, and even the lunatic "cannibal sandwich" routine eventually worked itself out.

The second-floor theater space featured a small group of professionals called Ka' Theatre. Unfortunately they played when we did, and I rarely got a glimpse of their work, but what I saw was absolutely fascinating -- no fooling around at all!
They used minimal scenery and masks, with just a few well-chosen words. The show tended to be very "gay," very "out," and very unapologetic. They were well-mannered, hard-working artists who honored our building and festival with their show.

Everybody knows that Amsterdam is famous for legal cannibis in many forms, so I'm going to tell ONE story about that scene. Near the start of the Festival of Fools, Foxy, the baker of Hashish-bread at De Melkweg, announced he was going to make his special "grass candy" recipe one morning. I worked a particularly long hard day at the Shaffy afterwards. When I finally went downstairs, there were several colleagues complaining about being too high from Foxy's "treat," and how rueful they felt about performing later. As I walked towards De Melkweg late that afternoon, I met several clusters of friends and acquaintences having obvious difficulties getting back to work, and not knowing whether to laugh or cry about their situation. Luckily nobody in the Mime Troupe got the "opportunity" to try Foxy's candy, and we did a very good show. I never asked anybody who had been "bitten back" by their "sweet tooth" how that particular night went for them.
---
Where was The Great Salt Lake Mime Troupe? On The Top Floor -- Of Course!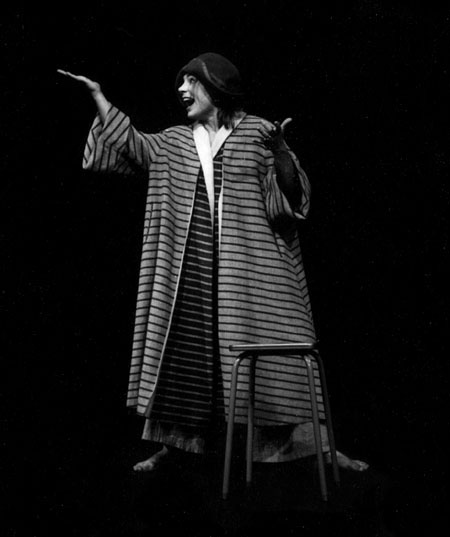 Photo by Ellen Beier
Katie refined her gluttonous "Madame Duck" character as a solo clown.
The Great Salt Lake Mime Troupe still danced as well as anyone in the big city.
Our band was still damn good, and everyone performed their hearts out during the Festival of Fools.
Thousands of individuals made the long climb to the third floor of the Shaffy just to witness the beauty of our show, and were well-rewarded by the experience. I'll admit to some occasional goof-ups, but nobody gave up on their art, no matter how they might have felt about one another, or the circumstances.
The Shaffy Zaal was painted a deep twilight blue, festooned with five-pointed stars which started clustering closer and closer towards the south side -- we were actually performing inside a painting done by famous Dutch keyboardist Thijs Van Leer of Focus fame. Screens covered the busy stellar climax at the south side, including the star-shaped door. There was plenty of room for musicians and dancers on the floor stage, and the rising seating was comfortable. Best of all, there was none of the Hashish smoke which had made De Melkweg so fun for the audience, but so tiring for us -- we did our best work breathing fresh air. We weren't all living at Peter's anymore either -- the imminent parting of our ways was on everybody's mind.
---
Performing In The Ruins of Brederode Castle

A digital sketch of Brederode Castle on a lovely summer day.
We had a perfectly warm summer night in the courtyard.


One of the Great Salt Lake Mime Troupe's last, and more interesting, venues in the summer of 1975 was outdoors in the courtyard of a ruined castle south and east of Amsterdam.
The place was named Brederode (pronounced Bray-Dah-Roh-Dah). Rob Weber of the Shaffy Theater accompanied us, and helped me set up my American lights for the second and final time in Europe. We also utilized some colored spotlights which had been strung on the old trees to help decorate the old pile of stone at night.
The audience sat on folding chairs, blankets on the ground, and even improvised lounges on the walls. They were all associated with a psychiatric school and clinic in a nearby town.
They saw some character-mime, and a little dancing -- the uneven ground was too hazardous for our longer set-pieces. Georgio was as entertaining as ever, but I still wondered what the audience was thinking as they watched, because we were NOT concealing our feelings that night.
Friends Roadshow performed there the next year, and Tumbleweeds from San Francisco played that gig in 1977. All three were sprawling multi-disciplinary amalgamations of musicians and performers -- make up your OWN mind!
---




(L) Friends Roadshow at Brederode in 1976.
(R) Tumbleweeds also played there in 1977.
---
Many Kinds of Farewells & De Kosmos

(L to R) Neeltje Van Dijk & Michael Evans in a window reflection on the day before my departure for England. The Mime Troupe saw us on their way to De Kosmos.

The Festival of Fools reached its end on the 22nd of June in 1975. There was no big celebration or ceremony that year. The Friends Roadshow was heading off to La Rochelle, France. David Carillo and David Zupan went along as official members, plus Zupan enrolled for fall classes at Dimitiri's school in Ticino, Switzerland. Gregg managed to stay in Europe that summer too. George Kugler and Mark Nelson decided to go to Dublin, Ireland, where an Art Center was expecting word from the Great Salt Lake Mime Troupe. They each had their own talents, and worked out some new routines between them.
Patsy, Matt, John, Stuart, Debra, Paul and Jan went to the United States. Katie stayed in Europe, and even worked with Friends Roadshow. In fact, there was one last Mime Troupe show at a club called De Kosmos without Katie -- one of the few times they'd ever played without her since the founding of the group. I wasn't even there myself, I was spending time with a Dutch lady I'd met in one of my juggling workshops during the Festival, and we'd be together for most of the next two years.
The nearest thing to a Mime Troupe farewell for me was in a van riding back from one of our final gigs -- I was holding Katie in my arms while she was totally in tears. We never had any deeper relationship than as band-mates, but I told her I loved her, and said I should have told her more often over the years -- both of which are and were true.
What is there to say about my trip to England? I rode the so-called "Magic Bus" with Alan and Nancy from the Museumsplein in Amsterdam to Vlissingen (Flushing) Holland, and boarded a ferry about sunset. At daybreak we disembarked at Sheerness at the mouth of the Thames River where I got my passport stamped with an ironic notice saying I was forbidden to do any paid or unpaid work. I had a nice conversation on the train with a young English lady who guided my steps through Victoria Station and on to Paddington, where the westbound railroad enentually crossed over I.K. Brunel's Saltash Bridge into Cornwall -- the first thing I saw as I reached the seaside was a PALM TREE. (I took it as an omen of good fortune.)
---
When I got off the train at Liskeard, I called Steve Lawrence -- He, Paddy Haytor, and Joe Cunningham drove up from their farm at Trewen, and took my luggage and me to Elsie's Red Lion Pub for ONE beer. There was a live parrot sitting in a second-floor window across the street, and a jukebox in Elsie's -- I remember playing Elvis Presley's version of Chuck Berry's Jet to the Promised Land to general approval. When we finally got back to Trewen, my first task was helping to paint a banner for the top of Foots Barn's new tent. Read my Webpage about my adventures with Footsbarn.
And that lady from the train? She showed up with a few friends in St. Ives to see Foots Barn's show about a month later. Neeltje Van Dijk also came to see us at the end of the tour, and accompanied me back to Amsterdam on vacation.
---
( The story does NOT end here ...)