In the summer of 2006, I took off from Montana to visit Footsbarn Traveling Theatre at their home base in Central France. I volunteered to help out with their 35th Anniversary Celebration, and they accepted my offer -- along with several dozen young actors, former members, friends, and curious people from many countries.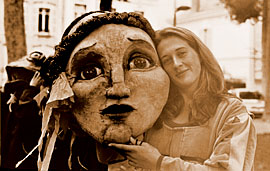 View My Initial Photo Album
I was the only American -- well, there were one or two by birth, and Vincent led a Theater company in the U.S. -- although he was from France.
Speaking of languages, I spoke NO French, so the theatre pieces were "all mime to me." My hosts tried their best to communicate, and teamed me up with English speakers whenever possible.