---
The Cosmic Aeroplane and Alternative Culture
---
Introduction: This section outlines some significant changes that swept the youth of America and the World in the late 1960's, as seen through my prism in the outlying region of Salt Lake City, Utah. My peer group was made up of classic Baby Boomers, and most of us lived in tract-house suburbs encircling the very conservative city -- raised on TV, Cars,and Rock N' Roll.
We slowly awoke to what Eisenhower's Military-Industrial Complex meant -- both good and bad, but most of us wanted a bit more of what was good. What those good things were involved learning a lot more about social minorities, non-suburban lifestyles, and societies made up differently from the Father Knows Best ideals pushed in the Mass Media as propaganda/entertainment. There were some dire realities negativly affecting our outwardly-prosperous lives that the "Establishment" refused to recognize -- the most obvious being that the Viet Nam War was lost, and had been lost for years. Time proved that billions of dollars and hundreds of thousands of American troops only made things worse, but those mistakes were official policies of the USA, supported by "average" citizens, who really should have questioned their overly-patriarchal leadership a bit more.
---
The whole state of Utah was "downwind" of the above-ground atomic bomb tests near Las Vegas, Nevada.
The Atomic Energy Commission waited until the winds blew AWAY from Las Vegas (and California) to explode their bombs.
Jeff Jordan, a local weather man, telling his evening audience about a fallout cloud blowing over our heads west of town:
If you go outside RIGHT NOW, you can see it!
(I stayed inside: Thank you very much, Mr. Jordan.)
A uranium processing plant called Vitro, sat smack-dab in the middle of Salt Lake County -- many times I sat beneath incoming ore cars, waiting for the stop light to change, as they rolled overhead on the Rio Grande Railway -- sloughing off radioactive dirt from Southern Utah. While hiking in the mountains, I could see the column of Vitro's smoke, rising into the dirty inversion layer, hanging over the entire valley.
---
Personal Essay: The Cosmic Aeroplane -- An Appreciation
---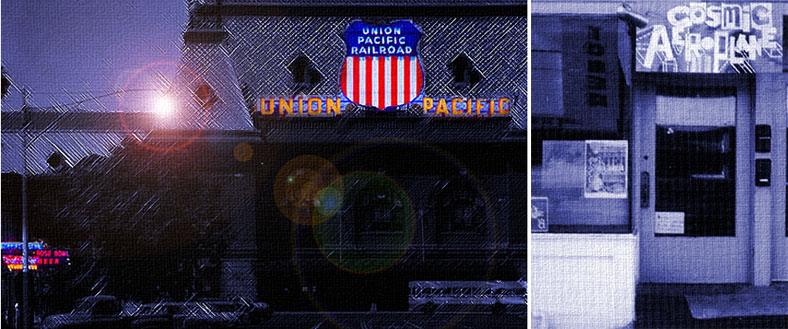 (Left) The Cosmic Aeroplane relocated near the Union Pacific Depot from its original spot near 9th & 9th. (Right)
---
1967 is widely acknowledged as a watershed year in Alternative Culture. The so-called Summer of Love drew uncounted tens of thousands to San Francisco to celebrate a new, peaceful, tolerant "Hippie" society with progressive music, visually stimulating art, and, frankly speaking, illicit substances like Marijuana and LSD. (Harder drugs would unfortunately coexist.) An ongoing sexual revolution metamorphosed into Free Love, but it was easiest to just describe this transformation of youth as "The Movement,"
Salt Lake followed The Movement with regular happenings in Memory Grove and around Sugarhouse Park. All the popular radio stations took chances with eclectic groups like Jefferson Airplane and The Doors, which payed off, but they bravely tried other albums by Jimi Hendryx and Cream that would take another year or more to catch on with the American public. EVERYBODY embraced Sergeant Pepper's Lonely Hearts Club Band, by the Beatles though.
My friend Michael G. Cavanaugh, a DJ on KCPX, took a well-publicized trip to San Francisco where he saw dozens of local bands, sold some underground newspapers. When he returned, he played Country Joe and the Fish, Big Brother and the Holding Company, the Velvet Underground, Canned Heat, and as much Progressive Rock as his bosses allowed.
During his nightly radio show, he told about a shop at 9th East and 9th South called Cosmic Aeroplane which sold the kinds of art, literature, and music that one would other-wise have have to buy in New York, Los Angeles, or San Francisco. He'd play some interesting Folk Blues or other Exotica and introduce them as a Cosmic Aeroplane Special.
Other "Head Shops" sprang up around town. A classy brownstone building downtown featured a black light room and a wide variety of go-blind posters. The White Rabbit in The Avenues promoted some of the first live concerts by San Francisco bands.


Rick Griffin's "Kief" poster graced the window of the original Cosmic Aeroplane.
Cosmic Links -- Sixties and Seventies and Beyond
I first visited the Cosmic Aeroplane during the famous summer of 1967 and had a good time hearing new music while browsing publications I'd only read about in magazines like Ramparts, a radical publication on the shelves of the local library. They had a community bulliten board that was pretty entertaining too. On display was a prominent sign that said (paraphrased):We do not know where you can find or obtain drugs of any kind, if you have any questions, read this sign again.
---

Ceiling of the Cosmic Aeroplane on South Temple.
After about a year, the Cosmic Aeroplane moved to a new location near my old High School on the west side of Salt Lake, a hundred yards or so from the Union Pacific Depot along a decaying row of railroad bars. It had a lot more room, and became a gathering point for young people all over the area -- the used record bins were always worth a look, and you never knew who you might meet there.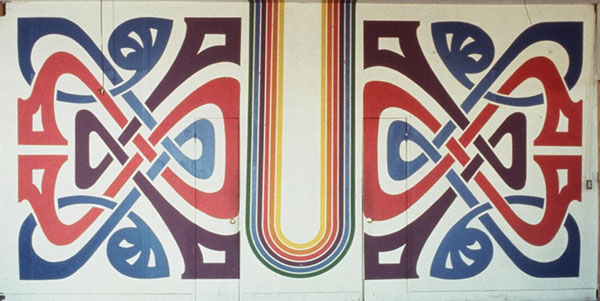 South wall of the Cosmic Aeroplane on South Temple.
During the four years or so of the Cosmic Aeroplane's residence on South Temple, I visited the place about twice a week. Besides obscure records, and great deals on new albums by forward-looking rockers, they had the wildest assortment of literature in the state. Every now and then, the owner Steve Jones would come up with more amazing things -- like a tableful of Black Cat books by authors like William Burroughs, Henry Miller, Jean Genet, and the great Beat Poets. When it came to buying gifts, the Cosmic Aeroplane acted as an incubator for jewelers and fabric artists who would later open their own places.
The old Porters and Waiters Club on the corner became part of the Movement when it turned into the Railway Exchange and hosted Smoke Blues Band among other live groups -- it then changed its name to The Sun Tavern and took on a whole new identity as an openly-gay Disco, but by then the Cosmic Aeroplane had moved to a smaller place on West Temple and struggled until some other partners signed on to the enterprise in the mid-70's. They were a major commercial success for another decade after that.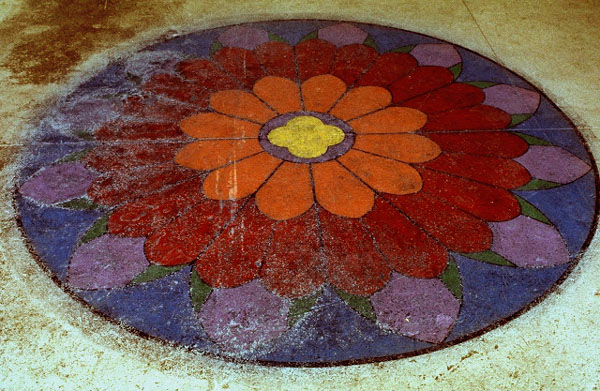 The floor of the Cosmic Aeroplane on South Temple sported a well-worn painted rosette too.
Steve and his various partners, especially Sherm Clow, were treasue-troves of useful knowledge and recommendations for music, books, and madcap events around the city. As a I grew up, Steve asked me to decorate the entrance hall with a mad oversized collage that needed a bit of censoring before it was ready for the public. Sherm let me play music with the Nameless Uncarved Block in the back room -- even for a wedding, over which he presided in his office as Minister of the Universal Life Church.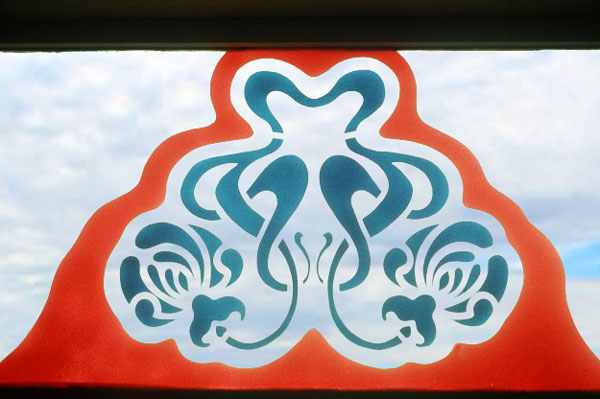 One of the painted windows, looking north, inside the Cosmic Aeroplane on South Temple.
The Cosmic Aeroplane also functioned as a performance venue -- they had a HUGE back room that was used by the Smoke Blues Band, a Modern Dance group called Clock Mother & Company (with Wendy Leoff, Meridoc, Duffy, and P.T. Holly), and the very important Human Ensemble Theater, led by Judae Lundstrom, which eventually turned into the Salt Lake Acting Company.
The greatest thing about the Movement in general was learning about the wider world beyond the confines of our neighborhoods, and how important things were NOT defined or confined by what TV, Movies, or Radio claimed were important. Our idealism led us to occasional disillusion or outright mistakes, but they were not the fault of the people in the Head Shops, who educated the Boomers as much as the colleges and public schools did.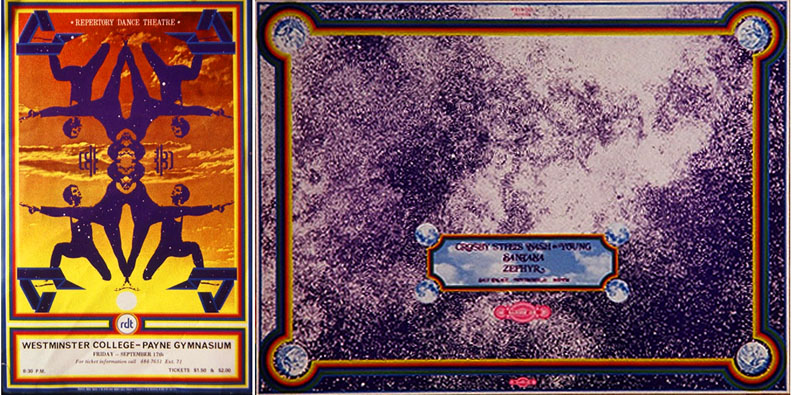 Artist Richard Taylor of "Rainbow Jam" painted the interior decorations of the Cosmic Aeroplane on South Temple.
---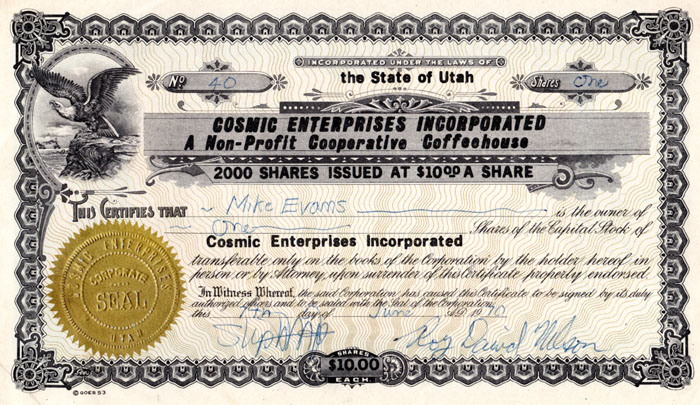 Ironic perhaps, but they tried everything to keep a good thing going, and eventually succeeded.
---

You could read all viewpoints at "The Cosmic,"
I preferred non-violence as my social policy.

Active duty soldiers produced this anti-war tract.
Read this historical document as a PDF
---
Underground Comix and the "Big Bust"
---
Over time we got used to the total lack of restrictions on what we could buy, read, and see -- the old obscenity laws were unconstitutional, and Freedom of Expression seemed to rule. However, so-called Community Standards could be used as a legal weapon if a locality wanted to get tough, and somebody did -- despite testimony in their favor, a number of Underground Comix were deemed "obscene" by a Utah judge, even though they were only sold to adults, and had nothing to do with the market for pornographic books, magazines, or films. (Was it because there was an article in Playboy about Comix? I don't know.) Round Records, and the Connection had their inventories of these small independent magazines confiscated. Round Records appealled, but got no justice. Before them, the Cosmic Aeroplane dealt with complaints over an "erotic" poster and jewelry while they were still at the 9th and 9th.
---
"The Movement" becomes "Alternative"
---
The Baby Boomers grew into adulthood -- simple as that. College didn't appeal to everybody, so many of them just went to work, or founded businesses of their own. Images of the short-lived "Hippie Era" lingered on in the Mainstream Media though, and anyplace that was run by a long-haired man, or even a woman, earned the label "Alternative," deserving or not.
I remember names of places like Desolation Row, Skin Company, Mother's Earth Things, Chester's Drawers, Tape Head Company, Mama Eddie's Beanery, Wally's Records, The Connection, Round Records, and Nature's Way. The Blue Boutique spun off from the later Cosmic Aeroplane, and still exists today!
Artwork by two deceased friends: (Left) Super Signage by Blaine Swanson; (Right) Prolific Neil Passey.
---


Roughly in business for 20 years -- The Cosmic Aeroplane spreads out along First South circa 1984.
---
---
Photos and images from personal memorabila, Charley Hafen, and Steve Jones -- published material used for educational purposes in the context of these essays, and covered by Fair Use provisions of International Law. Pages 17 and 18 were missing from my original stapled copy of The Daisy #4. All Rights Reserved © Michael R. Evans 2012 Email Me