The Tet Offensive of January 1968 embarrassed our armed forces in Viet Nam — all those enemies counted as killed on the nightly news for the last three years suddenly attacked in force, and even U.S. embassies were scenes of front line combat.
I saw the fighting on TV along with millions of other Americans.

I really needed the relief of seeing one of my top five favorite bands live in concert.
Below -- Clockwise from top left: Jack Cassady, Grace Slick, Marty Balin, Spencer Dryden, Paul Kantner, and Jorma Kaukonen. "White Rabbit Inc." was the name of an alternative shop, similar to the Cosmic Aeroplane on 9th & 9th, but located on 3rd Avenue, in the midst of a neighborhood where the new counter-culture thrived.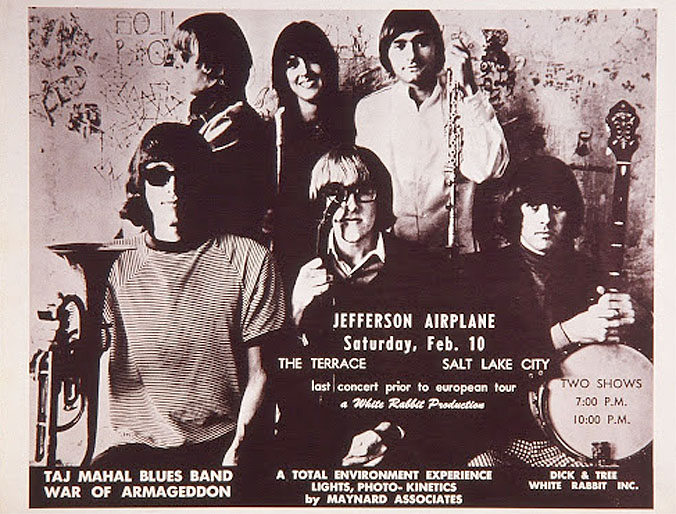 Jefferson Airplane had soared to the heights of popularity almost exactly a year before with their single Somebody to Love and the album Surrealistic Pillow. I was a Folk-Rock fan, and felt their first album Jefferson Airplane Takes Off was the harbinger of a very bright future to me. When I saw that my intuition was correct, and had my chance to hear them in person, I seized it with both hands.
We were lucky enough to see Taj Mahal in the days of his first album, with magnificent guitarist Jesse Ed Davis. Then-unknown African-American Henry Saint Clair Fredericks won over the nearly all-white crowd with the sheer force of his cheerful personality and confident playing of his band. I would see and hear Taj Mahal again, at home, and elsewhere.
Jefferson Airplane delivered everything I ever went to the Terrace Ballroom for -- good songs, good singing, with an instrumental core which was awe-inspiring. I was a Jazz fan too, and they included a surprising jam led by Jack Cassady's bass, which was all too short. Spencer Dryden was an impressive drummer whose advanced musicianship was never fully recognized by the public. He drove the long encore set, starting with an extended round of Bo Diddley percussion which led into She Has Funny Cars. My favorite bandmember was versatile guitarist Jorma Kaukonen, but Marty Balin was as good a lead singer as I've ever seen -- he had a high, effortless voice and radiated an intense enthusiasm which really stood out in a group of people whose behavior tended more towards Paul Kantner's coolness. What about Grace Slick? Everybody in the place was in love with her — she introduced every song, and sang from the stratosphere in solo, duet, and group arrangements. She was cool too, I must say, but she smiled often.
---

The Viet Nam war got worse and worse — Lyndon Johnson declined to run again, kindling a little hope in our hearts that Ho Chi Minh and he might start talking peace. Not only was that never to be, but one of the Anti-war Movement's greatest allies was shot and killed on April 4, 1968 — Dr. Martin Luther King, who had done so much for making my country better, and meant so much as a world leader, was suddenly gone. There was no street violence in Salt Lake City, Utah, but nevertheless, we felt shock and sadness.

These feelings didn't stop me from seeing the Byrds and Sopwith Camel on April 6th at the Terrace Ballroom again, though. Next to the Beatles, Rolling Stones, and Bob Dylan, the Byrds had made the most influential music of the 60's for my age group.
The Sopwith Camel were known for one huge hit single (Hello Hello), and a quirky album that people still bought and played, with a trippy, proto-psychedelic cover. Below: Victor Moscoso's widely-published image of his whimsical Sopwith Camel — a name made famous by Charles Schultz's Snoopy, and forever attached to a music-hall styled song featuring a NICE bass solo.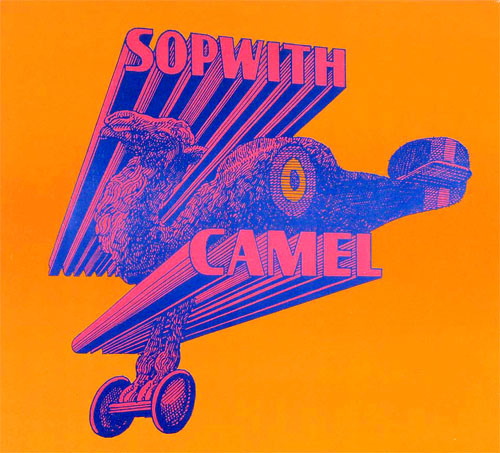 Step out of reality, be what you want to be.
Do what I'm telling you, before reality steps out YOU!
Just as the Sopwith Camel were tuning up to play, the police announced that they'd received a phone call — warning of a bomb on the premises. The pianist led the crowd in a sing - along while the police searched the corners of the ballroom, although nobody took the threat seriously. (It's sad how times have changed for the worse.)

When we finally saw the legendary Byrds, we were generally shocked — first by their appearance. They all had short hair, which was the OPPOSITE of fashionable in those days. There were only two members of the original quintet onstage — Chris Hillman and Roger McGuinn, who was once known as Jim McGuinn. The drummer was unknown to us (Kevin Kelley, Hillman's cousin), and the fourth Byrd was Gram Parsons, who almost stole the show with his brilliant songs and high, sweet singing. The audience at that show generally HATED Country Music, (there was a real Generation Gap in those days) but they heard quite a bit of it that evening. However, because this band was the Byrds, and we had grown up hearing so much good music from them, they got the benefit of many doubts that night.
Old John Robinson and his damn Stetson hat went over very well, so did Dylan's You Ain't Going Nowhere. Parson's Hickory Wind literally blew away any preconceptions of what Country or Rock could be. What we'd all paid our money for was McGuinn's finger-picking on his electrified Rickenbacker guitar, and Turn Turn Turn put any disappointments to rest. The young audience walked out with some new learning between their ringing ears — the music was wonderfully loud and clear. Later I learned that this incarnation of the Byrds lasted only a few months — we were very fortunate to see them, although somewhat baffled by our experience. Various lineups of the Byrds came to town afterward with virtuoso Clarence White -- one of the few men who could match, or even out-do, McGuinn on guitar.
Later that spring, I saw Robert F. Kennedy speak at the same place. Wouldn't you know that someone called in a bomb threat again. As before, it was a false alarm, and we were thrilled by the words of a man who we KNEW would be our next president, promising to get us out of the literal bloody quagmire which was the Viet Nam war. Unfortunately, RFK died on the night of my High School graduation from an assassin's bullet.
---

I'd already enjoyed Canned Heat's uptempo electric blues for a year — I bought their first album on sight after hearing my friend Michael G. Cavanaugh tracking through it during his midnight radio show. The Nitty Gritty Dirt Band had also impressed me with their eclectic first album, and exuberant appearances on TV.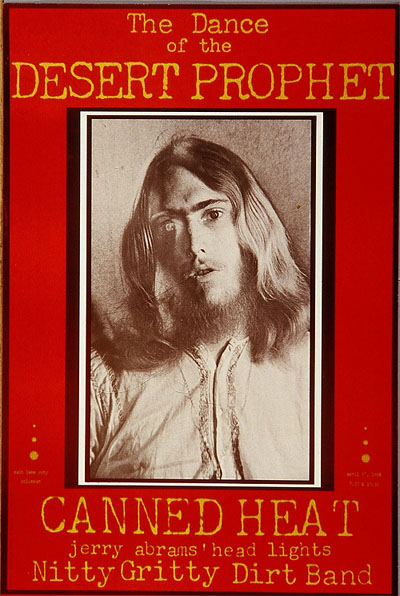 (Above: Poster by Mikel Covey and Nick Thayne) On April 27, 1968, I went to the Fairgrounds Colosseum in my west side neighborhood for my first "Psychedelic Concert." The entire circular arena was surrounded by screens hanging from the domed roof, and Jerry Abrams' Headlights turned out to be the stars of the evening, despite some very good playing by every band that night. Smoke, a local blues band, did a credible opening set -- they'd gig around the area for about another half-decade. The Nitty Gritty Dirt Band were hard to classify, but they were fun. Their musicianship was first-rate — they continue to sing and play nowadays to the highest standards, with fans in all genres of popular music. Best of all, most of the core group members I saw back then still work with one another.
Canned Heat's second album was brand-new, and their set featured long "Boogie" sessions with lots of soloing by guitarist Henry Vestine in his creative prime; Alan Wilson's harmonica stylings which brought people to their feet cheering; Fito De La Para's fleet drumming impressing everyone right at the beginning of the set and never letting up; plus Larry Taylor's mighty bass filling the cavernous hall, while the crowd undulated to his rhythms like waves in a giant pool.
Personable Bob "Bear" Hite sang well and charmed the huge gathering from top to bottom — he also gawked along with us, and his bandmembers, at the light show (during the band's instrumental tours de force) directing attention towards particularly interesting effects.
That summer, I worked at the copper smelter west of town, and bought lots of records, but saw very few shows because I worked afternoon/evening shifts. Outside of my own personal struggles with dirt and danger, the police riot at the Democratic Convention in Chicago dealt a serious blow to the Anti-war Movement, and George Wallace's racist and hateful presidential campaign opened fissures in the civil structure of U.S. society which have yet to close.

---
As college started in the fall, I went to two more concerts by San Francisco groups -- Quicksilver Messenger Service, September 7, 1968 on the revolving stage at Valley Music Hall just north of Salt Lake City. I frankly remember NOTHING about Leaves of Grass, the opening act, and was neither stoned nor drunk.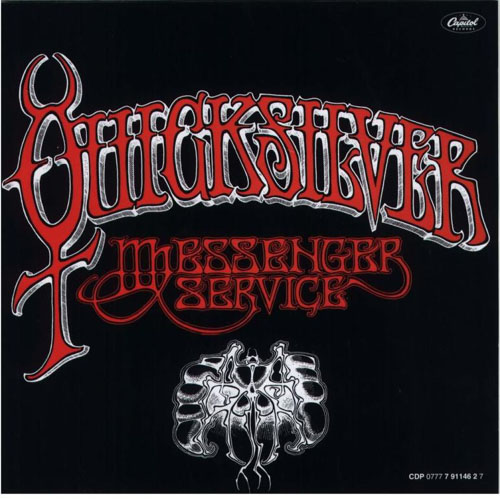 (Above: Quicksilver's first album — cover art by Rick Griffin.) I was TOTALLY impressed with Quicksilver -- Singers Gary Duncan and David Feiberg were handsome men with good strong voices. Most of their material were Folk standards like Buffy St. Marie's Codine, or Robert Johnson's Walking Blues. Greg Elmore was a show in himself with his flowing blond hair, beard, and intensely concentrated playing across a large span of drums, but when they unleashed the power of lead guitarist John Cippolina, this band was something very special indeed.
Cippolina was also handsome, with hair that wouldn't quit. The girls couldn't turn their eyes away from him standing at the back, next to Elmore. He hardly moved, but it made sense — he was busy working his pedals, his tremelo bar, and caressing the guitar strings on his hollow-body Gibson in front of a stack of LOUD Marshall amps, topped by a brass horn. His long solos were masterful, and I loved the counterpoints he played with Duncan, few as they were. He was nearly a one-man orchestra.
The constant rotation upset the performers enough to complain, so Quicksilver took a short break while the crew stopped the stage from turning, and the audience all moved to the north end of the half-full arena. The light show wasn't as good as Abrams' Headlights, but the golden age of those visual spectaculars was already fading away, although nobody knew it yet. When Quicksilver returned, they concentrated on songs from their first album, climaxing with Cippolina's keening guitar work on The Fool.
Jefferson Airplane returned to promote their upcoming album Crown of Creation at Lagoon, an amusement park even further north of Salt Lake. Summer was over -- it rained on us while we were waiting to get in the pavilion. If there was an opening group, I don't remember them at all. The Airplane played in a style which was much HEAVIER than just a few months before, which alienated some "older" members of the audience who came to hear White Rabbit, and familiar romantic ballads from Takes Off and Pillow. "Younger" guys like me enjoyed the deep, roaring bass and drums, and especially dug hearing new tunes. They DID play White Rabbit -- as the venue's own rotating stage spun around at the start of the show, for effect, and stopped with Grace Slick singing dead-center at the front. She sang the whole darn song too. There was a LOT more of Jorma Kaukonen's vocals that evening, which pleased me, and his sinuous guitar rang strongly at the center of each new number, which pleased me even more.
Paul Kantner acted more like a bandleader the second time I saw the group. He sang his fresh material well, but beautiful Gracie still dominated the stage — nobody complained about that, not even the local newspaper critic who hated the concert. Her new, theatrical, Greasy Heart was a definite highlight that night. I loved Crown of Creation for its group dynamics, but Jorma's crushing Star Track impressed me the most. Cassady played no solos, but Dryden and Balin had a lot of fun jamming on some of the familiar stuff like Three Fifths of a Mile in 10 Seconds, and Plastic Fantastic Lover. Just one year later, Rock crowds would DEMAND blocs of new material, but THIS crowd was split on the issue. Ironically, the album Crown of Creation sold pretty well when it came out soon afterward — Grace Slick's haunting Lather got a lot of airplay as FM started overwhelming AM Radio.

After the second Jefferson Airplane concert, the next important show I went to see was Joni Mitchell in mid-winter, when she wasn't famous yet -- me and my friends were eyewitnesses to history! There were many more concerts in many more places, and I went to as many as my time and finances could afford. These were the first, however, and although I may not go into so much detail about other concerts, they still marked significant times in my young life during the Sixties and Seventies.